Good news for travelers traveling by air in Japan.
If you have more than 10,000 Star Alliance miles, you can use ANA to fly cheaply in Japan, including your companions.
Traveling domestically using an airplane can dramatically increase transportation costs. The result of it, travel expenses will increase.
If you can save money on flights, you can enrich your accommodations and, in some cases, increase the number of trips a year at the same price.
ANA Mileage Discount ticket is a service with low recognition but very high discount rate.It's a great deal service but it is difficult to understand the reservation system and rules. So, I introduce the way.
【MAX80%off】Good deal domestic flight in Japan for tourist
What is the service?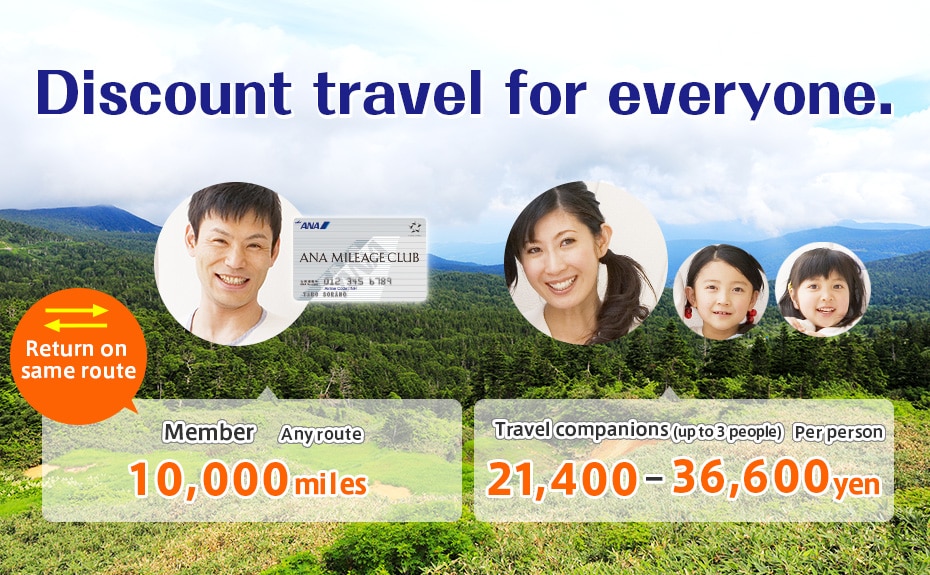 If ANA Mileage Club members spend 10,000 miles, they will be free on domestic flights. In addition, traveling companions (maximum 3 persons) can take an airplane for a round trip between 21,400 yen and 36,600 yen.
The biggest feature is that you can purchase airplane tickets by using miles and cash together.
ANA miles can be earned in the following ways:
Join ANA Mileage Club

Use a Star Alliance member airline such as Lufthansa when you go to foreign countries.

Register Miles with ANA Mileage Club Card
or
Make credit cards affiliated with ANA such as ANA-VISA card and ANA-AMEX card
Convert points earned by using a credit card to ANA miles
▼Star Alliance member airlines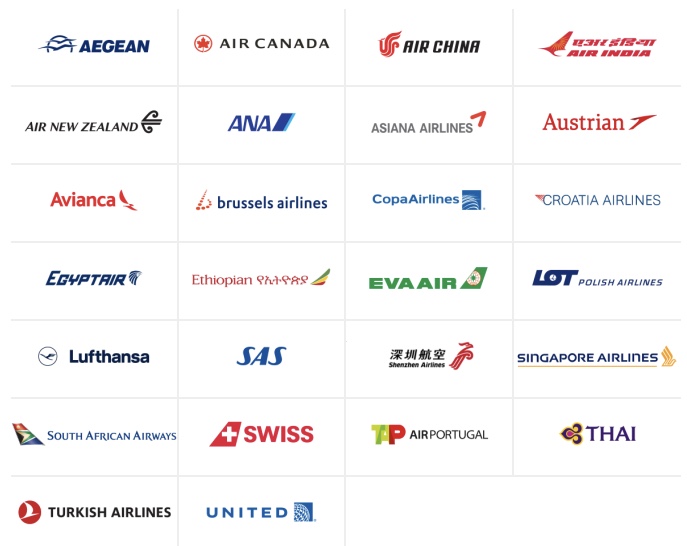 When I went to Miyakojima using ANA mileage discount ticket, it was 31,000 yen(+10000 miles) for two people at Kansai International Airport ⇄ Miyakojima.
Despite the three consecutive holidays on Saturdays and Sundays, one way costs 7,750 yen per person. It is very difficult to make this cheap even if you use LCC during consecutive holidays.
It is inexpensive ANA mileage discount ticket, but it has the following restrictions.
Only round-trip air tickets for the same sector are available
Travel with 2-4 people
Companion is OK for non-family
First person (person) spends 10,000 miles round trip nationwide
2nd ~ 4th person round trip 21000 ~ 36000 yen
Can not be used only before and after Obon vacation.
No change after booking
People who have paid miles must board
If you spend miles on a domestic flight on an airplane, is it really a good deal?
Is ANA mileage discount ticket a good deal?
When using a mile in Japan to board an airplane, there is a way to use an award ticket in addition to the ANA mileage  discount ticket. This is a way to convert to a 5,000 mile one-way ANA ticket.
* "ANA mileage discount ticket" is categorized in "Award tickets", but it will be confusing, so write it separately.
In the case of using ANA mileage discount ticket, ANA Mileage Club members + at least one accompanying person must board. This is useful when you are on an airplane with a good friend or two.
In order to verify whether ANA mileage discount ticket is a good deal, I compared the rates with "ANA trip discount ticket", "award ticket (mile only)" and "ANA mileage discount ticket".
The destination is Kansai International Airport ⇄ Miyakojima as an example.
In the case of "ANA trip discount": you search for and buy a cheap flight ticket for 2 people online.
When I checked the lowest price at the time I went, it was 57,600 yen for two round trips.
In the case of "Award Tickets": Purchase for 2 passengers by spending ANA mile from the ANA website.
Miles: 42000 miles for a round trip for two people, the value of miles is about 2 yen / mile for domestic flights. Miles converted into cash were 84,000 yen for a total of two round trips.
In the case of "ANA Mileage discount ticket": Purchase for 2 people from ANA website.
10,000 miles + 31,000 yen. Since it is 2 yen / mile, the total round trip for 2 people was 51,000 yen.
As a result, "ANA Mileage discount ticket" became the lowest price. In addition, the 80% off cash with the best cost performance is the following section ↓ ↓ ↓
Tokyo ⇄ Ishigaki island: Up to 79.5% off
Osaka ⇄ Ishigaki island: Up to 79.2% off
ANA Mileage discount ticket price (10/27/2019 ~ 03/28/2020)
ANA Mileage Discount ticket can be used at any time except for long vacations. In other words, it is possible to make reservations for GW vacation with little increase in price. In addition, it is a discount system that can be used properly, such as securing the number of seats that can be actually used.
How to get ANA mileage dis count ticket
If you register as an ANA Mileage Club member, you can use ANA mileage discount ticket. I will explain in order from how to register to how to use.
1.Register
First, register as a member on the ANA Mileage Club member registration screen.
It is not difficult if you follow the instructions and proceed with the entry.
* There is a place to enter the name of the passport, but if you do not have a passport, you can enter the name in Roman letters.
2.Login
After completing registration (after issuing your membership number), proceed with the reservation from the  ANA Mileage Discount ticket Login screen. After checking the terms and rates for each destination, log in from here at the bottom of the page.
3.Select destination / departure date
After logging in, enter your destination and schedule. Select the destination and boarding date and click "Search" ↓↓↓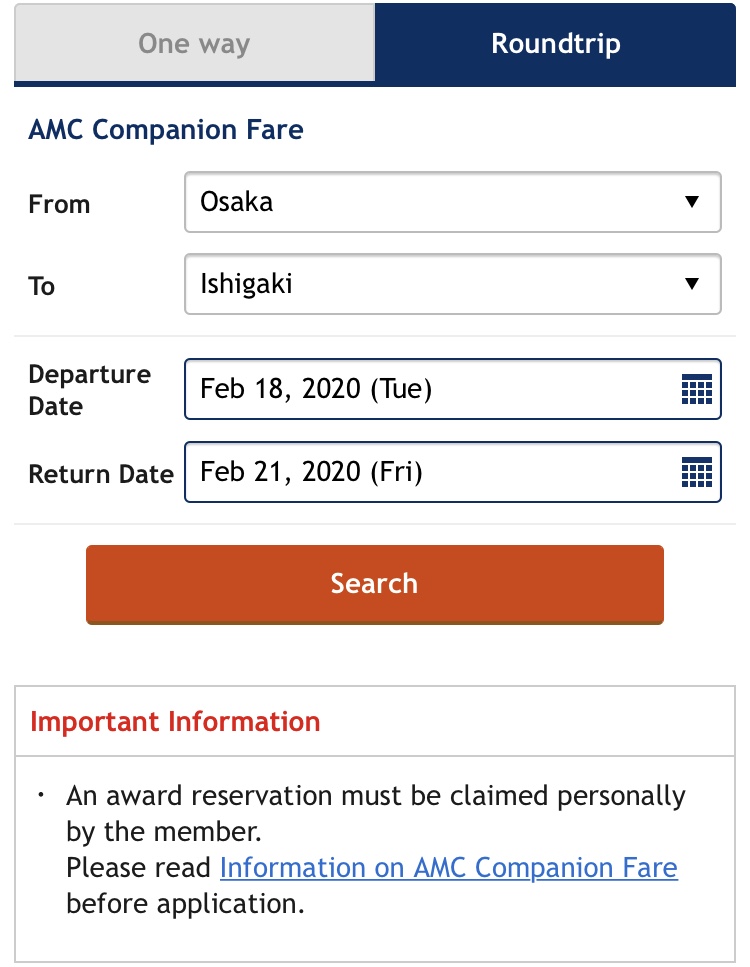 For example, I set the flight from Kansai airport to Ishigaki Island where the discount rate is 80%.
* ANA Mileage discount  ticket can be used except around the Bon Festival and year-end (we can also use Golden Week), but if you do not book early, popular spots will be filled immediately. You can start the reservation two months in advance, so if the schedule is fixed, let's reserve it as soon as possible.
4.Choose outbound and return
Next, select the outbound and return trips. Only "vacant seats" can be selected.
* The number of seats is displayed together with "award tickets" other than  ANA mileage discount ticket. On popular routes etc., people who have reserved seats can be canceled quite a bit.
When you first check, even if it is full, it is often vacant if you look again a week later, so we recommend that you check frequently. (The vacant comes out as the last schedule)
▼vacant sheets search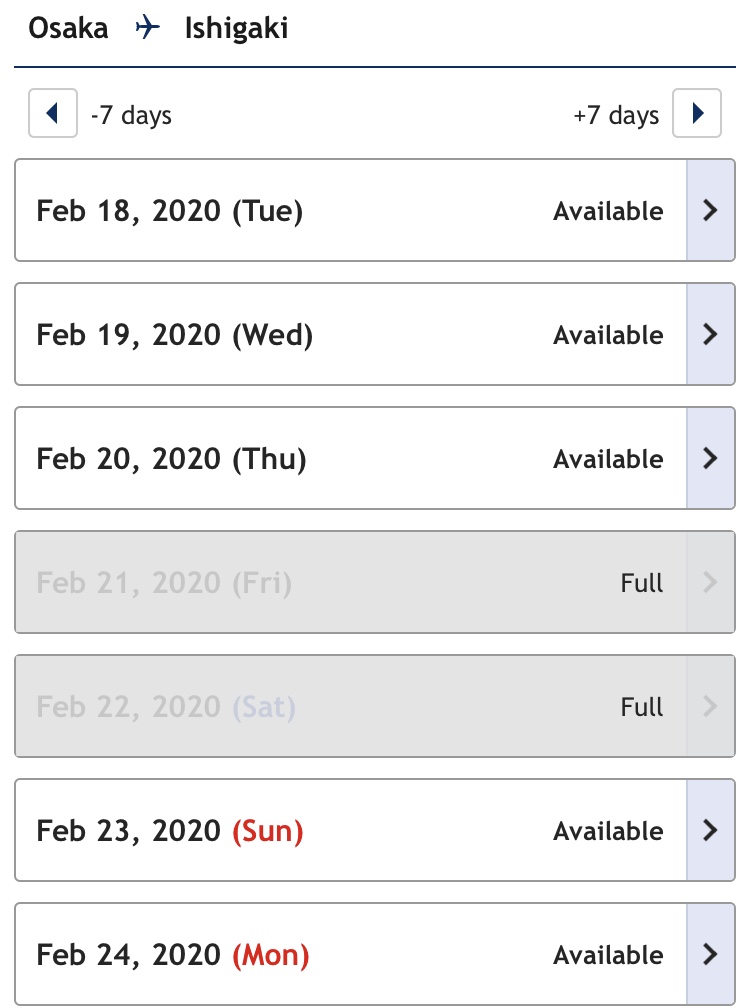 It is better to keep popular spots shortly after the start of booking or just before the travel date. Also, since the recognition of  ANA mileage discount ticket is not so high yet, I think that you can use up it while you can make a proper reservation.
5.Enter information for yourself and your companion
Once you have selected your outbound and return trips, enter your companion information. Your and companion's full name and age are required, so if you don't remember companion's information, ask your companion in advance.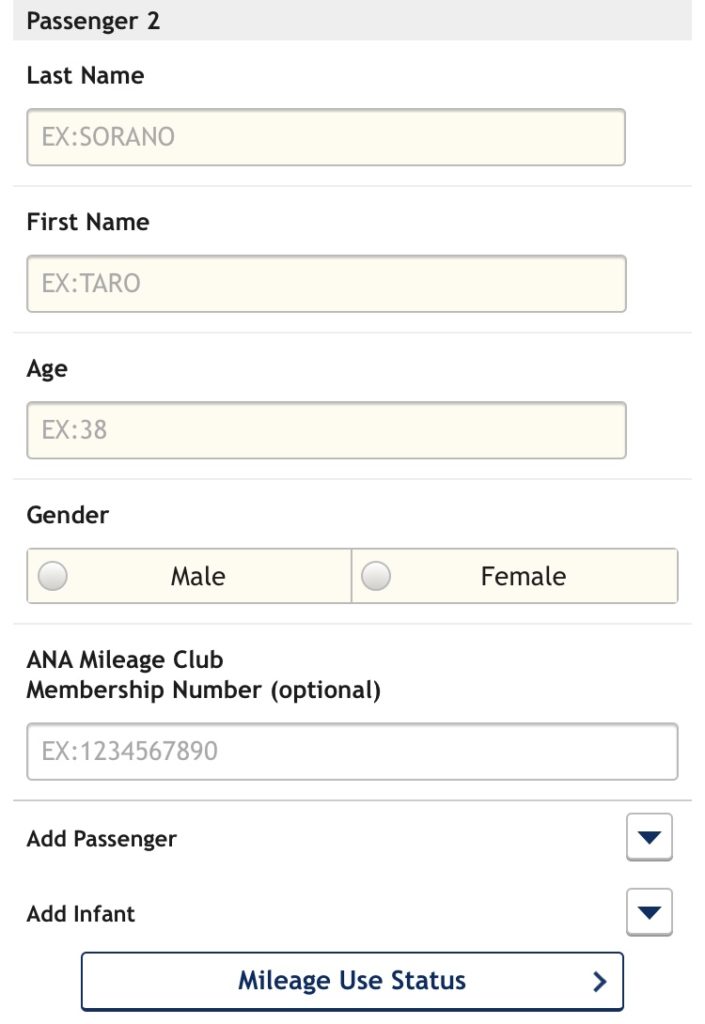 Click the "Reserve" button at the bottom of the page to complete the reservation.
6.Payment
When the booking is complete, you pay at the end. If you make ANA mileage discount ticket, you must pay within the reservation date.
A reservation confirmation e-mail will be sent to the e-mail address set at the time of registration. The "purchase procedure" URL is attached to the email, so click to pay.
You can choose to pay by credit card, convenience store, or financial institution, but I recommend payment by credit card as long as payment on the day is required.
If you make a reservation late at night, the financial institution may be closed, it wonders whether the settlement can be done in a convenience store. In the example below, there is only 24 minutes before reservation → settlement.
▼Screen I reserved in the past (only 24 minutes until the date changes):mail for Japanese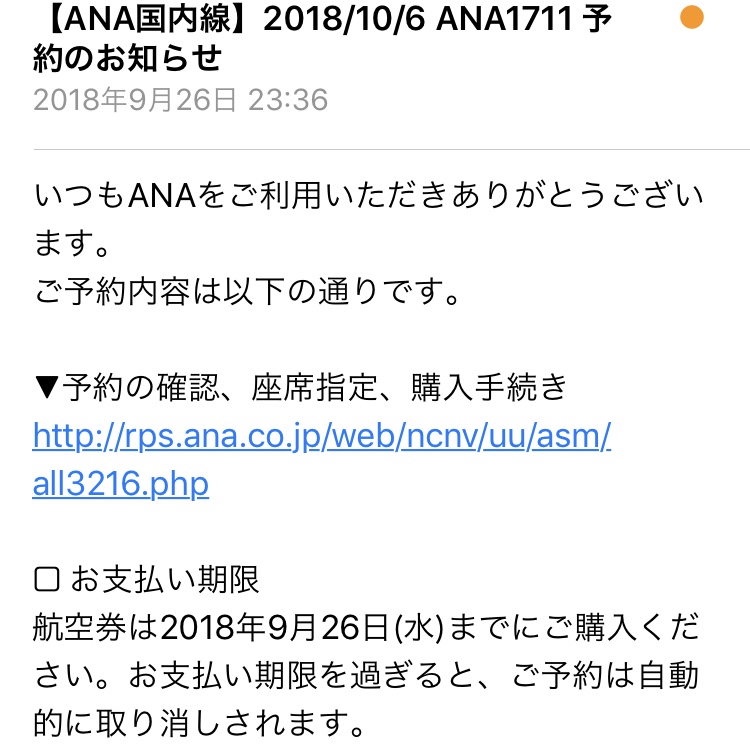 * Before proceeding with payment, please review the cancellation rules for  ANA mileage discount ticket and make sure that you make a reservation to confirm that it is OK. The cancellation rules are extremely strict ↓↓↓
Confiscation:Mileage Club Member 10,000 miles
Confiscation:Accompanying expenses 50%
It is better not to pay with temporary hold in a situation where you and your companion's schedule have not been determined.
Payment is completed by typing the credit card number on the payment screen. All you have to do is wait for your travel day.
Check in with your ANA Mileage Card on the day. If you have no checked baggage, we recommend using an automatic check-in machine. Tickets can be issued within one minute of inserting the card.
How to earn ANA Mileage
Miles are required to use ANA mileage discount ticket. Even if you make an ANA Mileage Club Card, it doesn't make sense to earn miles. So how do you earn a great deal of miles? Here are some simple and easy procedures.
That is to have an ANA VISA Wide Gold Card issued in partnership with ANA and Sumitomo Mitsui Card.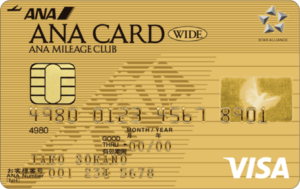 There are the following merits for earning miles.
Free mileage transfer fee from World Points (6,000 yen excluding tax for 1 point = 10 miles for regular cards)

Bonus miles(2000 miles) are added when joining and continuing the year

Bonus mile per boarding is 2.5 times of regular card + 25%
In short, you can earn more and more miles. By the way, since I don't often fly on business, I use the card points earned for shopping, rent and utility bills for miles.
If you pay 760,000 yen a year (60,000 yen a month) to buy something by using the ANA VISA Wide Gold Card and, you can earn 10,000 miles that can be used together with miles.
* You can earn miles more efficiently if you stay at a hotel partnered with ANA or purchasing from ANA's online shop.
Summary
If you travel domestically,  ANA mileage discount ticket is good deal
ANA Mileage Club members can easily earn miles with an ANA VISA Wide Gold Card
 ANA Mileage discount  ticket is strictly subject to cancellation rules, so make reservations after you and your companion have confirmed their plans
By the way, if you travel by plane, you will need an inn, but the ANA VISA Wide Gold Card is excellently compatible with "Relux", which allows you to make a reservation for a luxury inn with the lowest price guarantee!
Even if you do not have an ANA VISA Wide Gold Card, there is a point price of 5% minimum price and it is advantageous, but if you have an ANA VISA Wide Gold Card, it will be an additional 5% for each additional reservation Discount is effective.
I made an article with a demonstration, so please see if you are interested ↓↓↓
たびすぽ
https://tabisupo.com/おトク!最低価格以下で高級宿に泊まるならrelux