Did you know the screaming and scenic spot called "Tanise Suspension Bridge" in Totsugawa Village, Yoshino-gun, Nara Prefecture? Tanise Suspension Bridge is a huge suspension bridge in Totsugawa Village, Nara Prefecture, with a length of 294m and a height of 54m. It is open to the public and you can walk over it.
The Tanise Suspension Bridge is a living suspension bridge for residents who was built 64 years ago during the post-war reconstruction period of 1954.
Until then, the people of Tanise had crossed the river through a log-bridge, but they were washed away every time they were flooded, causing great inconvenience.
Therefore, the people of the Tanise village spent 200,000 yen on the house, which was 200,000 yen to 300,000 yen per house, and completed a large suspension bridge at the time. (In the era when the starting salary of the teacher at that time was 7800 yen and 10 kg of rice was 765 yen)

Reference:  http://totsukawa.info/joho/kanko/
A thrilling suspension bridge in Tanise! Enjoy superb views and screams!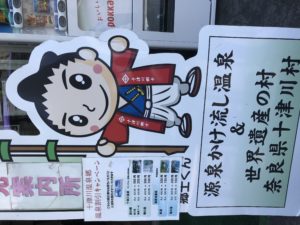 * When heading from Kyoto, there was no convenience store for the last hour before arrival. The last convenience store was Family mart(Convenience srore), so if you see it, you should buy some drinks.
In addition, there is a parking lot that can be parked for 500 yen a day. It's pretty crowded so if you go, I think it's better to arrive in the morning.
"Scenery from the parking lot" is very peaceful!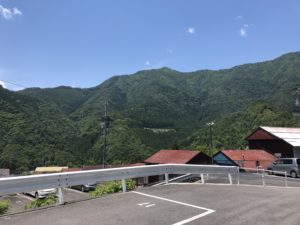 There is a suspension bridge right next to the parking lot. Anyway, it seems dangerous if many people cross the suspension bridge at the same time, and there are guards who count the people who cross the suspension bridge. Let's go over and ask if it's OK.
"Tanise Suspension Bridge" is very long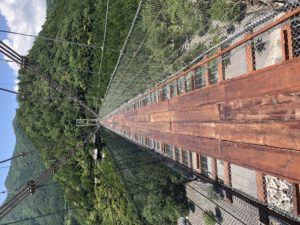 By the way, if you do not walk in the middle of the bridge, it seems dangerous and you can always hear the alert. Some people grab the right and left ropes as they shake. The impression that I crossed was "Tanise that shakes and throbbing a little", but I feel that the wind on the suspension bridge was comfortable and my heart was purified!
● Scene seen from the suspension bridge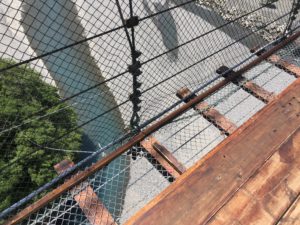 ●Sight seen from the suspension bridge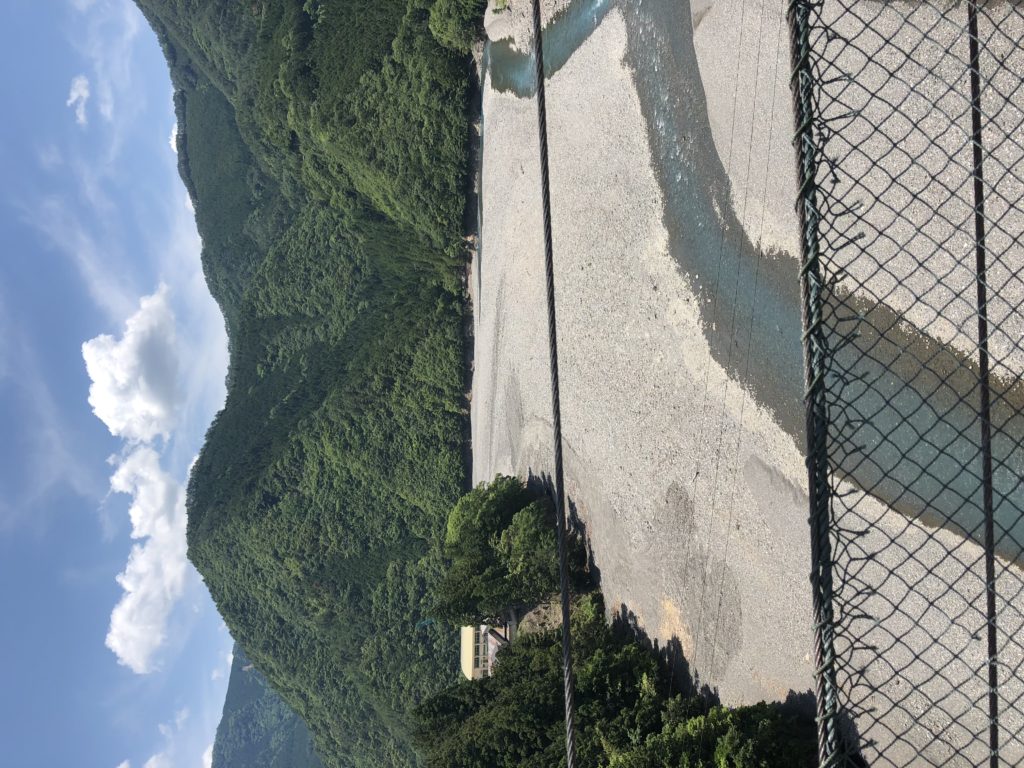 There was a stall just across the street, where I bought the dried mushrooms used for miso soup. Shiitake is thicker and richer than those sold at supermarkets! It is a little expensive (1000 yen / bag), but it is recommended!
* On the way back, you need to go back over the same bridge.
Camp site
I thought the suspension bridge in Tanise was wonderful, but in fact I was looking at another part of the way. It is a river. There were several tents lined up, so if you check it out, it's open as a campground. (Tanise suspension bridge auto campsite) I sometimes stay and camp, but there are two facilities that I think would be convenient if nearby. It is a shop and a bath (hot spring) where there are ingredients and small consumables.
This campsite has both of them. A stand for customers on the suspension bridge in Tanise, a hot spring in Totsukawa village, and the conditions for camping are perfect. I am carrying my camping equipment and aiming to go secretly. (It looks like you can catch ayu fish) If you want to know more about Totsukawa Village, please refer to the Totsukawa Village Tourism Association website. (You can access from the image of miso made with shiitake mushrooms taken from Totsukawa Village ↓↓↓)