Many people may think of Karuizawa and Hokkaido if they say that it is a summer resort in Japan. Kamikochi is a place like a Mecca for mountain climbers, but it is generally unknown at present. However, Kamikochi can be enjoyed by those who do not climb, and it is a nice place for those who want to get in touch with nature than Karuizawa or Hokkaido.
How can you enjoy extraordinary life in an environment with no convenience stores and few street lights? This time we will introduce a model of how to access and enjoy from Kansai to Kamikochi.
Let's enjoy the cool summer in Kamikochi!
Access from Kansai
The best way to go is a night bus, and the return is a train!
Kamikochi is located in a national park in the mountains of Nagano Prefecture. In order to protect nature, we restrict access by private cars throughout the year, so we cannot go directly with private cars. You need to park your car in a nearby parking lot and go to Kamikochi by shuttle bus (charged).
It is troublesome. However, it is okay to use a bus to go to Kamikochi even if you do not own a car. There are high-speed buses and night coaches to Kamikochi from all over the country, and using these to access Kamikochi is the smartest choice. Especially for salaried workers who are on weekends and holidays where it is difficult to take a rest, a night bus is recommended. If you take the night bus just after work on Friday, you can arrive at Kamikochi at 5:30 am on Saturday morning and earn more time.
On the other hand, if you do not take the night coach on Friday night, and you want to go from Kansai to Kamikochi on Saturday morning, you will get on the 6:00 Shinkansen and arrive after 11 o'clock. Even if you take a short break on a night bus, you can secure enough time to enjoy Kamikochi. However, Kamikochi is popular, so as soon as it is time to make a reservation, if you do not make a reservation, you will quickly fill up.
If you are unable to secure a seat, there is a way to "wait for cancellation" on the Internet. (Two companies only) Tips for securing seats while waiting for the Internet to cancel are not to try to secure two seats at a time, even if you are going with two people. Night buses have a low cancellation fee and often cost around 100 yen except for cancellations on the day, so there are no worries if you cancel because you cannot secure 2 seats at worst.
A secret night bus that can be waited on the Internet
If you go to Kamikochi by train, you will lose a lot of time, so it is not the best mode of transportation except for those who can rest for a sufficiently long time.
Convenient train and shuttle bus at the next point
Combining a train and a shuttle bus is convenient if you can't get a seat for a night bus by all means and you don't want to get on a night bus in the first place. If you leave Shin-Osaka at 6:00 in the early morning, it is later than the night bus, but you can arrive at Kamikochi after 11:00.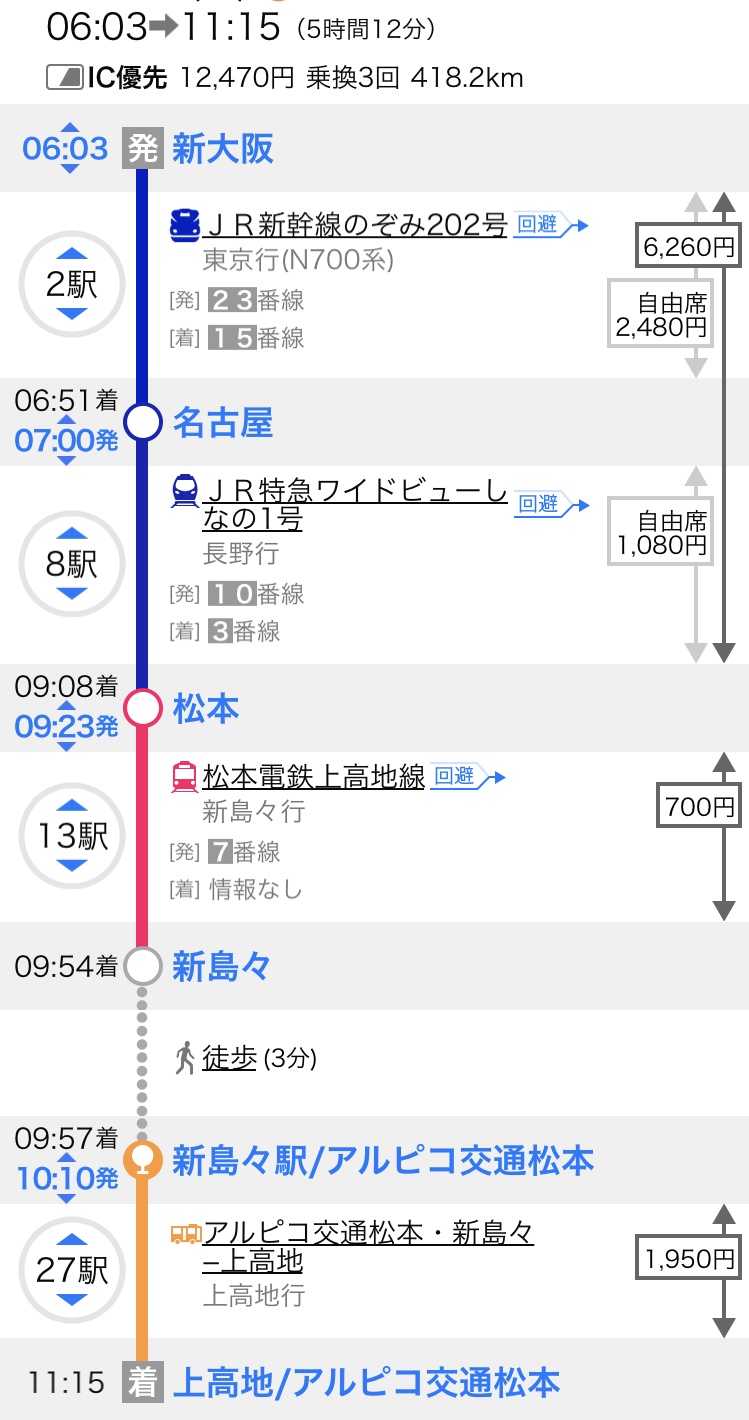 Inconvenient cars due to private car regulations
Kamikochi is subject to private car regulations and cannot be accessed directly by private cars. If you want to access by private car, you need to park your car in a nearby parking lot and access by shuttle bus, local bus or taxi. For example, when going by car from Osaka to Kamikochi, it is convenient to stop the car at Akadana parking lot, but it takes about 4 hours 30 minutes, and from there it takes about 35 minutes (in the case of a shuttle bus).
The parking fee of the Akanda parking lot is 600 yen / day, and the shuttle bus fee to Kamikochi (2000 yen / person (round-trip)) costs, so if you access by car from Osaka to Kamikochi, there are advantages if there are not many people there's only a little. For example, if two people use a private car to access Kamikochi from Osaka and return home for two nights, the transportation cost is 25840 yen. The time and cost for returning from Osaka to Kamikochi by private car are as follows.
Time: 10 hours 34 minutes (9 hours 24 minutes + 70 minutes)
Cost: 25840 yen (Highway fare 13040 yen + Gasoline fee 7000 yen + Parking fee 1800 yen + Shuttle bus fee from Akanda Park to Kamikochi 4000 yen)
The one-way fare for one person is 6,460 yen, and it takes 5 hours and 17 minutes each way. It's not so cheap, it's tiring, expensive, and time consuming. Night bus, train + shuttle bus, private car + shuttle bus were introduced as a way to access Kamikochi from Kansai, but night bus is recommended from the viewpoint of fun and price.
How to enjoy in Kamikochi
There are two ways to enjoy Kamikochi. The first is climbing. It's the best place to start climbing the mountains of the Northern Alps. However, this time, I would like to promote Kamikochi that anyone who does not climb can enjoy, so I will focus on another way of enjoying Kamikochi.
* If you are interested in mountain climbing, please refer to the mountain climbing article. (There are also mountains accessible from Kamikochi, such as Yarigatake or cloud traversing)
Kamikochi walk
Kamikochi Bus Terminal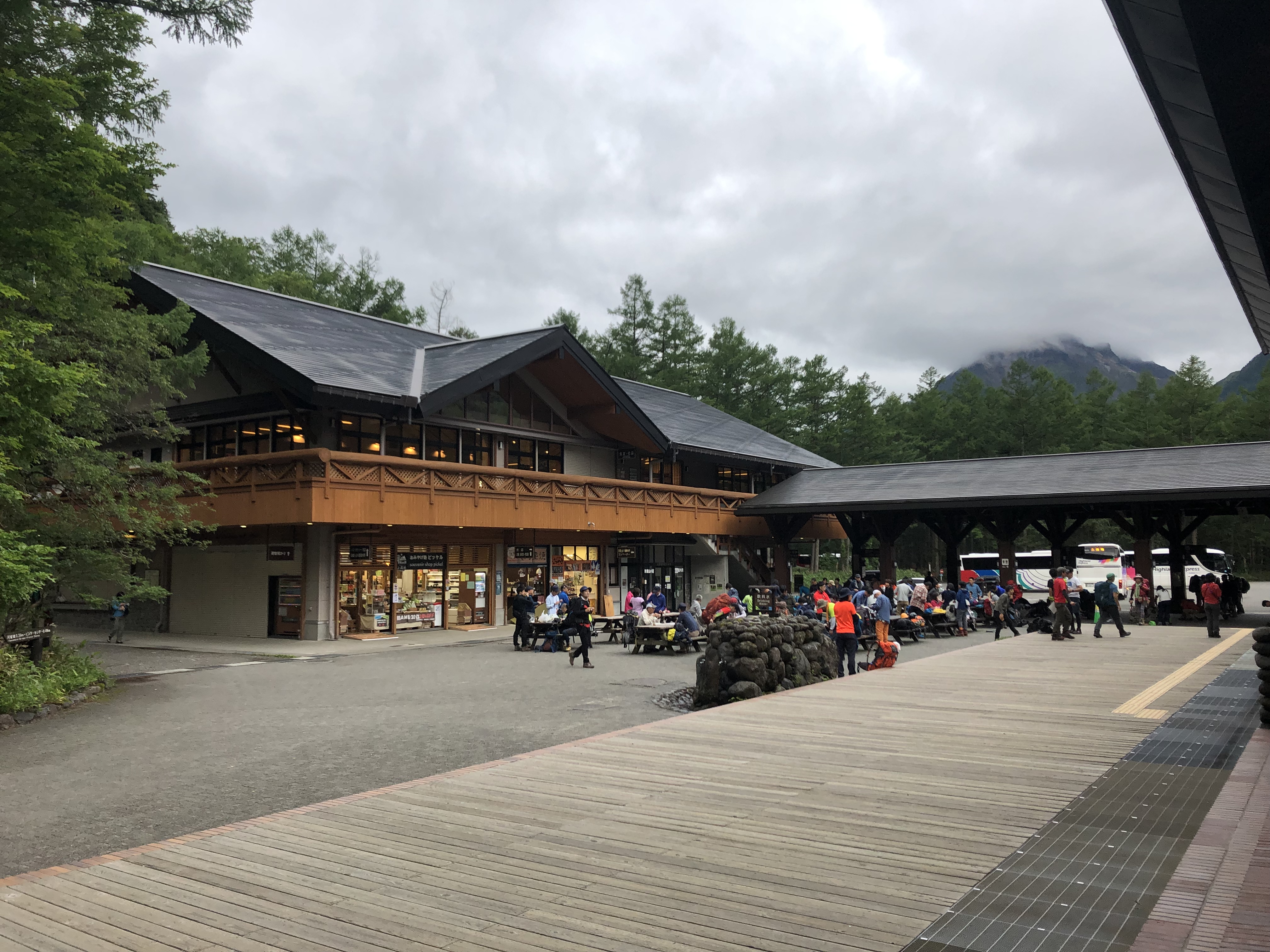 Go to Kamikochi by night bus, taxi, shuttle bus, etc. When you return, always start from Kamikochi Bus Terminal. Kamikochi Bus Terminal has the following facilities.
Some post offices only handle mail. Kamikochi does not have a facility to drop cash, and some shops do not accept credit cards, so be sure to bring cash in advance.
Stand (Alpico Shop, Pickle souvenir shop)
We sell souvenirs such as Shinshu Wasabi, Nozawana and Kamikochi limited sweets, and drinks. Drinks go up as you get away from Kamikochi Bus Terminal, so if you don't have it, it's a good idea to buy it at a stand.
There is a toilet that can be used for 100 yen near the place where you submit the mountain climbing report (Kamikochi Information Center). You can use the toilet for free at the hotel where you stay, but if you can't make it in time, use it.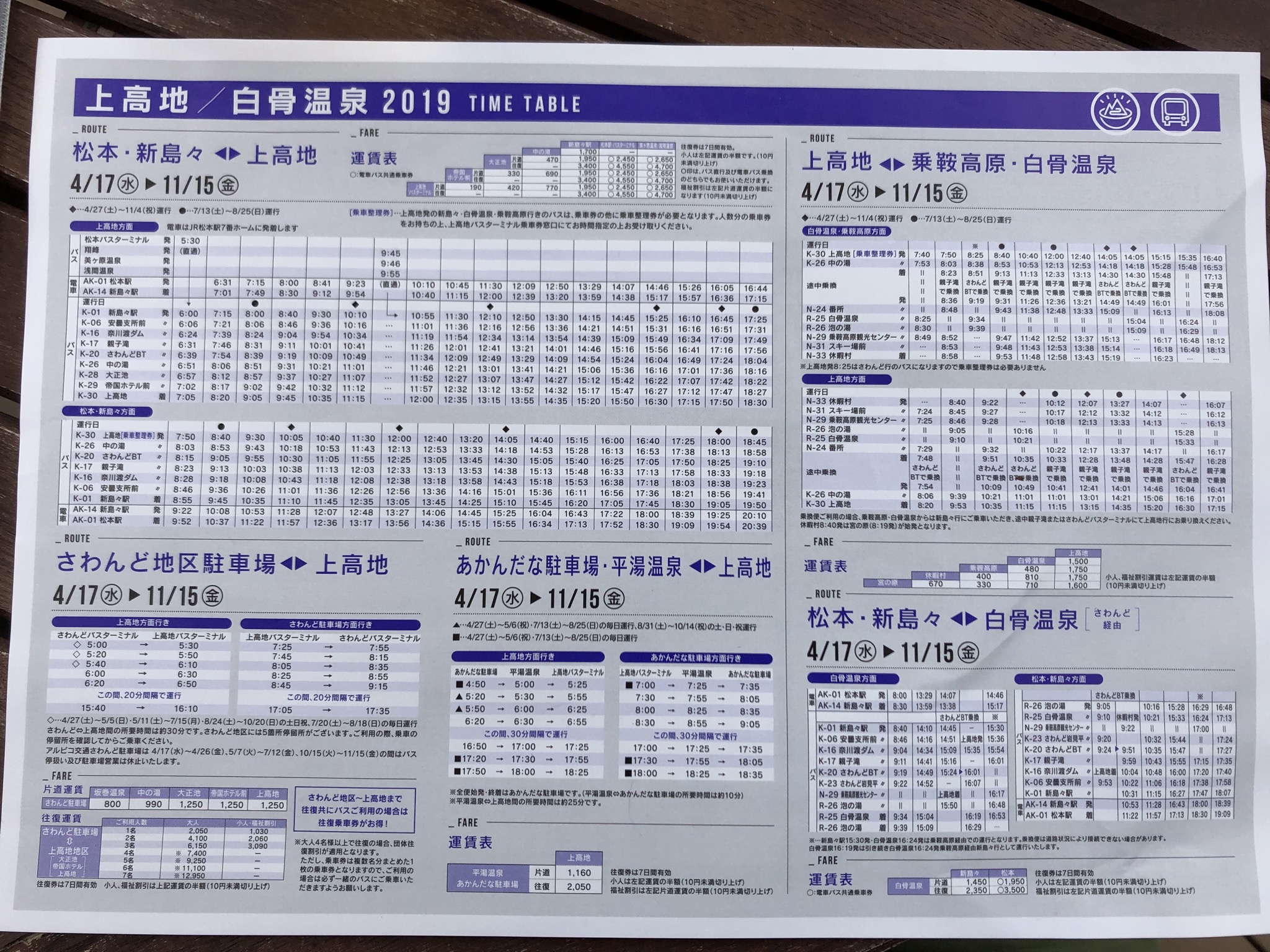 If you do not have a return bus, you can purchase one. To secure a bus seat, you need a numbered ticket in addition to the ticket. It's a paper like a receipt, so don't throw it away.
There is a facility called Kamikochi Shokudo where you can eat proper rice. It is open from 5:30 in the early morning, so you can get ready immediately after arriving by night bus.
Tokyo Medical University Kamikochi Clinic
Matsumoto Police Station Kamikochi Temporary Security Office
Preparing for a walk
We recommend that you leave your baggage first. Kamikochi hotels will keep your luggage even before check-in time. Leave your heavy luggage at the hotel before exploring. Depending on the hotel, you may use a bath when you leave your luggage. If you do not take a bath the day before, such as a night bus, you can ask the hotel and use the bath.
In Kamikochi, public toilets are basically charged. You can also get 100 yen at Kamikochi Bus Terminal, so if you are going to take a bus with a toilet, you can do it in the bus, or when you leave your luggage at the hotel, let's do it. Most of the hotels in Kamikochi are located about 5 minutes on foot from the Kamikochi bus terminal called Kappabashi, facing the Azusa River upstream.
Kappa Bridge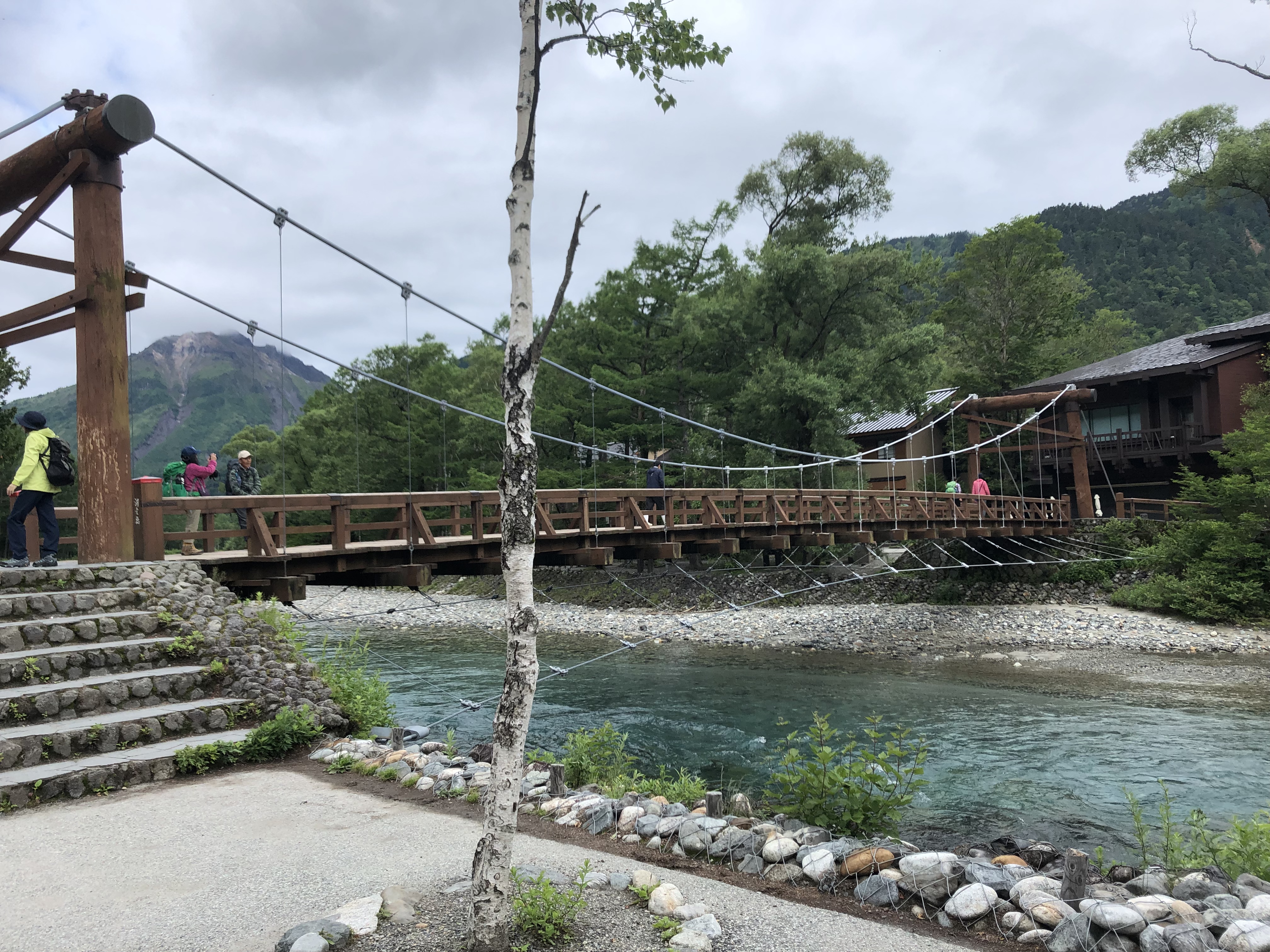 It is the busiest place in Kamikochi, with hotels, souvenir shops, rice shops, cafes and shops. (There are places where the stalls will be disposed of at half price around 15:00.) There are the following five hotels near Kappabashi.
Gosenjaku Hotel
Hotel Shirakabaso
Gosenjo Lodge
Kamikochi Nishiitoya Sanso
Kamikochi Alpine Hotel
Each hotel has the functions of a shop, a cafe, and a restaurant in addition to accommodation, so you can use it without staying. We recommend the terrace café at Hotel Shirakabaso, where you can have a cup of tea while taking in the superb view of the Azusa River and the Hotaka Mountain Range.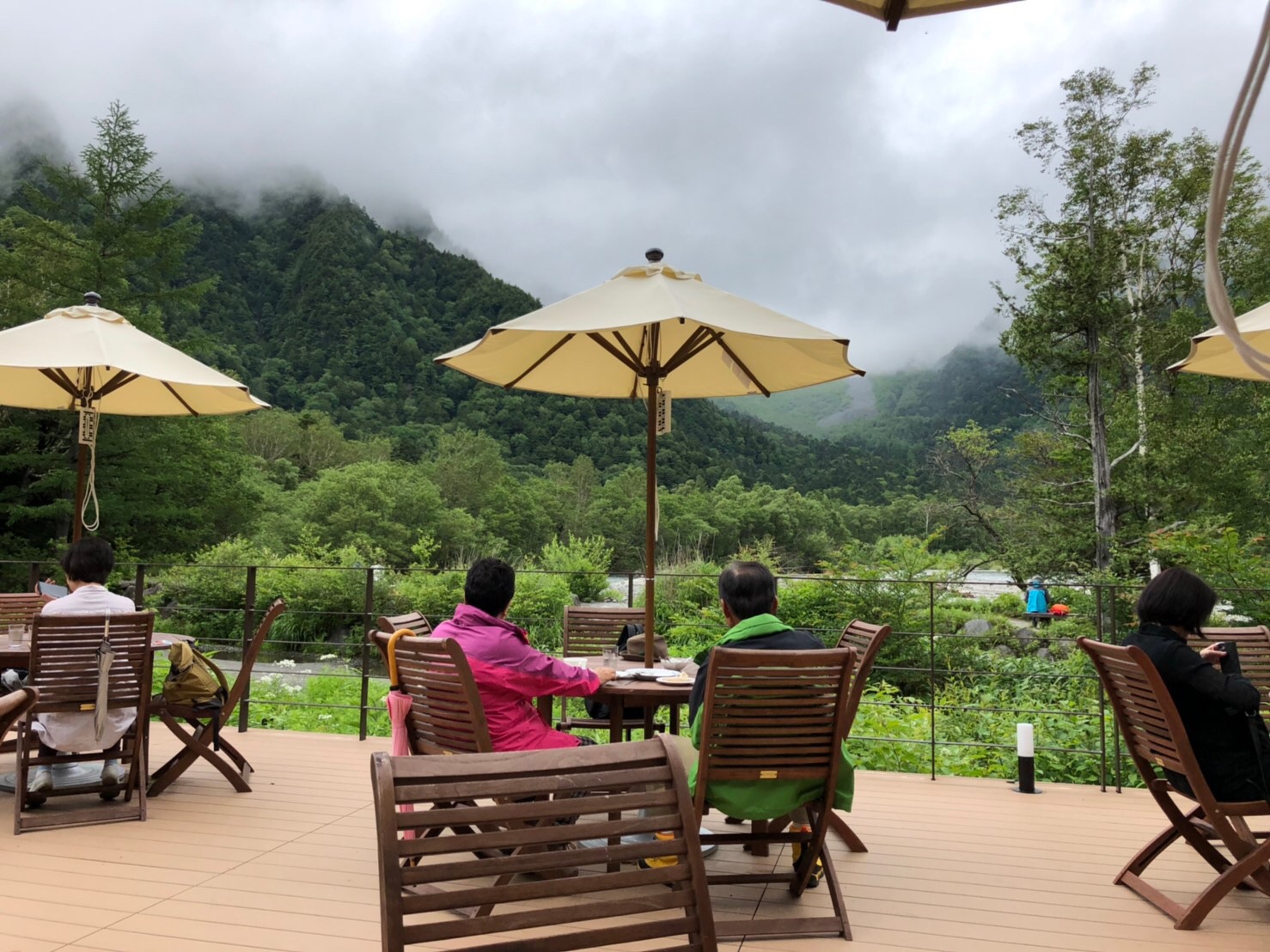 Speaking of other superb view points, the best view is the clear view of the Hotaka Mountains (the part hidden by the clouds) from the top of Kappa Bridge, a wooden suspension bridge of 3.1m in width and 36.6m in length. (If it is sunny …)

After enjoying Kappa Bridge, it is time to begin exploring Kamikochi. When taking a walk, it is comfortable to put the following tools in your backpack.
Rain gear (recommended)
drink
Sweets
bug repellent spray
towel
money
The Kappachi walk is along the Azusa River along Kappa Bridge → Myojin → Tokusawa → Yokoo route is a royal road, but if you go to Yokoo, you will walk a considerable distance, so if you are not confident in your physical strength, please go to Myojin . The course times to Myojin, Tokusawa and Yokoo are as follows.
Kappabashi → Myojin: 50 minutes (about 3km)
Myojin → Tokuzawa: 60 minutes (about 4km)
Tokuzawa → Yokoo: 60 minutes (about 4km)
* If you deviate from the above route, you will climb. If you want to take a day trip, you should not do so, as it will be no longer the distance you can return on a day trip. Let's start. (In this article we will introduce Kappabashi to Yokoo)
Kappabashi-Myojin
You will reach Myojin in 50 minutes by walking through the forest without ups and downs. A major course is to walk along the road with Azusa River on the left from the direction of viewing the Hotaka Mountain Range from Kappa Bridge. (Road on Kachibashi Bridge's Gosenjaku Hotel side) If you can see the Kamikochi Visitor Center and the Konashidaira Campground right out of Kappabashi Bridge, it is a correct route. The hotaka mountain range seen from the Konashidaira campsite is also a superb view. Because there are not as many people as Kappa Bridge, it is perfect for taking photos.
Myojin
In Myojin there are restrooms, shops, hotels (Myojinkan, Kamonji hut, Yamanoda), and Hodaka Shrine as a place to drop in.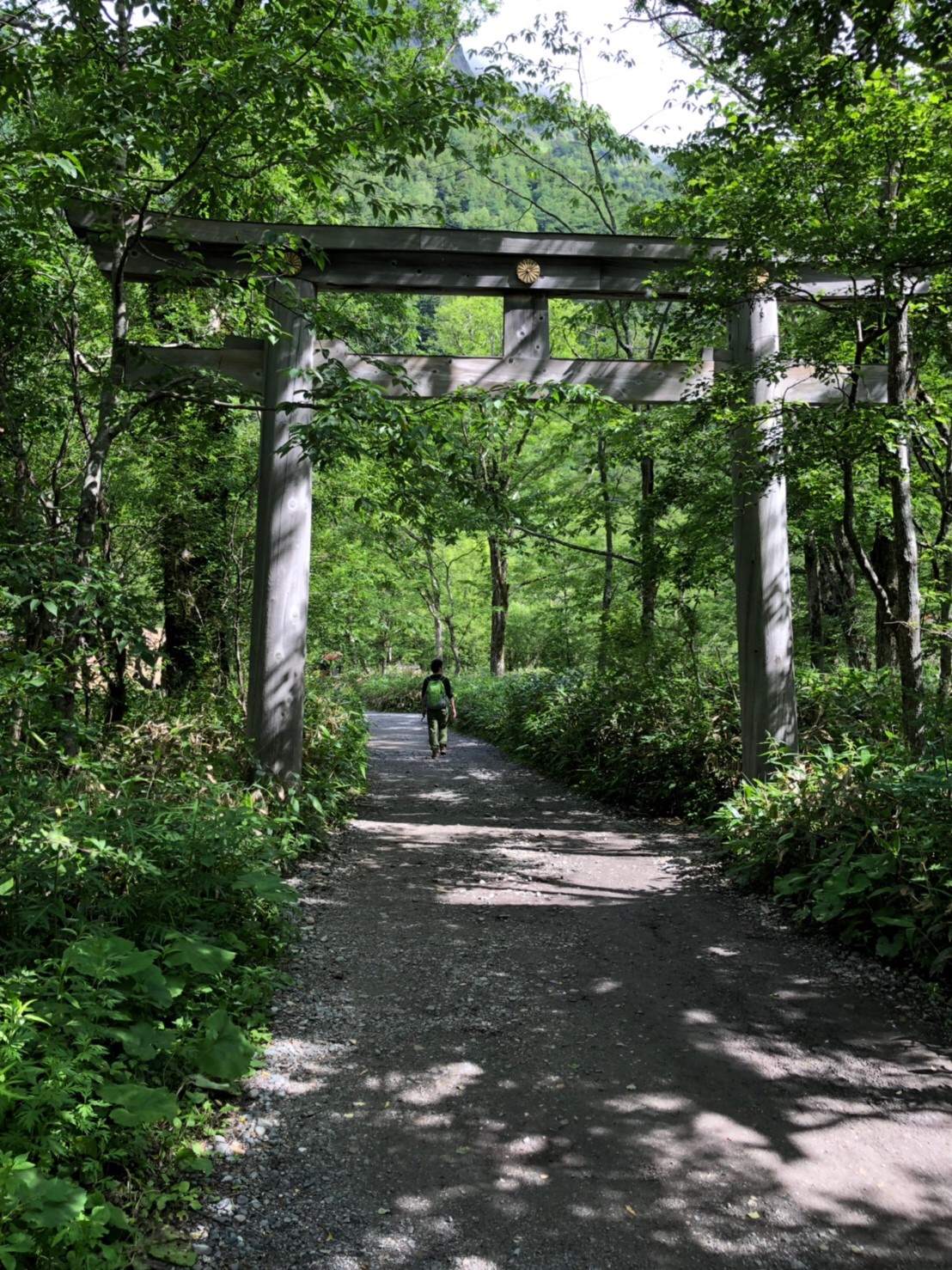 For those who collect the Goshushi, there is the Goshushi sale (500 yen) and the famous Myojin Pond as a power spot. (Admission fee 300 yen)
Myojin Pond (Ichinoike)
After accepting the visit and proceeding along the road, you will find Ichinoike. We pray for the safety of the trip while looking at Mt. Myojin (there is no climbing road, Mecca of climber) in front.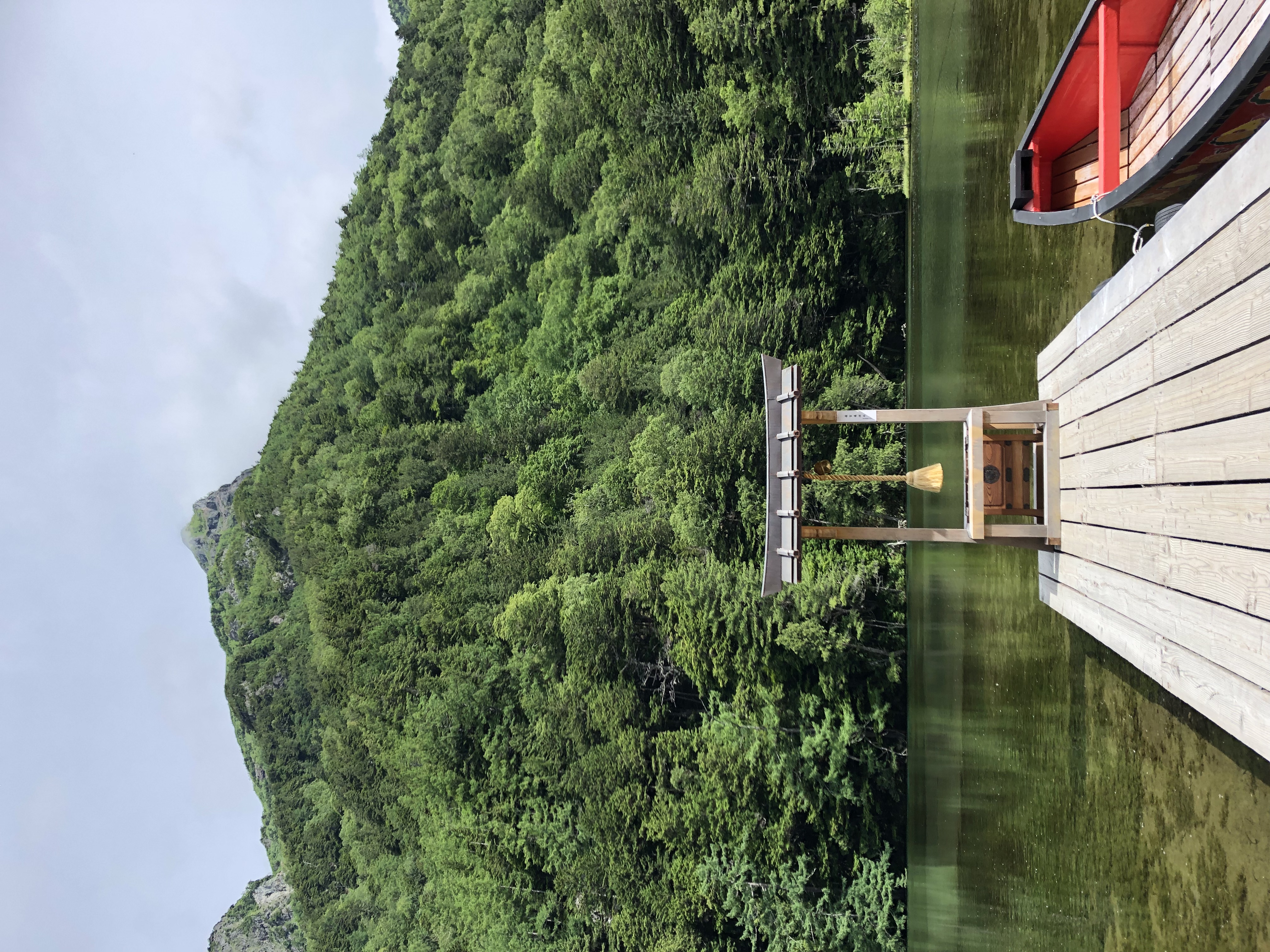 Myojin Pond (Ninoike)
Looking at Ichinoike from the reception, Ninoike is on the left. It is a pond that looks like a garden and is more impressive than Ichinoike. If you put it on Instagram, it's Ninoike.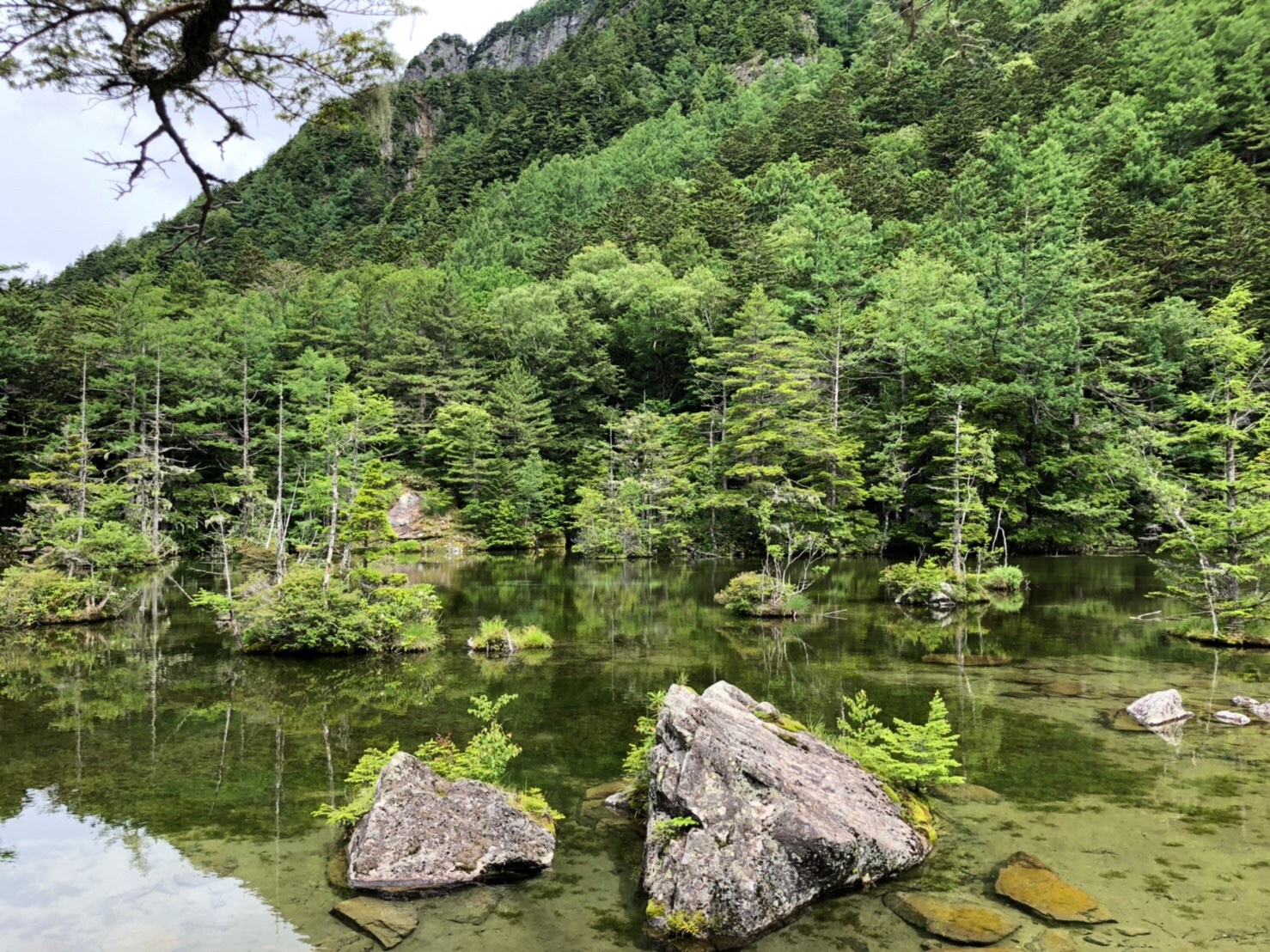 Kamonji hut
In Kamonji hut, you can eat Japanese char set meal which is baked on the spot.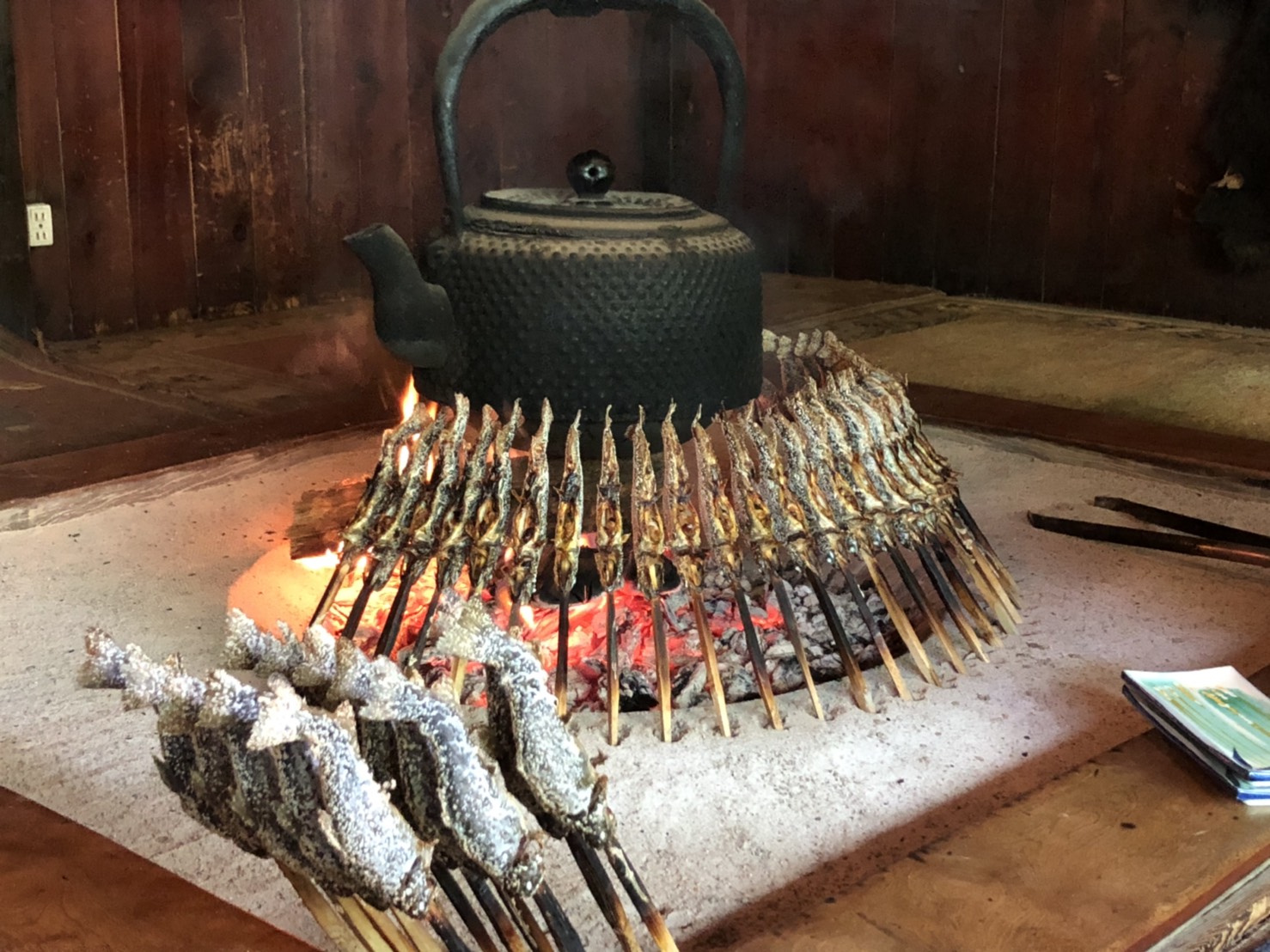 The Japanese char set alone is 1000 yen, and the Japanese char set meal with rice, miso soup, pickles and small bowls is 1600 yen. It feels like you're getting into your stomach and it's very delicious, so please try it. (You can eat even bones)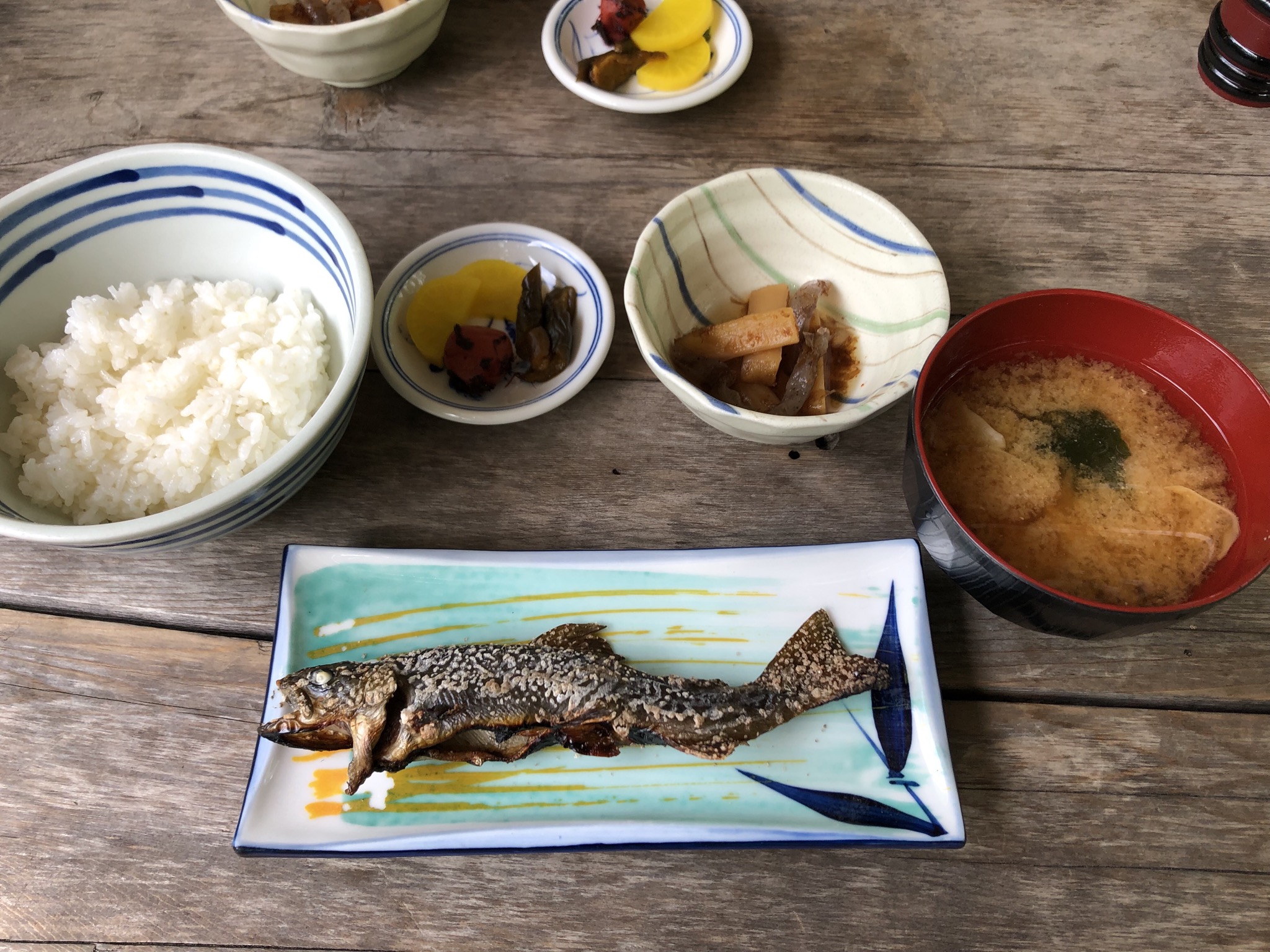 * After eating, you may want to go to the rest room. Kamonji hut toilets are free, but no tissue is provided. The hut sells for 50 yen. After hydration and toilet, return to Kappa bridge or depart to Tokuzawa if you feel fine.
* You must walk the same distance on the way back. Don't overdo it!
Myojin to Tokuzawa
Departs from Myojin and heads for Tokuzawa along the Azusa River. It is about 4km (1 hour on foot), which is slightly longer than between Kappa bridge and Myojin. As you go between Kappa bridge and Myojin, you will go through the forest zone, but your feet will be a little worse. Rocks, gravel, and mud will come out, so be careful not to twist or slide your feet, and watch your feet. In addition, there is a sign that says Tokumoto Pass immediately to the right after leaving Myojin, but it is not a walking course because it is a mountain climbing course.
Tokuzawa
---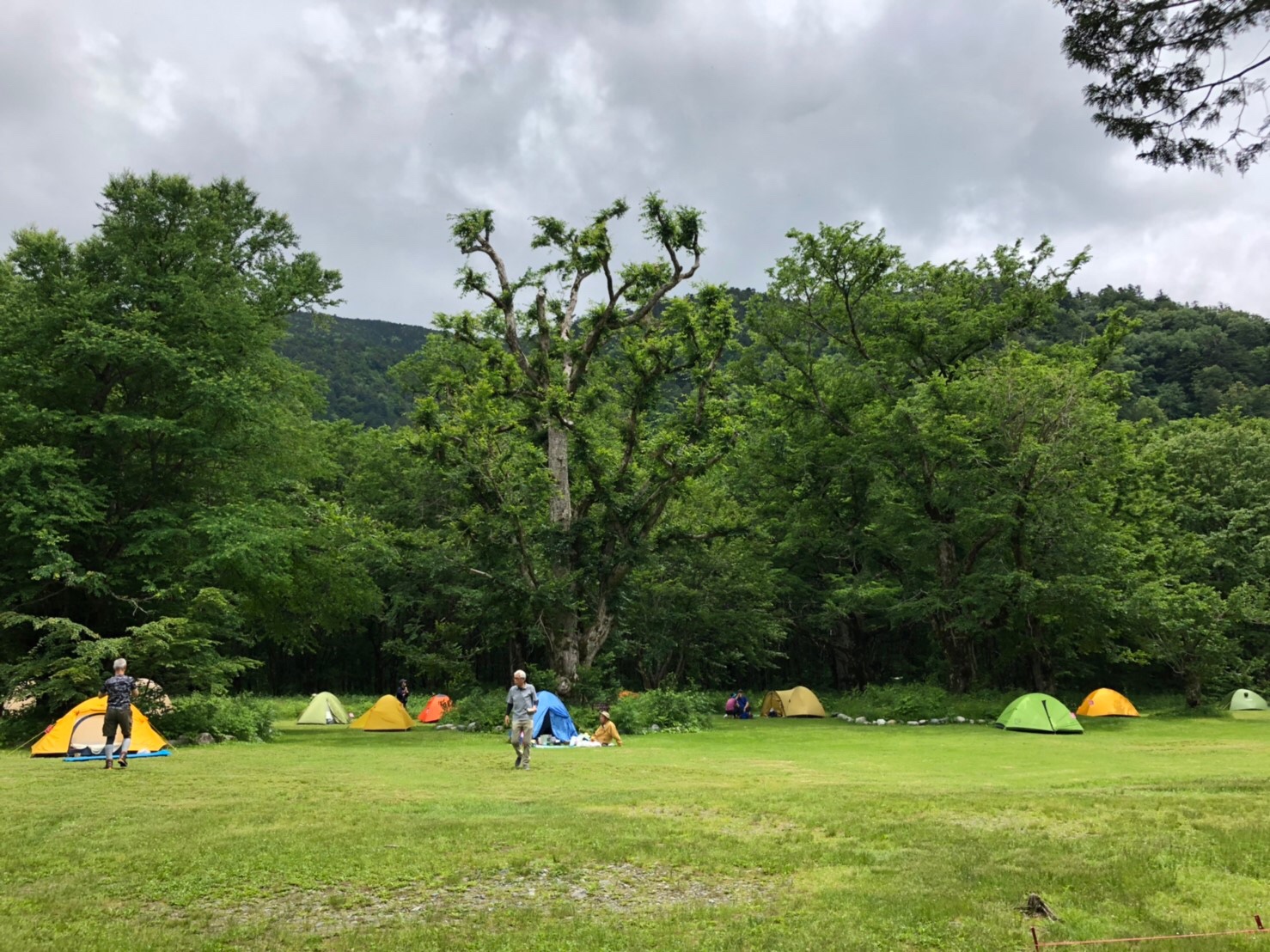 There is a tent area lined with Harnile, a deciduous tree of Japanese elm family, and it is also famous as the place where Yasushi Inoue's novel "Hyoheki(Ice wall)" was set. It also has facilities such as Tokuzawa Lodge and Hyoheki no Yado Tokuzawaen(Hotel), shops, toilets, and facilities in the summer, such as Nihon University Medical School Tokuzawa Clinic. MICHIKUSA SHOKUDO's soft ice cream is not heavy and is not too sweet. It is very delicious to eat while exercising.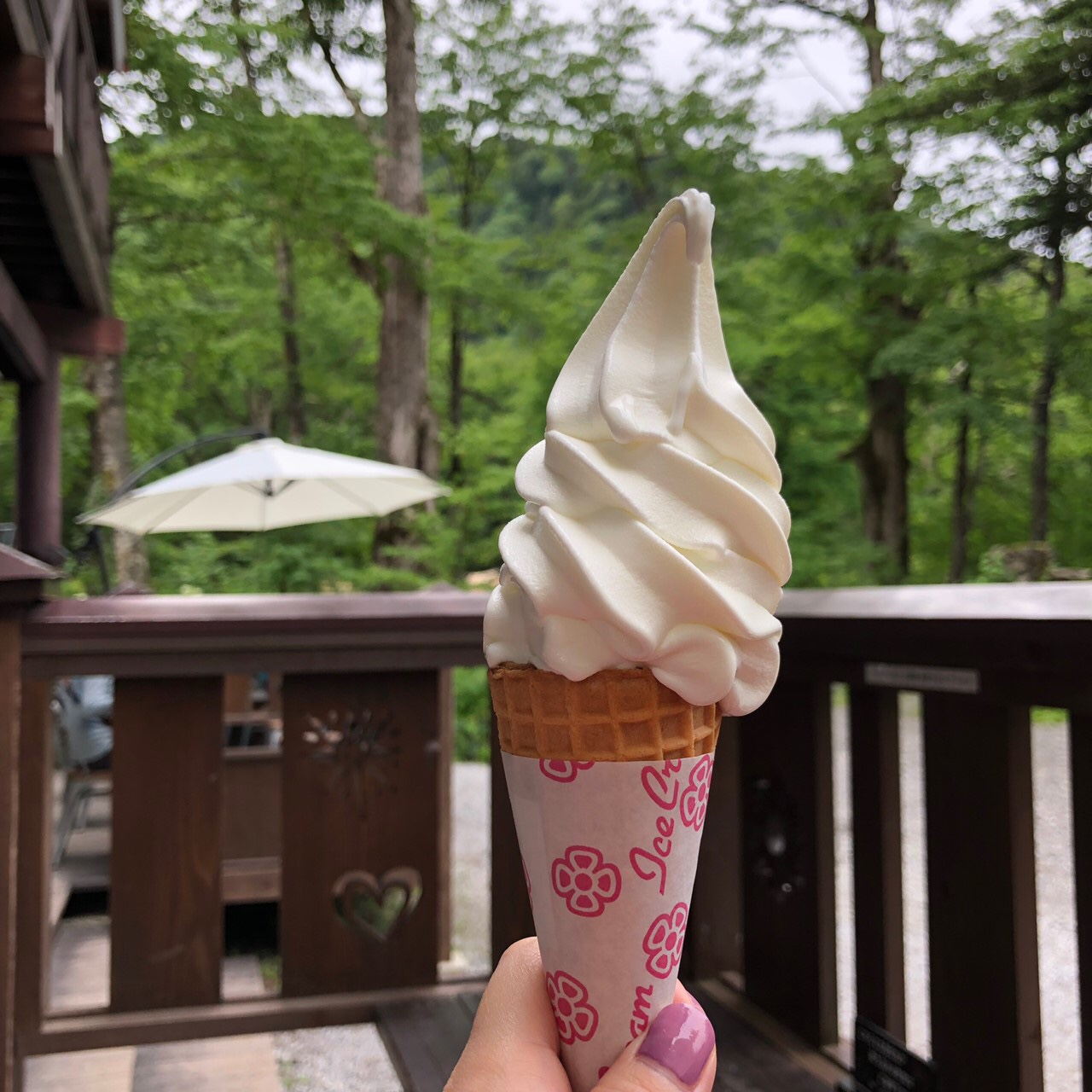 If you can take a break and have enough physical strength and time, go to the deepest part of the walk, Yokoo.
Tokuzawa-Yokoo
Tokuzawa-Yokoo is about the same distance as Myojin-Tokuzawa, but the path is a little bad, so be careful not to twist or slip. In addition, there is a sign on the right hand side of Tokuzawa that says Mt. Chogatake, but it is a climbing course like Tokumoto Pass. When you walk out of Tokuzawa for about 15 editions, there is a bridge called Shinmura Bridge that connects the left bank and the right bank of the Azusa River, and is a photo spot. (It shakes quite a bit)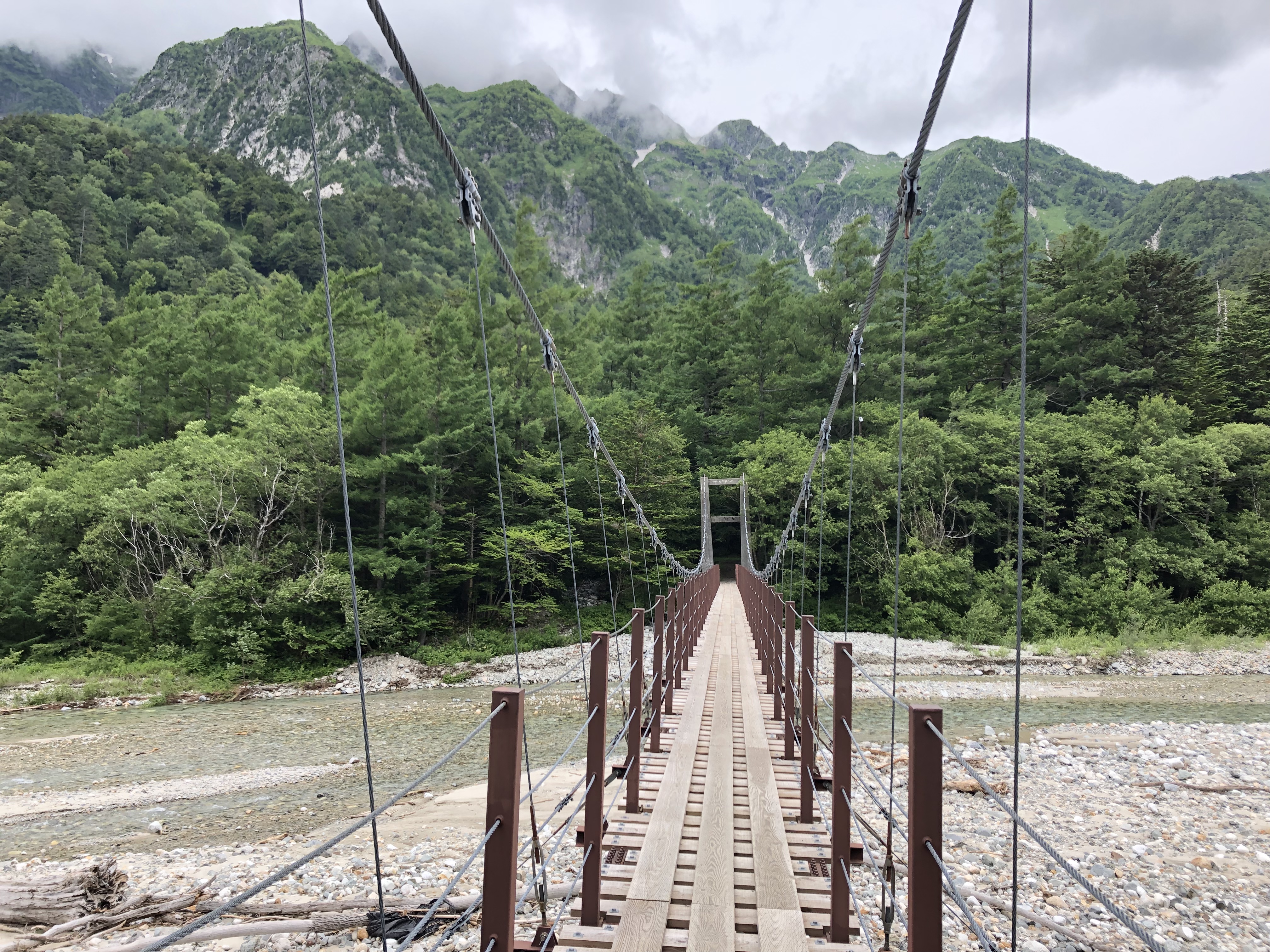 From Shinmura Bridge to Yokoo, we walk in the forest zone for 30 minutes within 45 minutes. For the last 15 minutes, walk along the Azusa River through the forest belt. And we arrive at Yokoo, the innermost part of the Kamikochi walk.
Yokoo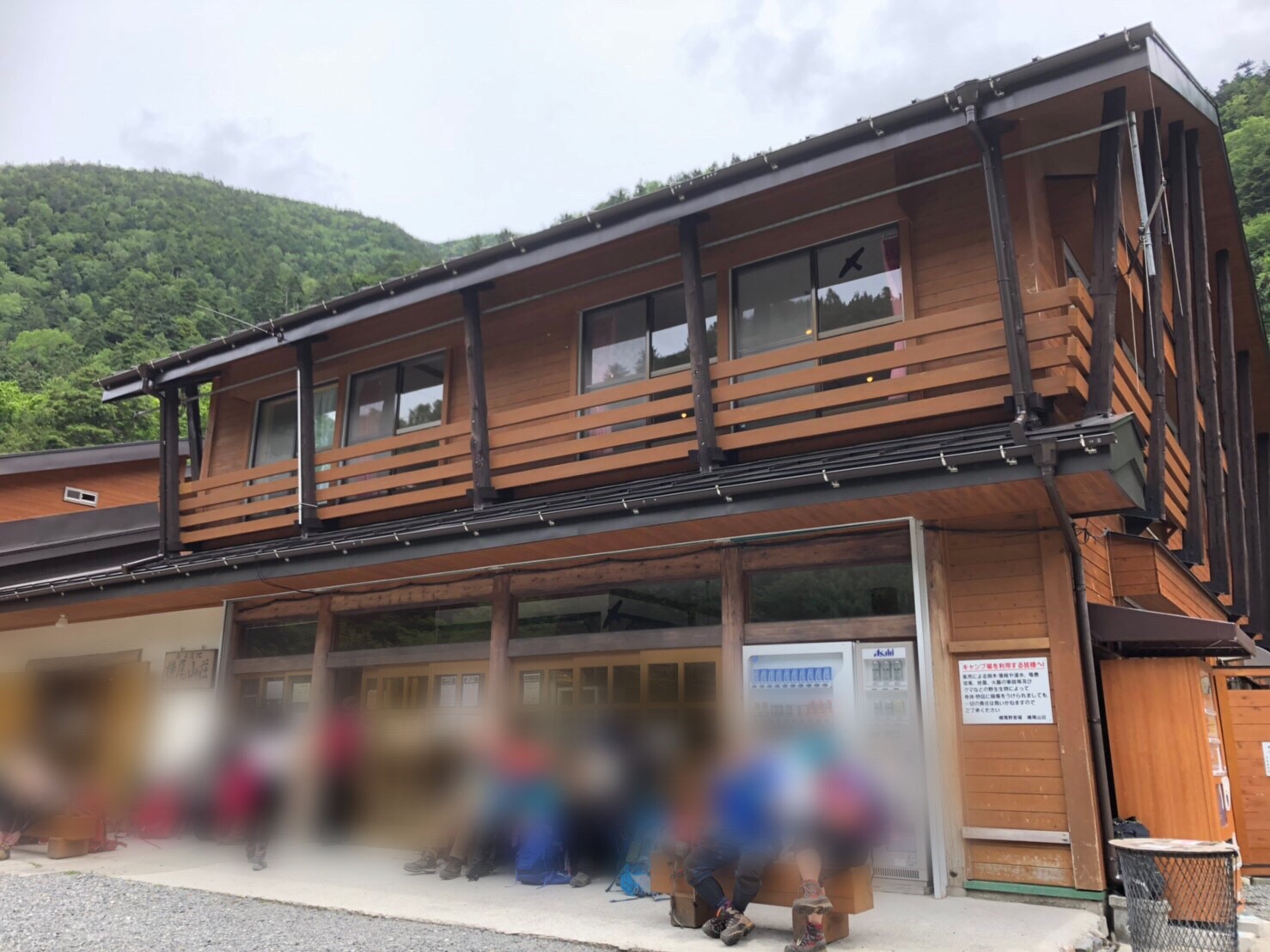 Yokoo has accommodation facilities such as Yokoo Sanso(hut) and Yokoo campsite, shops, vending machines, and toilets set up by the Ministry of the Environment. Since there is a road for carrying luggage to the villa and commuting to Yokoo, prices for drinks and food are high, but they are within the level of common sense. For example, can juice costs 250 yen and cup ramen costs 400 yen. In addition, Yokoo has Yokoo Ohashi, which leads to Karasawa and Okuhotaka, and is a photo spot.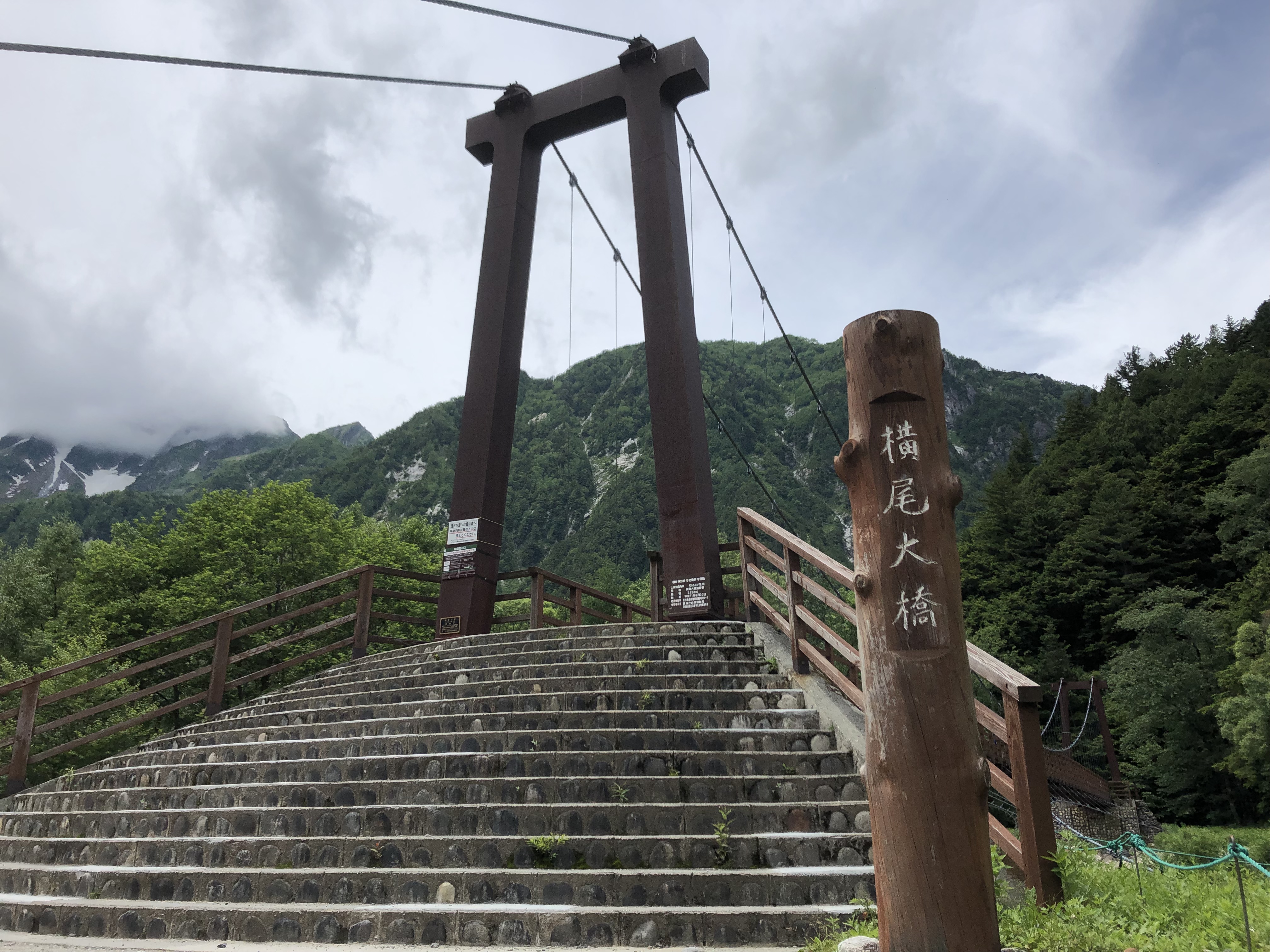 * Karasawa and Mt. Okuhotaka are too far to go for a day trip, so it is a prerequisite to stay. (Karasawa is famous for its autumn leaves, so if you have a tent, it's a must-visit, it's a superb view.) However, it is impossible on a day trip and it is not a walk but a mountain climb, so let's go back after taking a break and taking a picture. It is near the top of Yarigatake which I went to another day. (Not a stroll)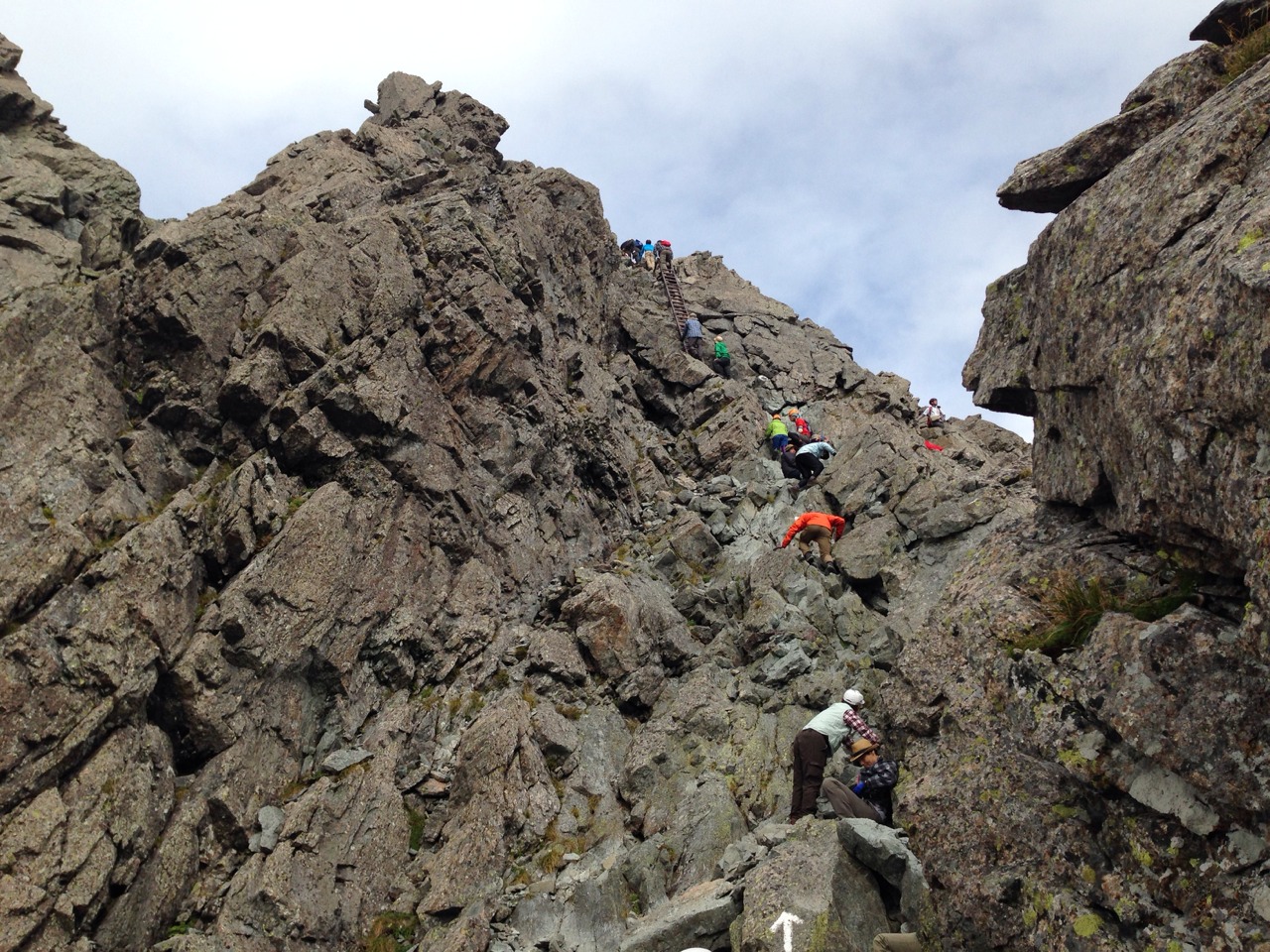 If you act on the schedule of arriving in Yokoo around noon, you will return to Kappabashi around 15:00 and check in to the hotel. Most hotels in Kamikochi have hot springs, so after checking in, enter the hot springs, sweat, buy souvenirs, and eat dinner and relax!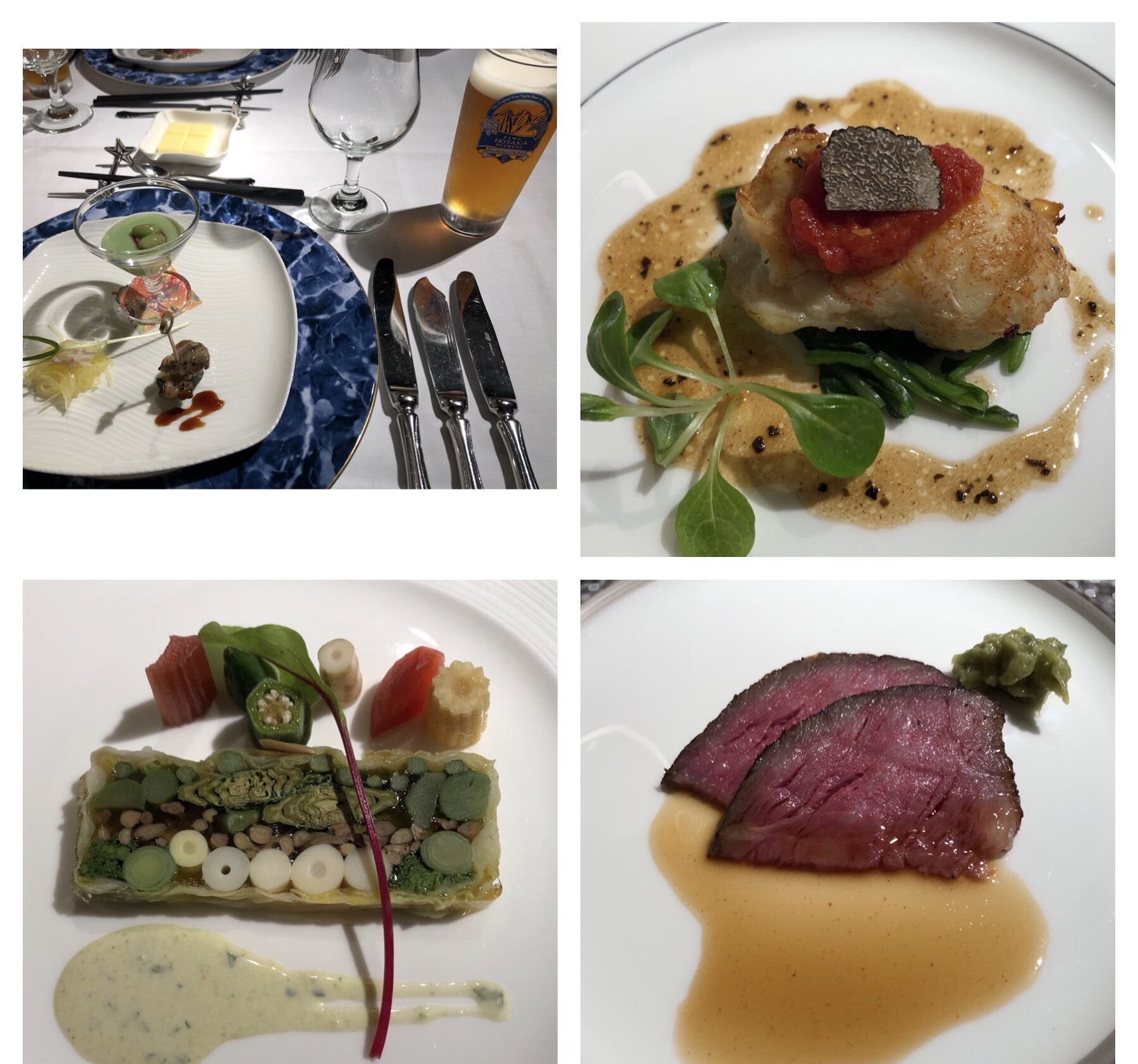 Dinner @ Lumiesta Hotel
If you want to spend a quiet and quiet night in Kamikochi, we recommend the Lumiesta Hotel, an imperial hotel in Kamikochi, a little far from Kappa Bridge. High season accommodation in Kamikochi is also expensive, despite the difficulty of booking. A discount of only 20% would be a big discount.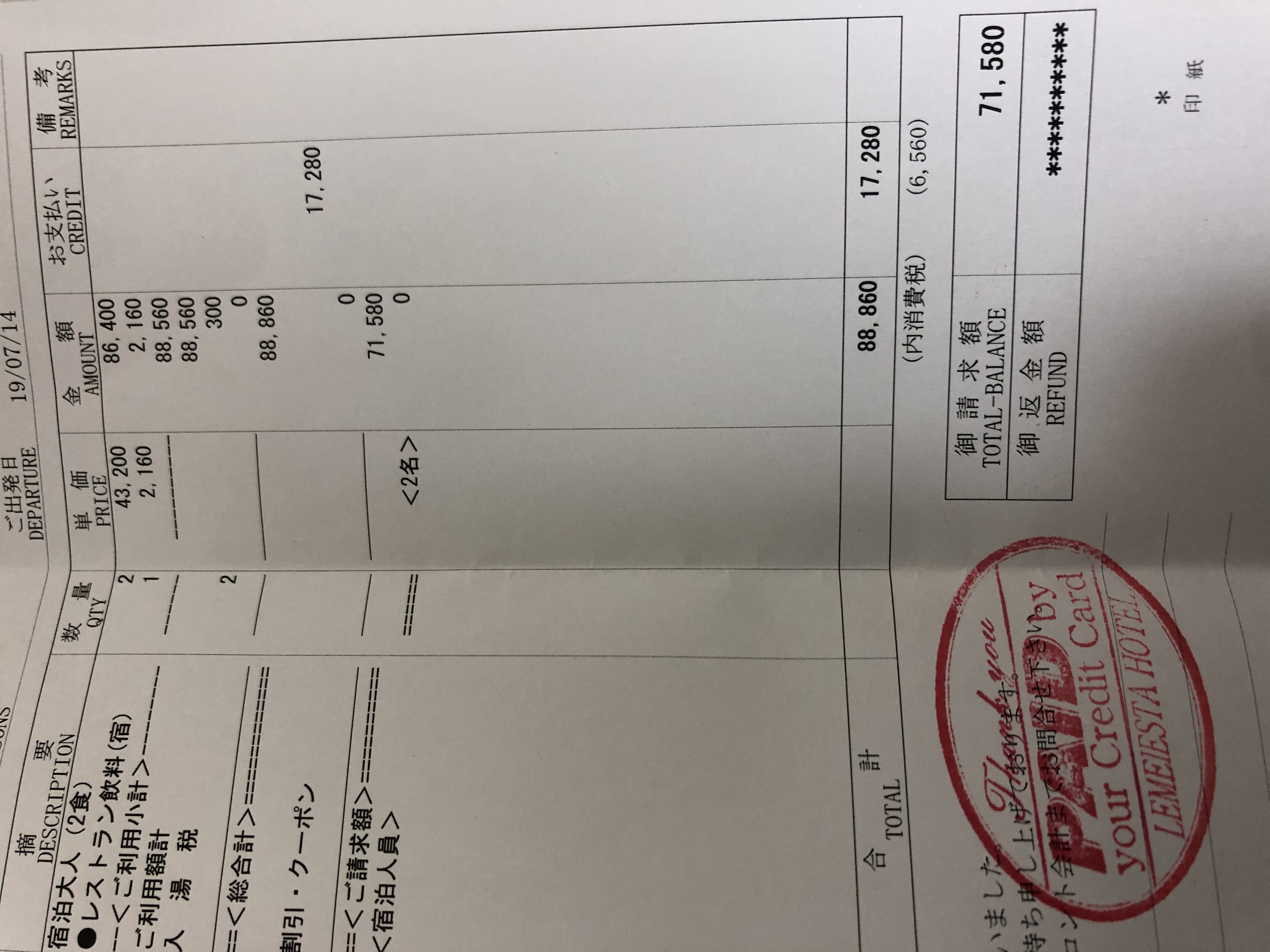 How to save on accommodation costs