Kyoto is popular for Japanese, tourist from overseas. I introduce good deal ticket for sight seeing. Most recommend ticket is 1 day free bus ticket. because bus is the main traffic for tourist in Kyoto.
▼One day free bus ticket sample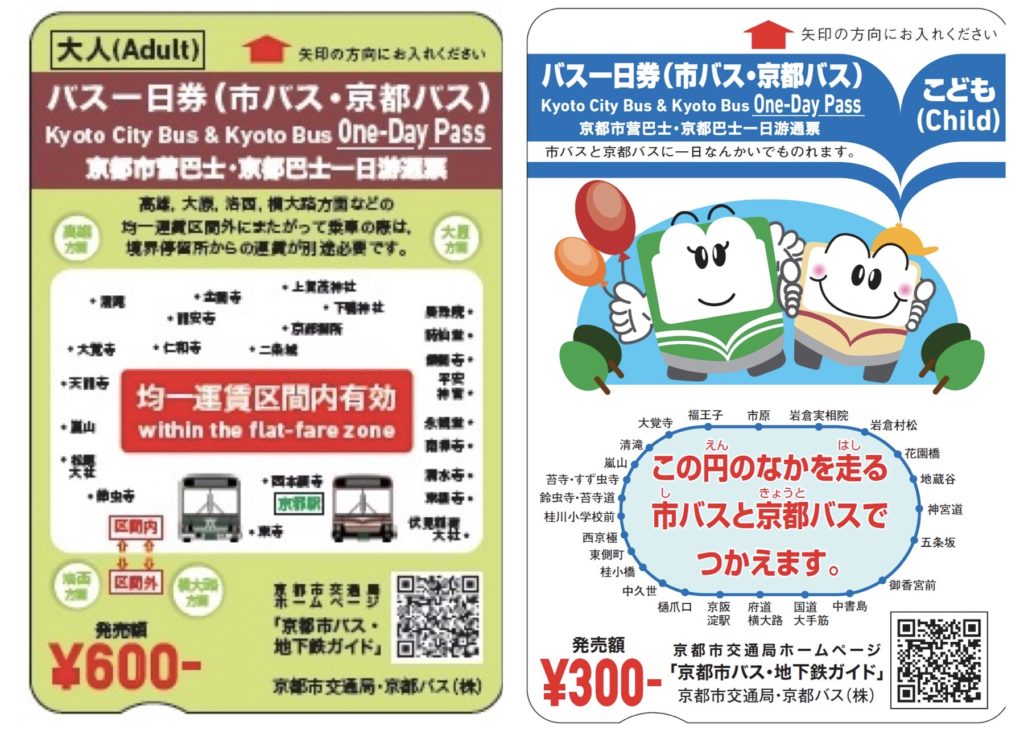 ✔︎Detail information about 1 day free ticket is here(Linked to Kyoto Municipal Transportation Bureau Official homepage)
You can use the bus ticket in most Kyoto city area, but there are exception areas as below picture. 
▼Exception areas of 1 day free bus ticket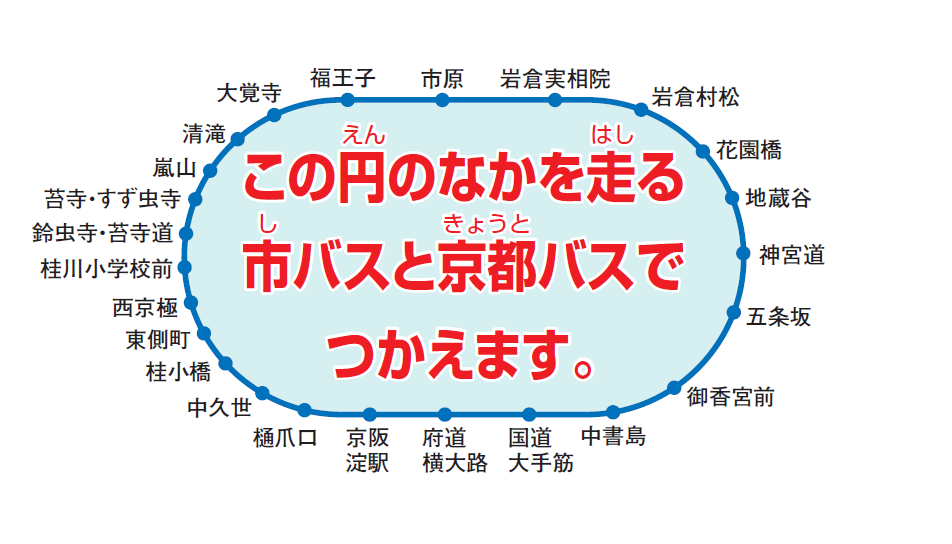 source:京都市交通局HP:https://www.city.kyoto.lg.jp/kotsu/page/0000028337.html
Then, additional bus fare is about 160~530yen. If you want to know how much is the fare, you can find the summary Kyoto city made. 
The ticket can only be used by the person himself.(Adult:600yen, Child:300yen)You can buy it at information office of City bus or Subway but also buy in the bus. if you call driver "I want to buy one day free bus" 
The first use passes through the card reader attached to the toll gate on the left of the driver's seat. From the second time on, it is OK to just show the driver the printed surface of the one-day ticket.
The city buses in Kyoto often have stops, so you can get off at the destination you want to go to, and buses come intervals of about 10 minutes, so there is little waiting time.
On the other hand, there are too many routes so it is difficult for travelers to know where is the bus stop and what bus is you may want to get on and it takes time to move because of the frequent stop.
The Kyoto Municipal Subway is convenient, in terms of being easier to get on and off than a bus, and taking less time to move. In Kyoto city, the subway runs north-south along Karasuma-dori and east-west along Oike-dori, so you can get to the place you want to go to faster than city bus. When you arrive at the place you want to go, moving from the place to the destination by bus is the least loss of time. However, city buses and subways require separate fares, so in such cases, "One day free bus and subway ticket" is cheaper.
▼One day free bus and subway ticket sample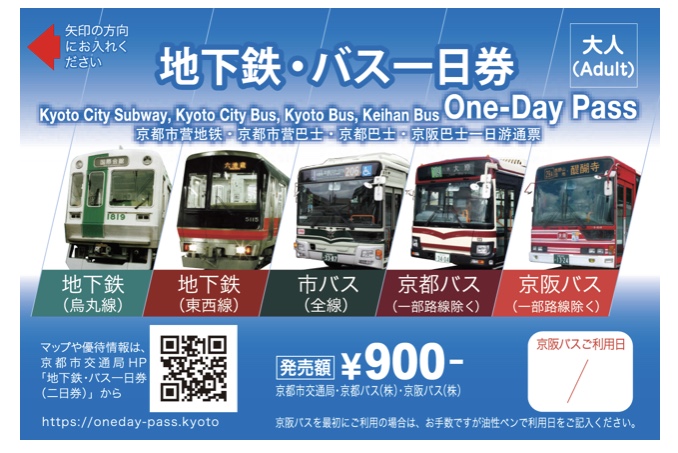 The city bus and subway will be unlimited for one day at 900 yen. The subway costs at least 220 yen, and the city bus 230 yen on a uniform section for a regular fare respectively.
Thus, you can get your money's worth, if you use the ticket. For example, if you arrive at Kyoto Station and go straight to Kinkakuji by bus and subway, you can arrive in 28 minutes.(Regular fares:one way 490yen, round trip 980 yen)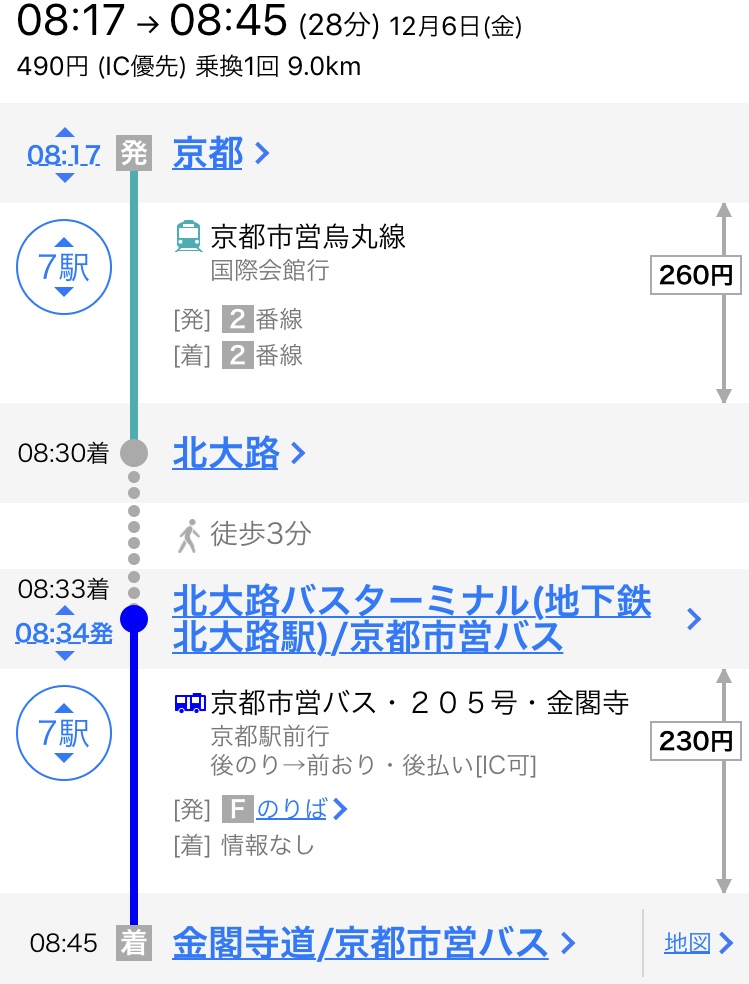 On the other hand, It takes 41 minutes to access Kinkaku-ji Temple by city bus alone.(Regular fares:one way 230yen, round trip 460 yen)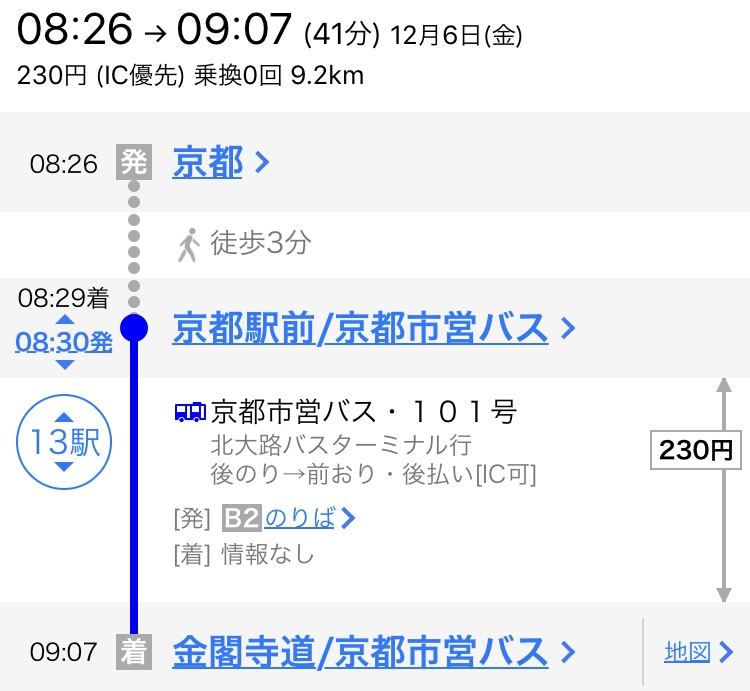 The time difference is only 13 minutes, but if you go to several sightseeing spots in one day, it can often be more than an hour just by traveling.
Traveling is synonymous with paying for the time spent in the area, so we recommend that you use your time effectively and make your trip richer!