Until now, the only flight was from Kansai to Matsumoto in Nagano, where JAL(Japan Air Line) was only available during the mountain climbing season in August. Except for August, we can access to Matsumoto only by train, night bus, car, so it takes a lot of time.
Kansai → Matsumoto's main directions and travel times except for August.
car or express bus:5hours
night bus:8hours
train:4hours
The access was so bad that I could only go when there was a long break. That's how, from October 27, 2019, Fuji Dream Airlines has connected Kansai to Matsumoto all season!
Fuji Dream Airlines connect Nagano and Kansai!
▼This the price to flight from kobe airport to Matsumoto, Izumo, Kochi but Japanese only. You can reserve at "Fuji dream airlines homepage"
Matsumoto means "松本"

Izumo means "出雲"

Kochi means "高知"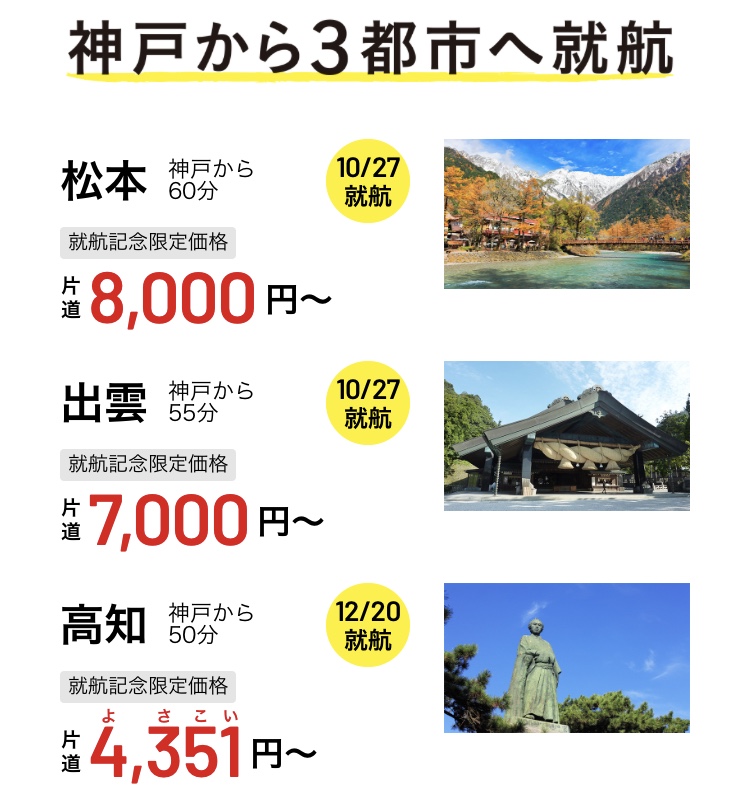 Nagano Prefecture, where Matsumoto is located, has many summer resorts such as Karuizawa in summer, autumn leaves in Karasawa in autumn, and skiing, Shirahone and Shibu hot springs in winter.
Fuji Dream Airlines connects Matsumoto Airport from Kobe Airport in Kansai. It takes 60 minutes from Kobe Airport to Matsumoto Airport!
You can go from Kansai to Matsumoto Airport in one hour! It takes 100 minutes including the travel time from Matsumoto Airport to Matsumoto station.
Absolutely this line will be full by reservation. . . I want Fuji Dream Airlines to issue a flight increase plan as soon as possible.