Hyogo is famous for Kobe city. There are many western building and restaurant. 
Do you want to be healed while sightseeing in Kobe? Kobe is not only famous for cityscape but also actually hot springs.
Arima Onsen, the oldest hot spring in Japan, is located in Kobe. One transfer from Kobe Station (subway) takes you to Arima Onsen in 25 minutes.
The feature of Arima Onsen is that it contains many active ingredients which are rare in the world.
Of the nine main components designated as recuperation springs (simple hot springs, carbon dioxide springs, bicarbonate springs, chloride springs, sulfate springs, iron-containing springs, sulfur springs, acid springs, and radioactive springs) Arima onsen contains seven ingredients, excluding springs and acid springs.
In addition to be expected from the effects of recuperation, you can take in a variety of hot springs with enjoying the hot springs.
I will show you how to enjoy Arima Onsen.
The good deal coupon for Arima onsen
Coupon for Taiko-no-yu(2950yen)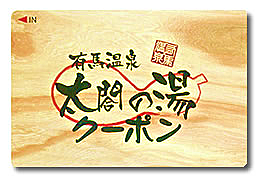 Coupon for Taiko-no-yu contains train fares to Arima onsen and bath fee of Taiko-no-yu.
✔︎train line:Hankyu line, Kobe express line, Kobe line 
How much you save depends on where you live, but if you go to Arima Onsen from Kyoto and take the hot spring in Taiko-no-yu, it costs around 2500 yen cheaper.
Bath fee of Taiko-no-yu itself is 2,400 yen on weekdays and 2600 yen on holidays. If you go  from  Kyoto to Arima Onsen by train, the cost is 3090 yen, so the total fee(train and bath) is 5490-5690 yen, so it costs cheaper about 2500 yen.
The bath fee of Taiko-no-yu itself is high, but there are 26 types of baths and bedrock baths, so if you think that you can enjoy all day, I think that it is not expensive.
Ticket for Arima grand hotel(3650yen)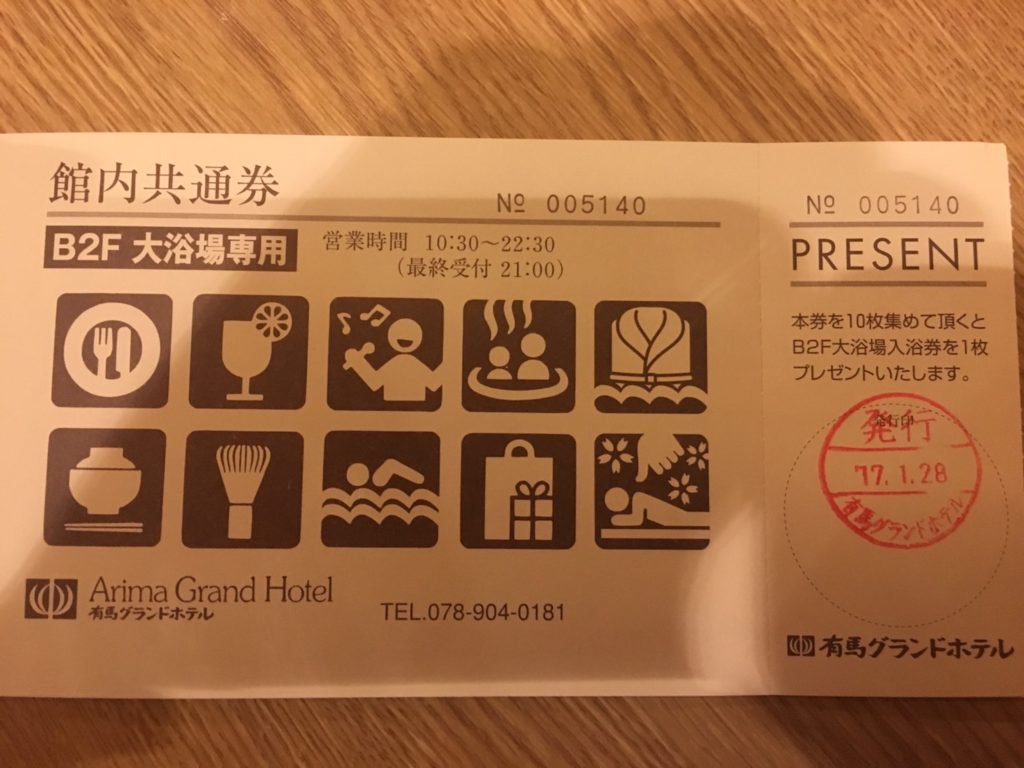 Arima Grand Hotel, a long-established in Arima Onsen, is a luxury hotel that usually costs over 30,000 yen per night, but you can use the hot spring on a day trip.
Ticket for Arima grand hotel is sold at the hotel reception under the name of Arima Grand Hotel Common Ticket, but the price is as high as 3650 yen.
However, this ticket for the Arima Grand Hotel includes a set of 2,000 yen vouchers that can be used inside the hotel and the day-time hot spring fee.
It is very convenient because it can be used at souvenir shops and restaurants in the hotel.
▼Arima onsen's bath salt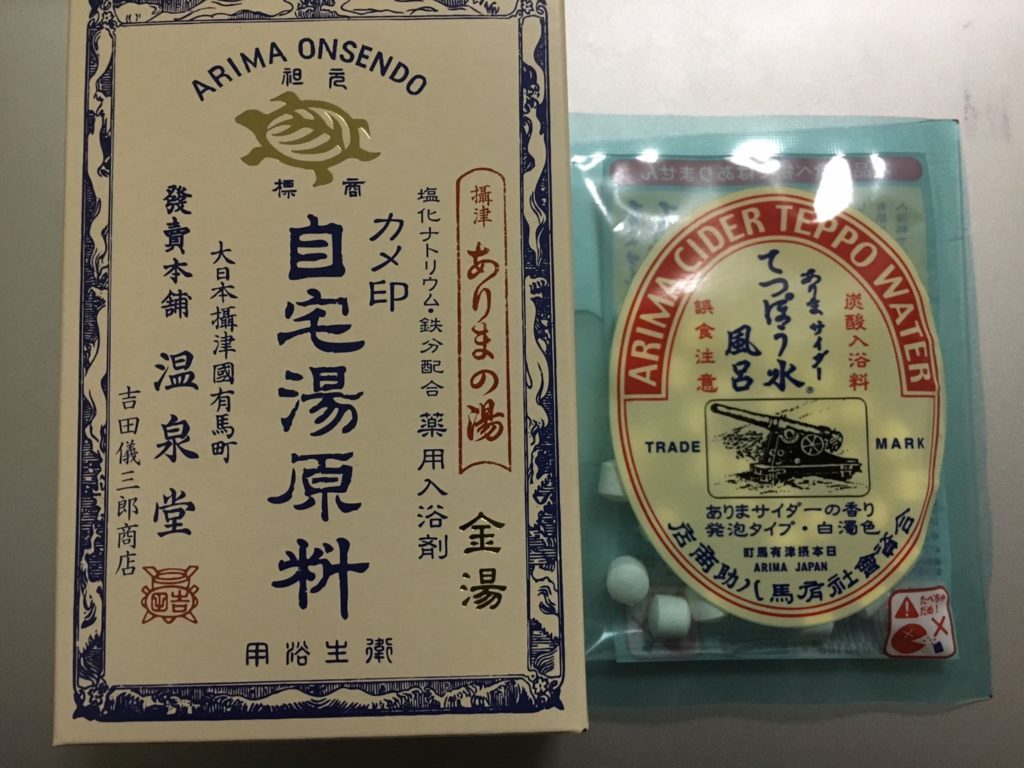 It is recommended that you arrive at the Arima Grand Hotel before noon, purchase the ticket in the hotel, go to the hot spring and have lunch and go back.
Discount ticket for golden and silver hot spring 
Normally, you can take a bath for 650 yen for Kinnoyu(golden hot spring) and 550 yen for Ginnoyu(silver hot spring), but if you purchase it as a set, you can actually take bathes in both Kinnoyu and Ginnoyu for 850 yen.
It can be purchased from ticket vending machines for Kinnoyu and Ginnoyu.
As explained above, Arima Onsen has unique character by its hot springs that contain various active ingredients, and the famous ones are Kinnoyu and Ginnoyu.
Kinnoyu is also known as "iron-containing sodium chloride strong salt high hot spring", and it is characterized by copper-colored hot water.
The salt contained in Kinsen has a warming effect for the body, it is effective for such as coldness, low back pain, joint pain, and poor circulation at the terminal. 
Ginnoyu differs from Kinnoyu in that the color of the water is colorless and transparent. It is "carbon dioxide spring (carbonated spring)" and "radiation spring (radon spring)". 
Carbon dioxide gas is dissolved in hot spring is effective for the body as below. The carbon dioxide spring expands capillaries when taken in from the skin, promotes blood flow, improves circulation throughout the body, and eliminates swelling.
Radioactive springs also increase the body's natural healing power by inhaling gas from the respiratory tract.
Kinnoyu and Ginnoyu discount coupons allow you to take these hot springs at reasonable prices.
If you don't want to spend much money, but want to spend rich time in Arima Onsen, you can use the above three discounts!