My wife's parents' home is in Kochi, and I go home for Golden Week, Obon, New Year's holidays.
Recently, the attention of "Yosakoi" and "Sakamoto Ryoma" has increased, and Kochi Prefecture is increasing the number of tourists not only from all over Japan but also from overseas. Over the past few years, there have been over 4 million visitors to Kochi, of which about 100,000 are foreign tourists.
When I wrote this article, I found some interesting information about Kochi.
Although foreign tourists spend less money coming to Japan to travel, overseas tourists spend money more in Japan. Why? The reason is that there is a large shopping street in Kochi city with a Hirome market, etc. and, after all, there are many kind people.
I felt it with my skin, and it was very comfortable at staying Kochi. I'm really looking forward to going Kochi. In this way, Kochi is becoming popular both in Japan and abroad, but access from Tokyo and Osaka was not good.
There were only basic airplanes from Tokyo, JAL or ANA. I wrote in a past article from Osaka that express buses were the best way to get around. (Takes 4 hours) At first, there are planes from Osaka to Kochi, but only ANA was out. . .
In other words, there were only JAL or ANA flights from Tokyo and Osaka, and there were no cheap LCCs. If you use ANA mileage discount ticket, you can go cheap in terms of money, but it is wasteful to spend 10,000 miles for short distance travel.
However, the other day, it was reported that LCC will start flights from Tokyo and Osaka to Kochi!
I introduce what's LCC.
You can access Kochi from Tokyo and Osaka by LCC!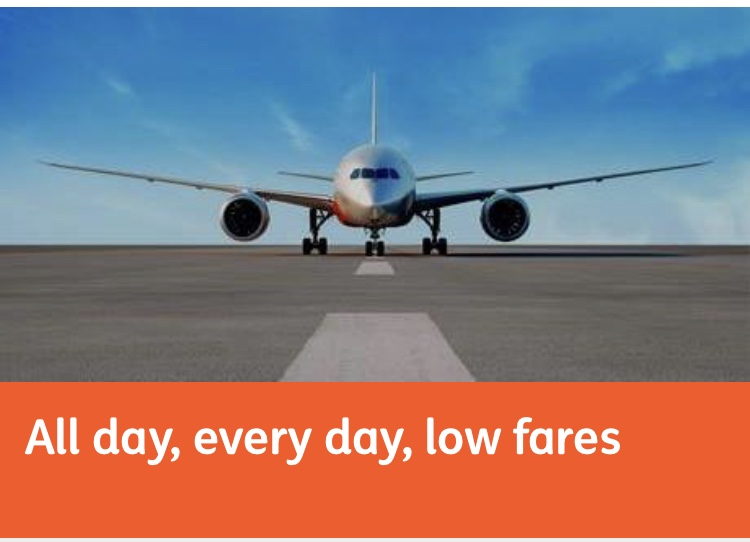 LCC that start flighting between Tokyo. Osaka and Kochi are Jetstar.
The service starts on December 19, 2018.
www.jetstar.com
https://www.jetstar.com/jp/en/home?adults=1&children=0&flexible=1&flight-type=2&infants=0&origin=KIX&tab=1
Book at Jetstar.com for the lowest fares, guaranteed. Backed by Our Price Beat Guarantee. Conditions apply. Jetstar Japan
This makes it easy to travel Kochi, so I'm happy, the flight time is less than an hour! It is much faster than a highway bus, even when traveling from the airport.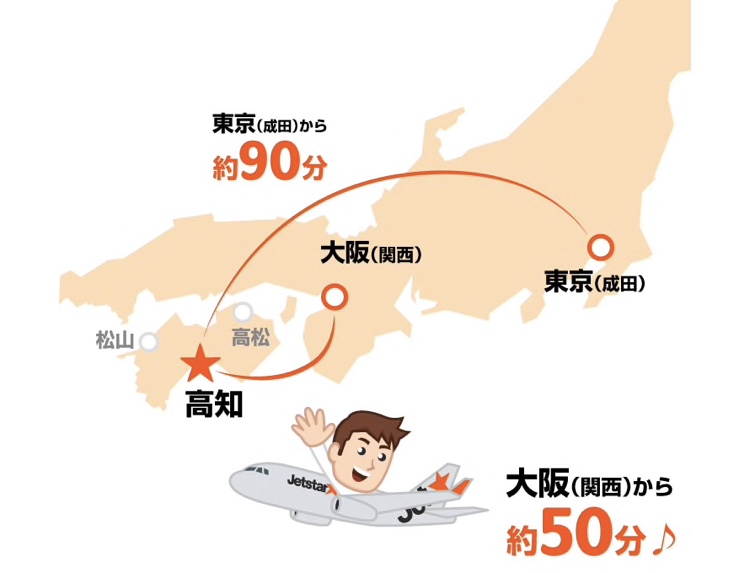 The price you are worried about
Tokyo ⇆ Kochi: From 4,990 yen
Osaka ⇆ Kochi: From 3,990 yen
It is very cheap.
However, GW, Obon, and the end of the year, even though it is LCC, the fee will be higher. When I checked the regular price, it was about 10,000 yen for one way per person from Osaka ⇄ Kochi.
In the case of GW, Obon, and the end of the year, if you stay in Kansai, a highway bus is recommended in terms of price.
If you stay in Tokyo, you can get cheap tickets anywhere, but it's better to remember that flights to Kochi leave from LCC and include them as one of the options.
Sometimes it's cheaper.
If you book early, except for GW, Obon, and the end of the year, it is likely to be cheaper than ANA or JAL, so we recommend that you check it first.