There are many delicious restaurants near Osaka Umeda. However, there are few good restaurants in the center of Osaka Umeda.
Even so, the price and quality are not balanced, and it is not worth it.
An important keyword when looking for a good restaurant in Osaka Umeda is "Nearby". A short walk away, there are delicious restaurants there.
Gourmet people know! 5 recommended izakaya near Umeda in Osaka
Sfida
It is an Italian restaurant on the side of Imperial Hotel Osaka. It is a dinner of 10,000 yen / person at night, but lunch is about 3,000 yen / person, and a delicious course meal is offered at a reasonable price.
The course menu is unique. That's a prefix menu, which dishes are divided into the number of people.
For example, the first "seasonal dish" or "sparling wine" is chosen individually, but after that, choose two items per person from 16 dishes such as appetizers, cold dishes, hot dishes, pasta, fish, meat dishes etc.
The chosen dishes is divided for the number of people and served. So if you go with 4 people, you can eat 8 dishes (2 dishes × 4 people in total).
Of course, because it is divided into four, the quantity of each dish is small ↓ ↓ ↓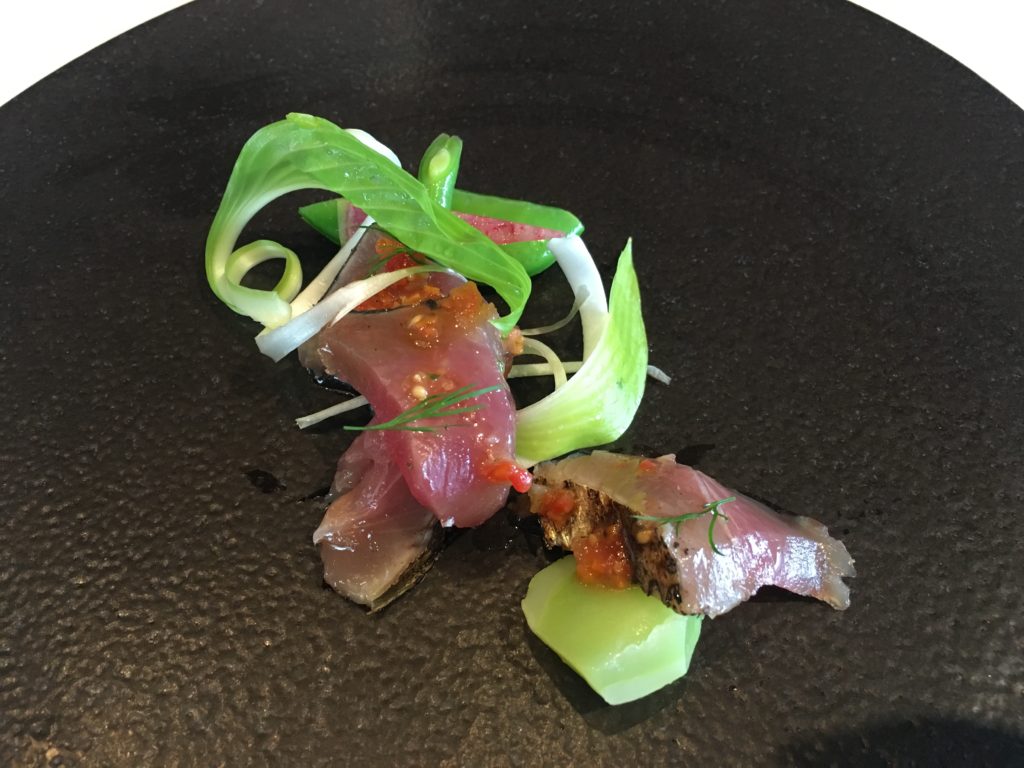 I think that it is a wonderful course because you can eat various menus. The price is 3000 yen / person for the prefix course for lunch.
Jyouyato
This "Oden" restaurant is located in Toyosaki, a little northeast of Umeda.
✔︎Oden means that it is a stew made with boiled eggs, radish(daikon) and fish cakes and stock(dashi).
It was also featured in "Oishinbo" which is Japanese comic, and it seems that Tadao Ando, an architect, came the jyouyato.
The taste is outstanding, the broth is delicious, healthy, and the ingredients are well tasted.
Of course, you may be concerned with how to add seasonings, not to mention soup stock.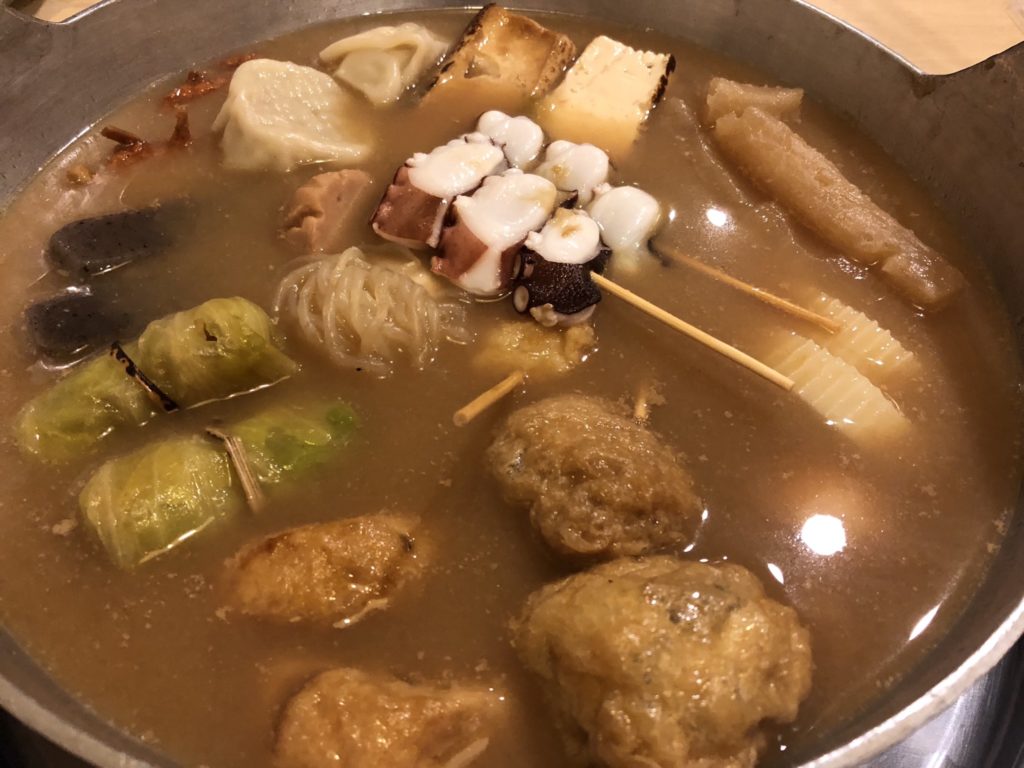 Jyouyato is not allowed to be taken inside the restaurant, and I only took food.
The price is about 5,000 yen / person for drinking, which is a high price for Oden, but it's delicious, so it's a technical fee.
Urahiroya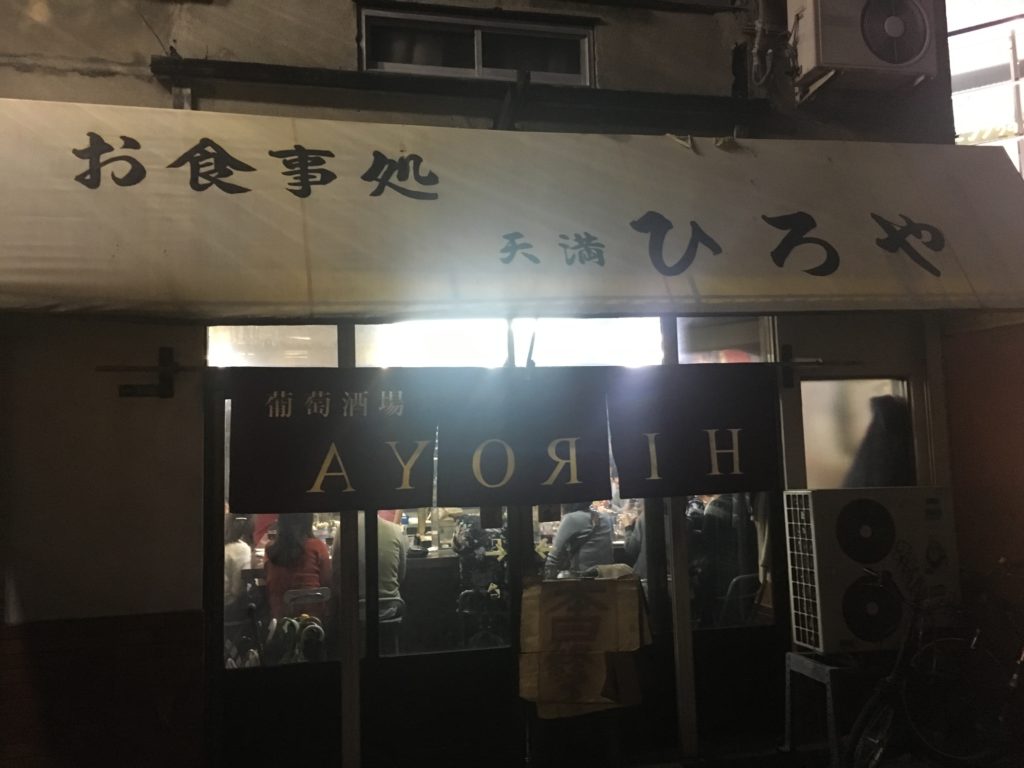 It is an Italian restaurant located about a 3-minute walk from Tenma Station. As you can see in the picture, it is very popular, and reservations are not possible. It was open at 18:30, but when we went on a Friday to Saturday evening, a queue had formed at 18:00.
The shop has only 25 counter seats and the appearance of the restaurant is like a shabby one, but the taste was excellent.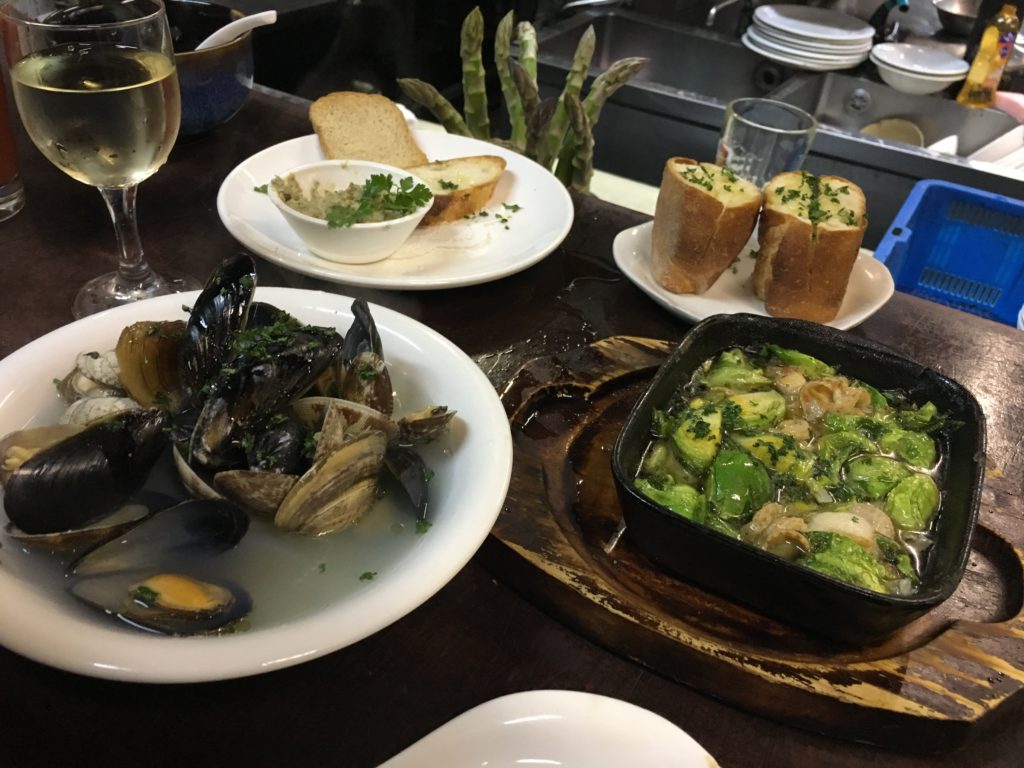 In addition, the price is very low, and it is cheaper to drink and eat for 3000-4000 yen / person.
The recommendation of Urahiroya is wine. Pour enough to overflow into the decanter, it is cheap at 900 yen (about 4 glasses in the upper left of the picture above), and it is completely delicious than wine you drink at izakaya.
Kushiage 010
It is a kushiage restaurant in a corner of a building in Kitashinchi. I think some people are worried that Kitashinchi is very expensive, but it is not expensive here.
The menu that comes out in a stylish space is also delicious, so it is perfect for dates.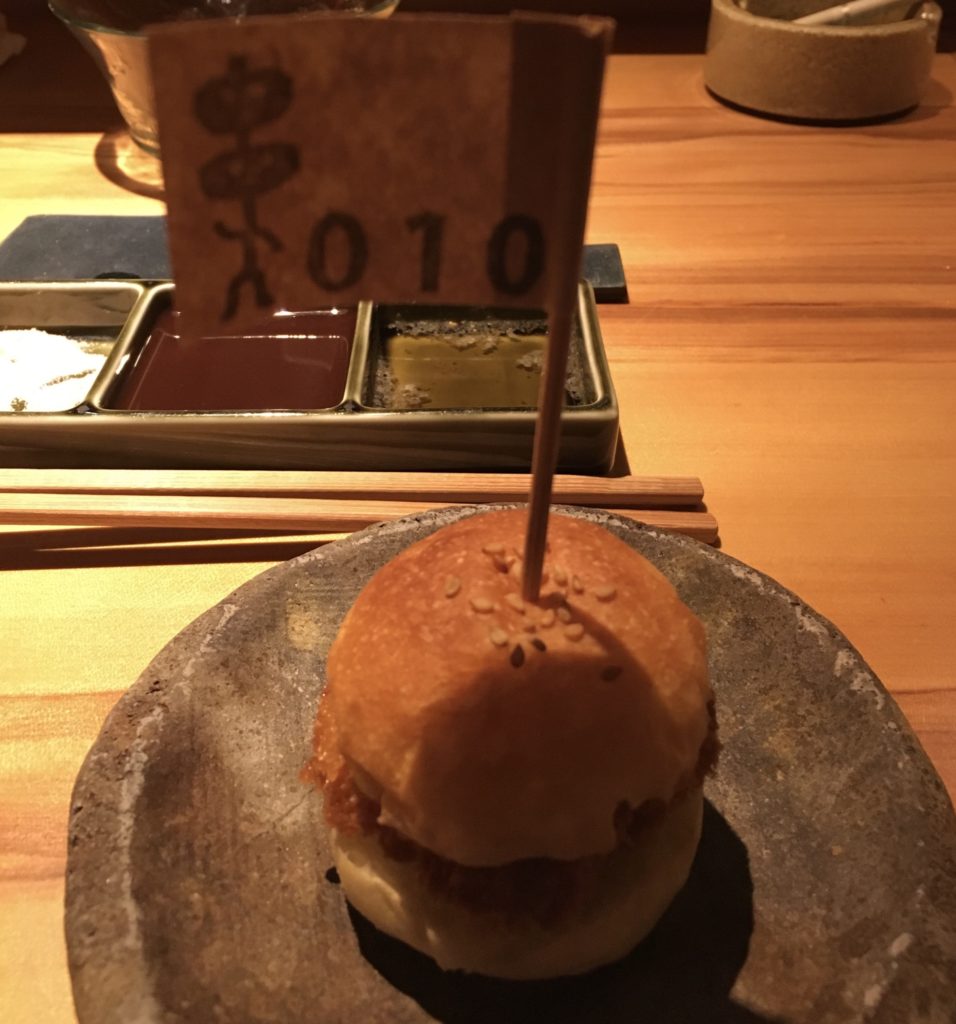 There is a chef's Random Course (order stop system) or a regular course (appetizer + 12 skewers + bowl + dessert: 4500 yen / person).
If it is a regular course, it's volume is a little insufficient. So if you eat quite a bit, I recommend the Omakase course. If you request what you want to eat, they will generally respond.
Ginpei
It is a restaurant in Kitashinchi, but it is an introduction of lunch. (Kitashinchi is famous for dinner) Dinner is as high as 8000 to 10,000 yen / person, but lunch is a great deal with a set meal of 1000 yen / person.
The set meal includes boiled fish (popular), tempura, sashimi, seafood bowl, grilled fish, and you can easily enjoy the taste of good restaurant class. For example, tempura set meal ↓↓↓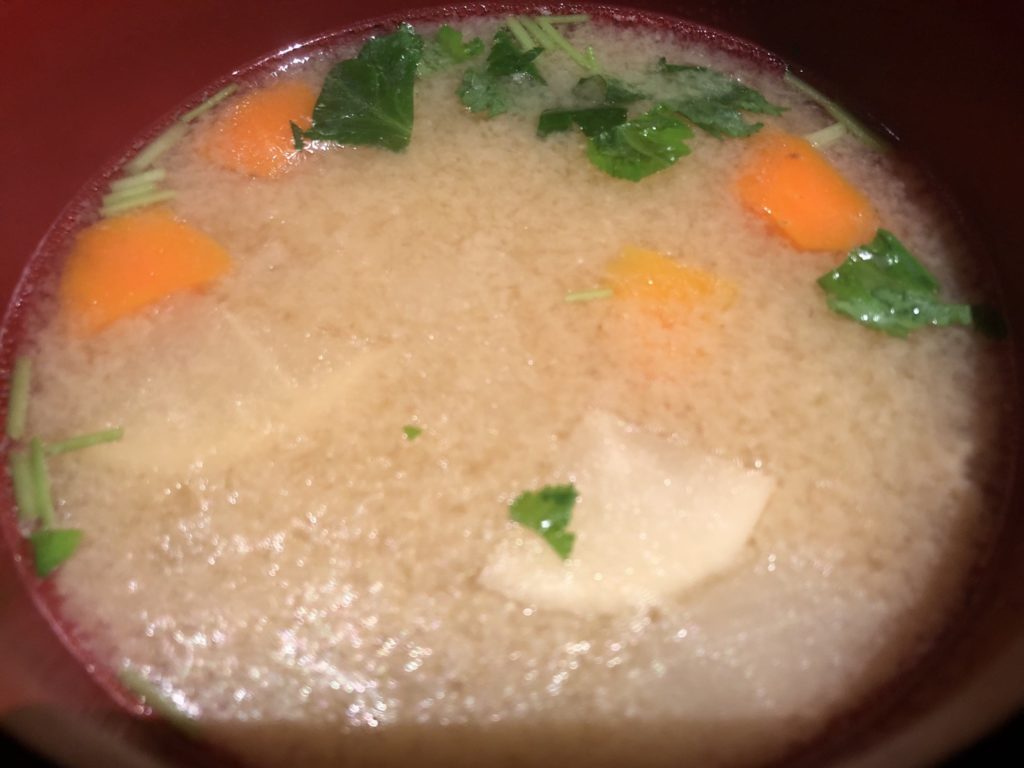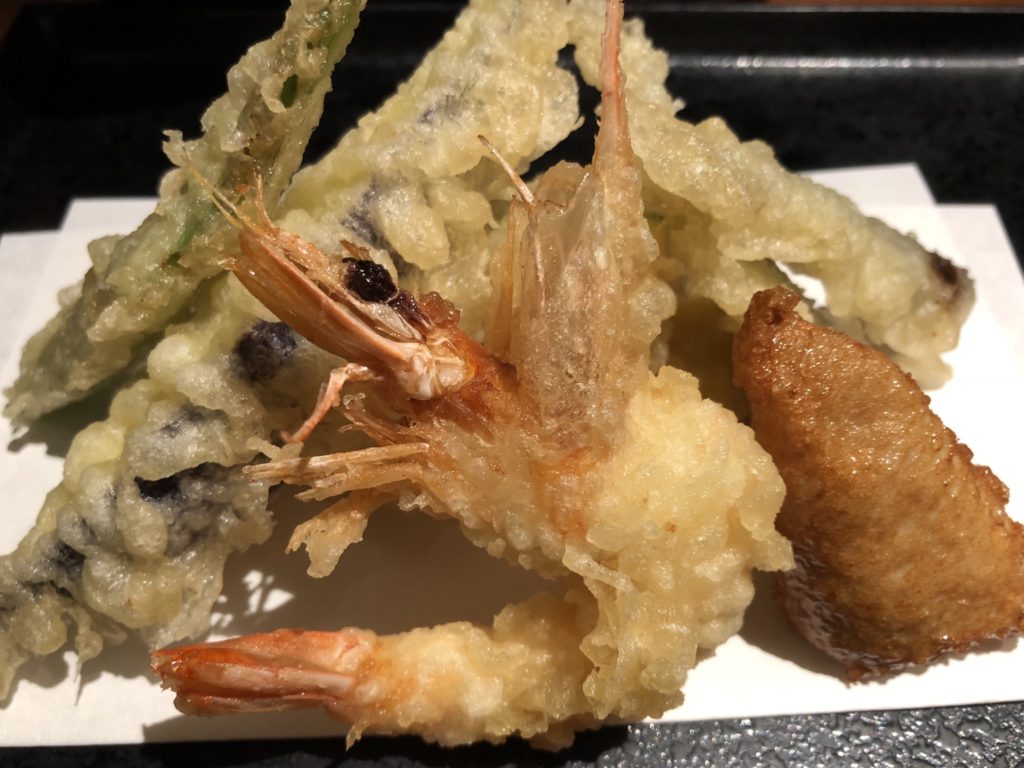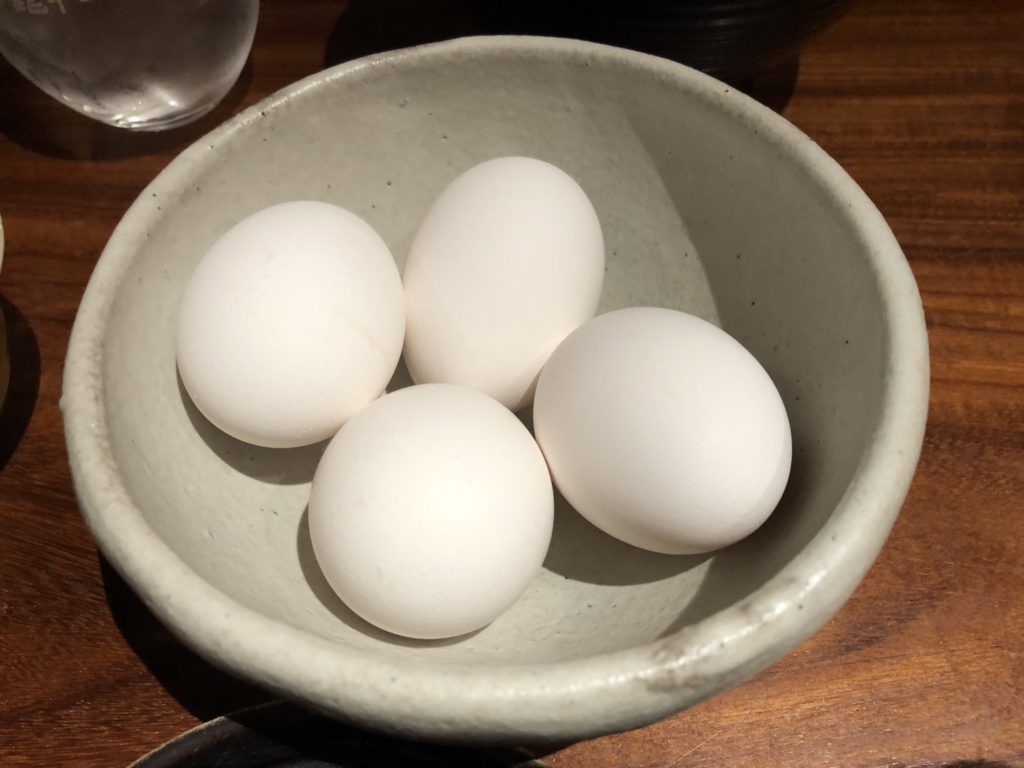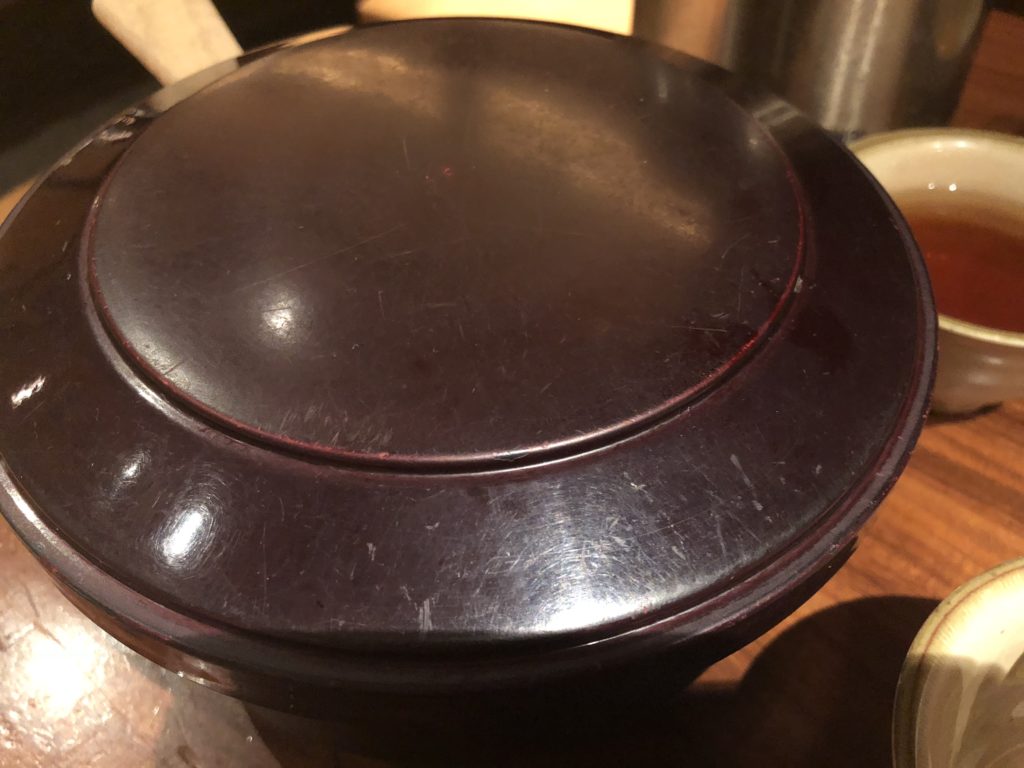 This is 1,000 yen. Rice and raw eggs are free. Because the atmosphere of the shop is good, there are also daters.
If you want to find out about an izakaya in Osaka, a site called Tabelog is useful. English is also supported.