Speaking of summer, it is dance. There is "yosakoi" in the dance that has been growing in power recently, in Japan. Yosakoi Dance originated in Kochi Prefecture
Since my wife's parents' home is in Kochi Prefecture, I return home to Obon and I'm rushing to the Yosakoi festival.
In addition to Yosakoi, so-called Auberge hotels have recently been established in Niyodogawa and Cape Muroto, making Kochi a popular tourist spot.
In Kochi Prefecture, there is a domestic airport called Ryoma Airport, which can only be accessed from a distance by ANA, JAL, LCC, etc., but it is a short distance to use an airplane in Kansai.
Here are some recommended ways to access Kochi from Kansai.
Highway bus is recommended to go Kochi from Kansai.
There are four ways to get to Kochi from Kansai. JR + bus, JR, car, bus + airplane.
In terms of time and fees, we compared four access methods from Osaka, the center of Kansai. (Assuming JR Osaka Station → JR Kochi Station)
JR + Bus: Osaka → Sannomiya → Kochi route
From JR Osaka Station to JR Sannomiya Station, you can take the JR Rapid Service in 22 minutes, and take a bus from Mint Kobe near JR Sannomiya Station. Then, you can get to JR Kochi Station Bus Terminal about 4.5 hours.
The bus fare is 6060 yen / person.
✔︎"大阪" means Osaka, "三ノ宮" means Sannomiya, "高知駅前" means Kochi station.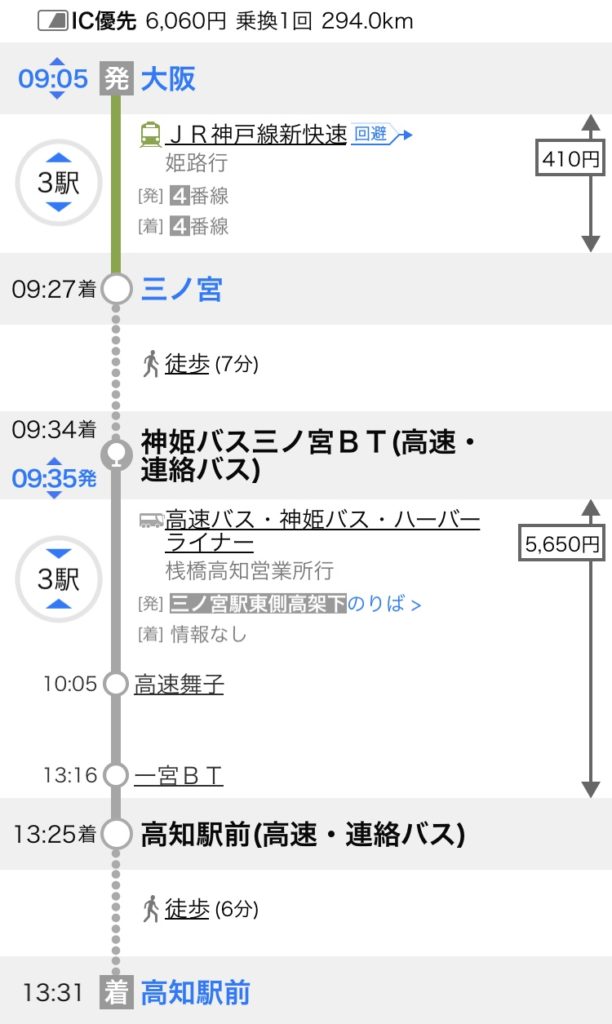 JR: Osaka → Shin-Osaka → Okayama → Kochi route
By JR from Osaka Station to Shin-Osaka Station, take the Shinkansen Nozomi, get off at Okayama, take the Limited Express Minamikaze, and access Kochi Station.
You can travel from Osaka to Kochi in about 4 hours with the waiting time.
The fee is 9760 yen / person.
✔︎"大阪" means Osaka, "新大阪" means Shinosaka, "岡山" means Okayama, "高知駅" means Kochi station.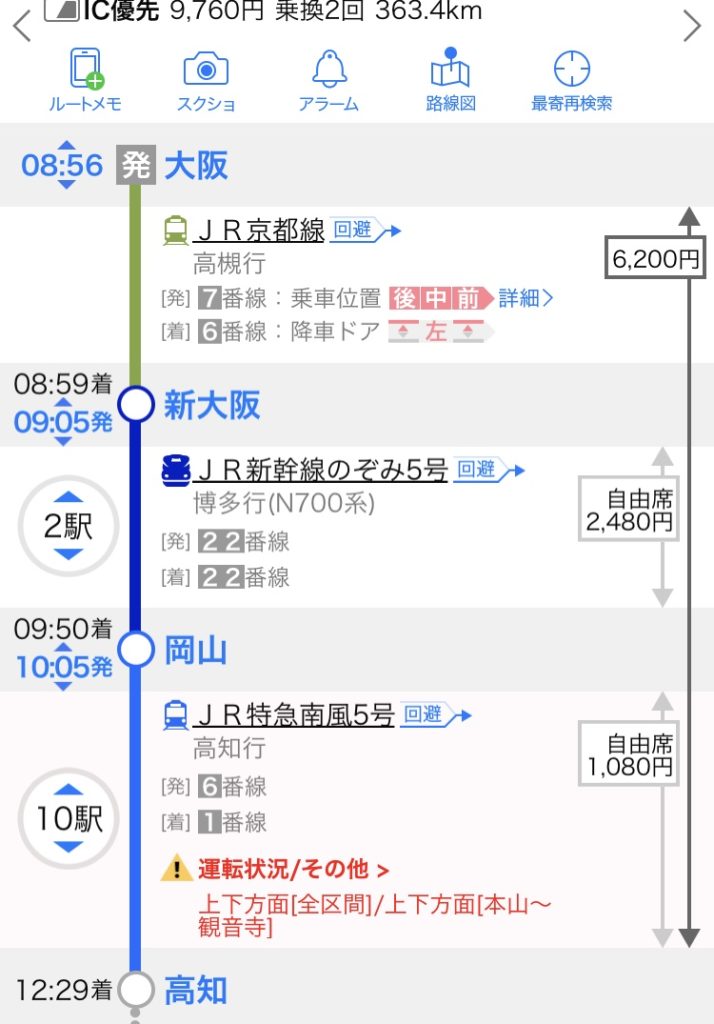 Passengers can easily go from Osaka Station to Kochi Station.
Osaka → Awaji Island → Naruto → Takamatsu Road / Itano → (general road) − → Tokushima Road / Aizumi → Kawanoe / Kochi Road → The Kochi IC route is the shortest. You can reach Kochi in 4.5 hours.
From Umeda, ETC and holiday discounts are used. Then, the total high way fees are 10,620 yen per car.
The gasoline fee is calculated as 2,100 yen / one ordinary car when calculated based on a mileage of 300km, gasoline of 140 yen / L and fuel consumption of 20km / L, for a total of 12,720 yen / one ordinary car.
Bus + airplane: Osaka → Itami Airport → Kochi Airport
Take the bus from "Osaka Maru Building" to Itami Airport. We are flying from Itami Airport to Ryoma Airport in Kochi. You can access Kochi in about 3 hours.
✔︎"大阪" means Osaka, "大阪マルビル" means Osaka Maru Building, "伊丹空港" means Itami airport, "高知空港" means Kochi airport, "高知駅前" means Kochi station.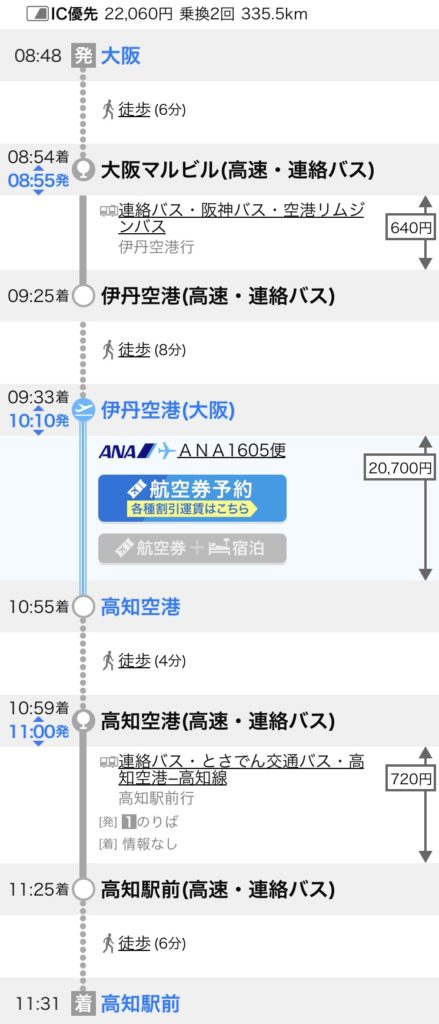 The price is 11,860 yen / person when using ANA Trip Discount 45.
* There is no LCC from Kosai to Ryoma Airport in Kochi. I mean, there is only ANA.
The above four access methods are summarized in the following graph from the viewpoint of time and fee.↓↓↓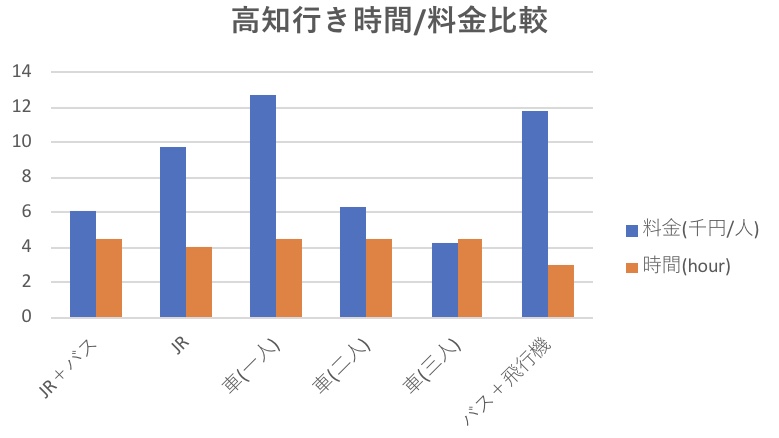 In the case of one person, the cost performance of JR + bus is the best. Traveling alone by JR + bus to Kochi and renting a car locally is more economical than going by JR, car, bus + airplane.
In the case of two people, I think that there is also a car if you move around in Kochi Prefecture. However, it is hard for drivers. I recommend the JR + highway bus because it is no different from the JR + highway bus in terms of cost.
You can access Kochi Prefecture by Shinki Bus, Harbor Liner, and Tosaden Transportation.
If you have more than three people, we recommend you go to Kochi by car. Cars are the best if you go with a large number of people, such as family and friends!
In addition, JR and bus + airplane are too bad cost performance, so it is out of the question.
Summary
Seafood in Kochi Prefecture is really delicious! If you like seafood, I highly recommend you go to "Hirome Market".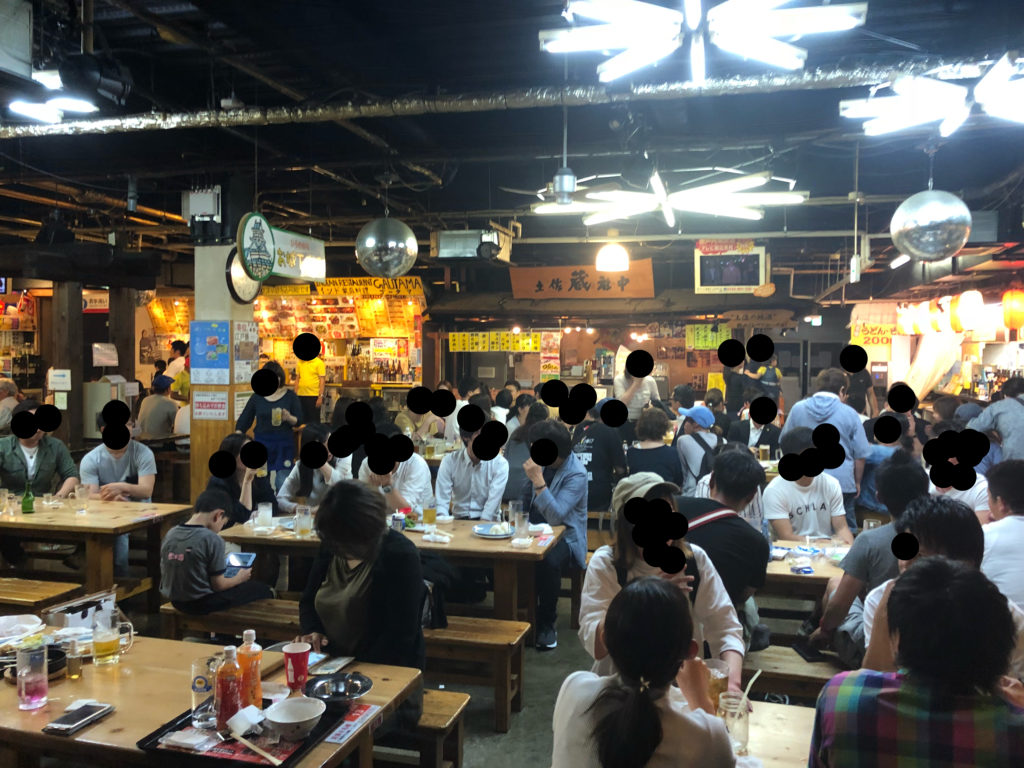 You can eat fresh and tasty "Dorome", "Noisore", and "Katsuo". (Ryu◯◯ in the Hirome Market is said to be too large by local people. It seems to be frozen skipjack)