"gekkoujyu" locates at "Kurokawa onsen" in kumamoto. It was opened in October, 2016.
Owner of Gekkoujyu "Mitsuharu Fujibe" have thought that he want to build the best ryokan hotel in Kurokawa onsen for 25 years because he like Kurokawa onsen.
In October 2016, he achieved his dream to build the best ryokan onsen in kurokawa onsen.
The best ryokan hotel"gekkoujyu" in Kumamoto
Location
Gekkoujyu locates north west side of kurokawa onsen's downtown. 
Gekkoujyu is a little bit far from downtown of Kurokawa onsen, so we can have relaxing time. Japanese says "kakurega" such ryokan hotel.
▼Entrance of Gekkoujyu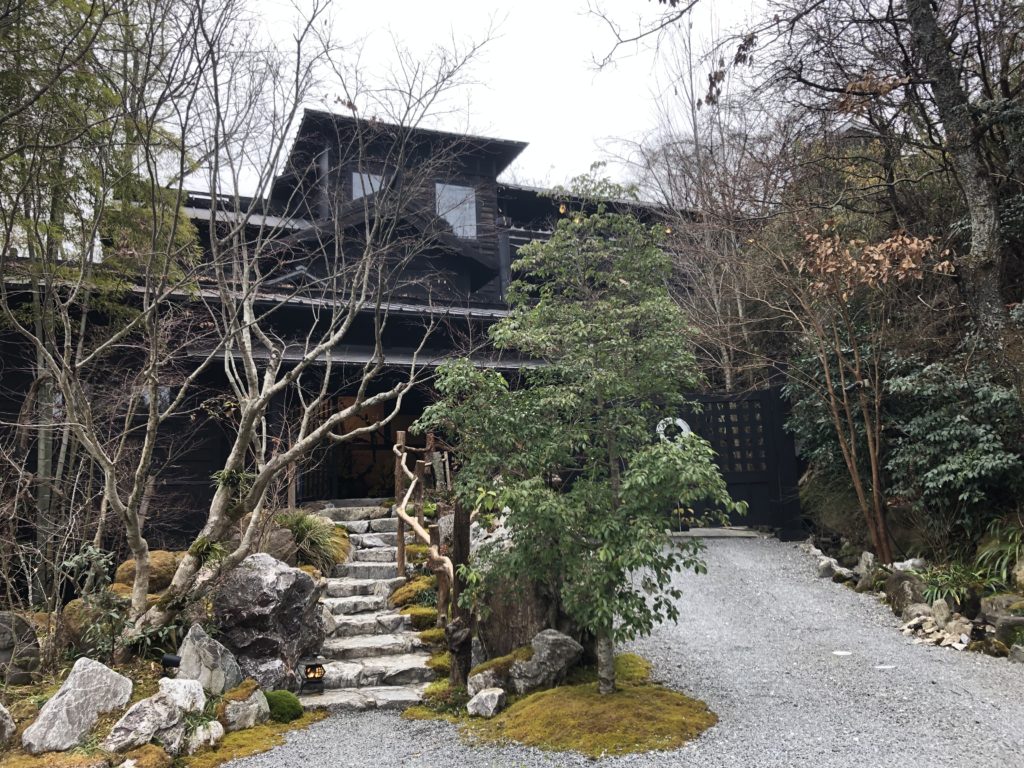 At first, we introduce the way of access to Gekkoujyu.
The way of access
We can go to Gekkoujyu by two ways. 
When you arrive at Aso-kumamoto airport, you can get on the bus for Kurokawa onsen.
When you arrive at kurokawa onsen bus stop, you can offer arranged transport from the bus stop"kurokawa onsen" to the ryokan hotel"Gekkoujyu" by it's pick-up car.
A week ago, when you go to kurokawa onsen, you can rent a car on the internet. You can drive from Aso-Kumamoto airport to Gekkoujyu.You can choose a rental car by the rental car shop"tabirai" on the internet .
Gekkoujyu has the gate. when you go in gekkoujyu, employee open the gate for you.
▼Gekkoujyu gate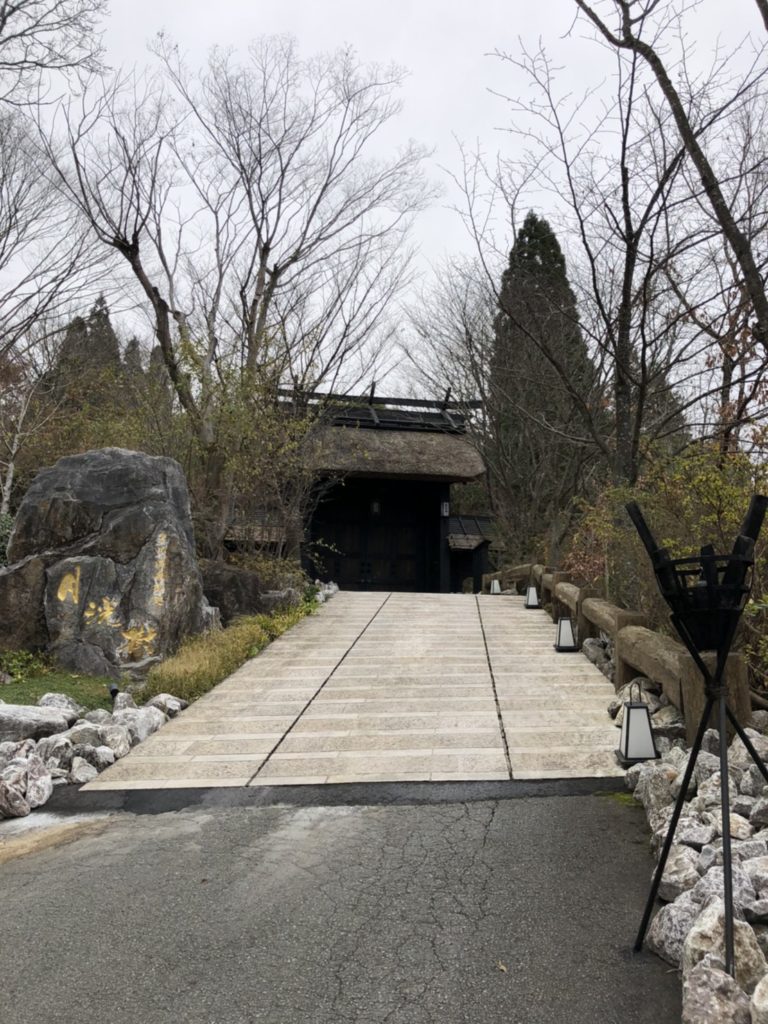 ✔︎If you get to gekkoujyu before 3pm by car, the gate may be opened. Then, if you call reception(0967-44-1717), employee will open the gate for you.
After go into the gate, employee guides your car to parking. 
About rooms in gekkoujyu
Gekkoujyu has only 8 rooms. The room concept is different for each. Gekkoujyu's fee tend to be expensive as the height of room is higher.
Room name is as below in the order of the height of room.
Tenshin(天心)
Ariake(有明)
Yoimachi(宵待)
Yumihari(弓張)
Kazemachi(風待)
Yumemi(夢見)
Izayoi(十六夜)
Kagetsu(佳月)
All room name is derived from moon.This time, we stayed at Yumihari.
✔︎Yumihari means waning moon.
Introduction:Gekkoujyu room
After getting to Gekkoujyu, we went to the restaurant in Gekkoujyu to get explained about Gekkoujyu.The robot "pepper" made by softbank company welcomes us.
▼Robot "pepper"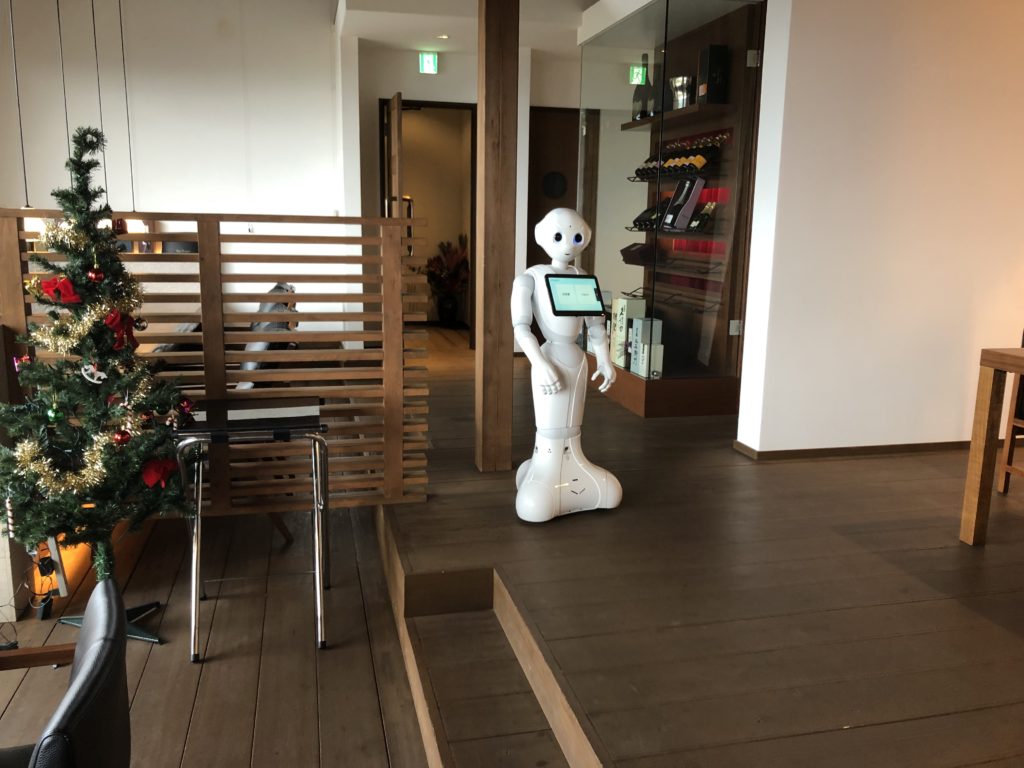 We waited for explaining about Gekkoujyu while taking a look of pepper.
▼Teacake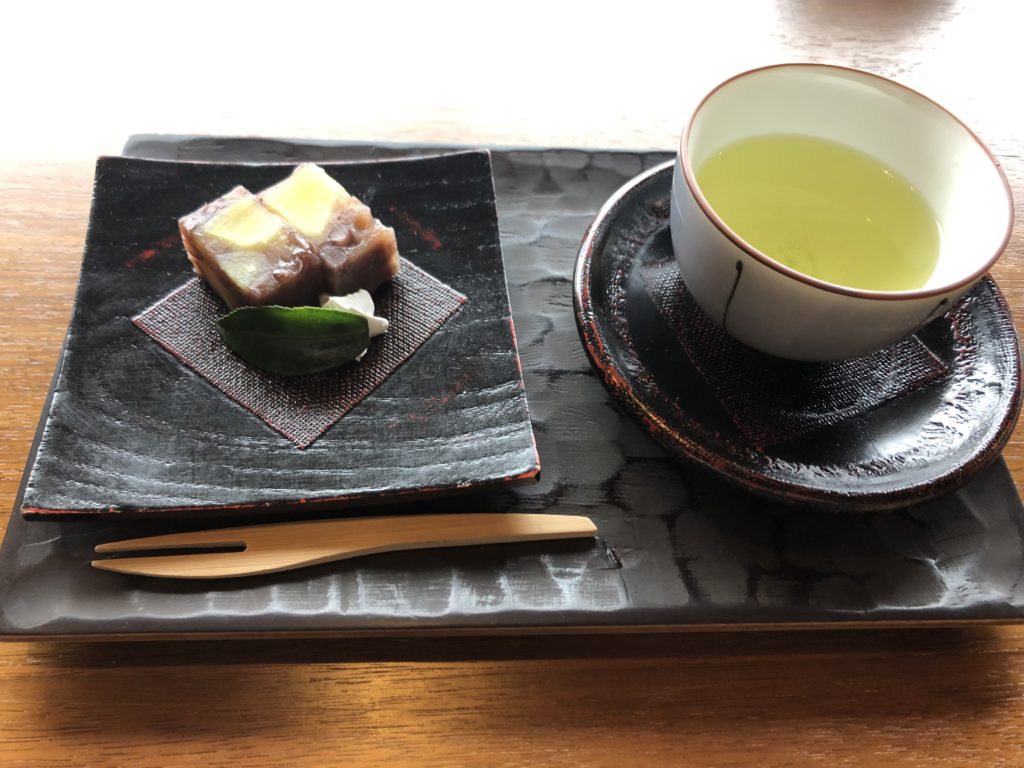 After eating teacake, we go to our room "Yumihari".
By the way, Gekkoujyu has reserved superb view open-air bath for guest. We can't reserve beforehand, but we can reserve after  arriving at gekkoujyu.We can use it freely, if you want to take a superb view bath, you had better reserve.
After reserving open-air bath, we went into room"Yomihari"!
▼A sketch of Youmihari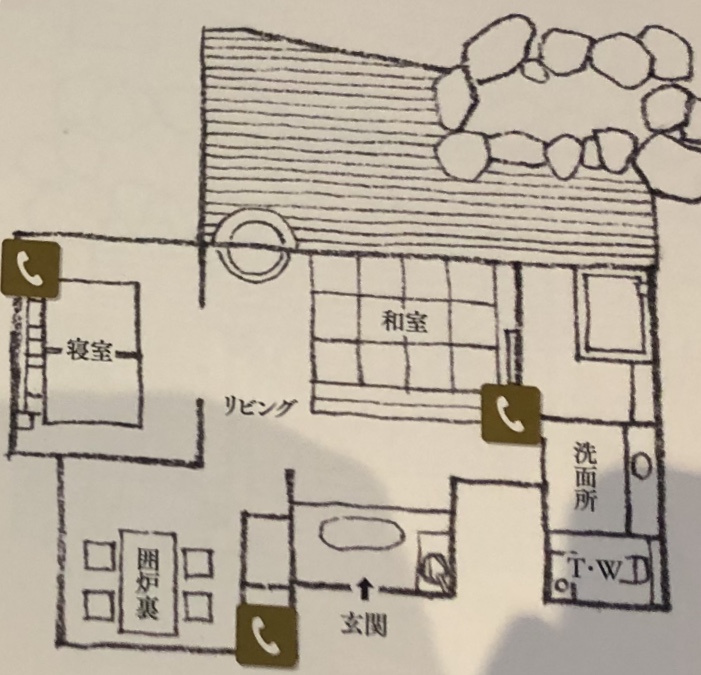 ▼Japanese-style room in Yumihari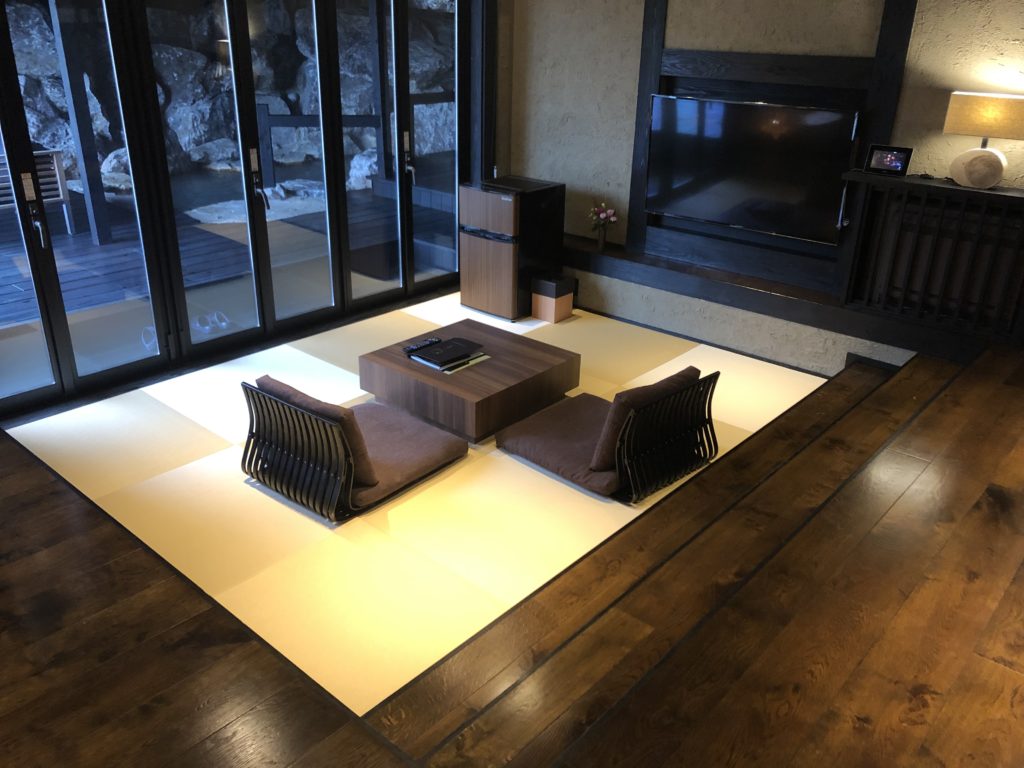 When we go into the room, you can see very beautiful view. 
✔︎T.V.is connected with Netflix, so we can watch youtube, movies and so on…
✔︎We can drink in refrigerator in room freely as below. Beer is also in it!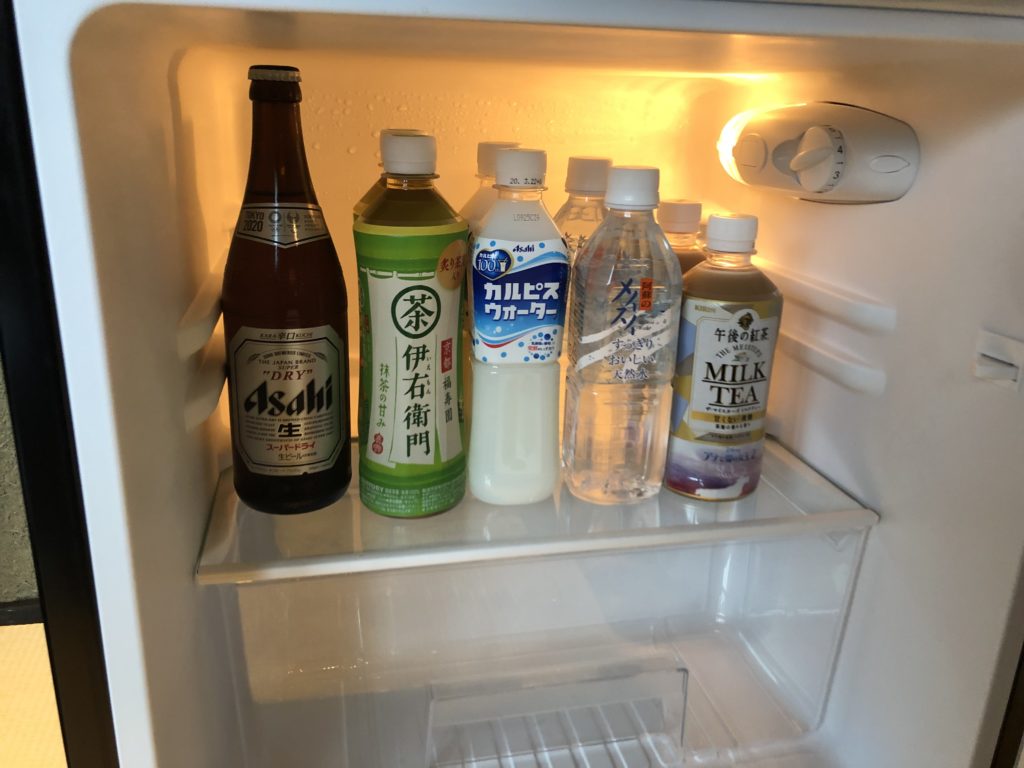 Floor heating is also equipped in room. If we come to Gekkoujyu in winter, we don't feel cold.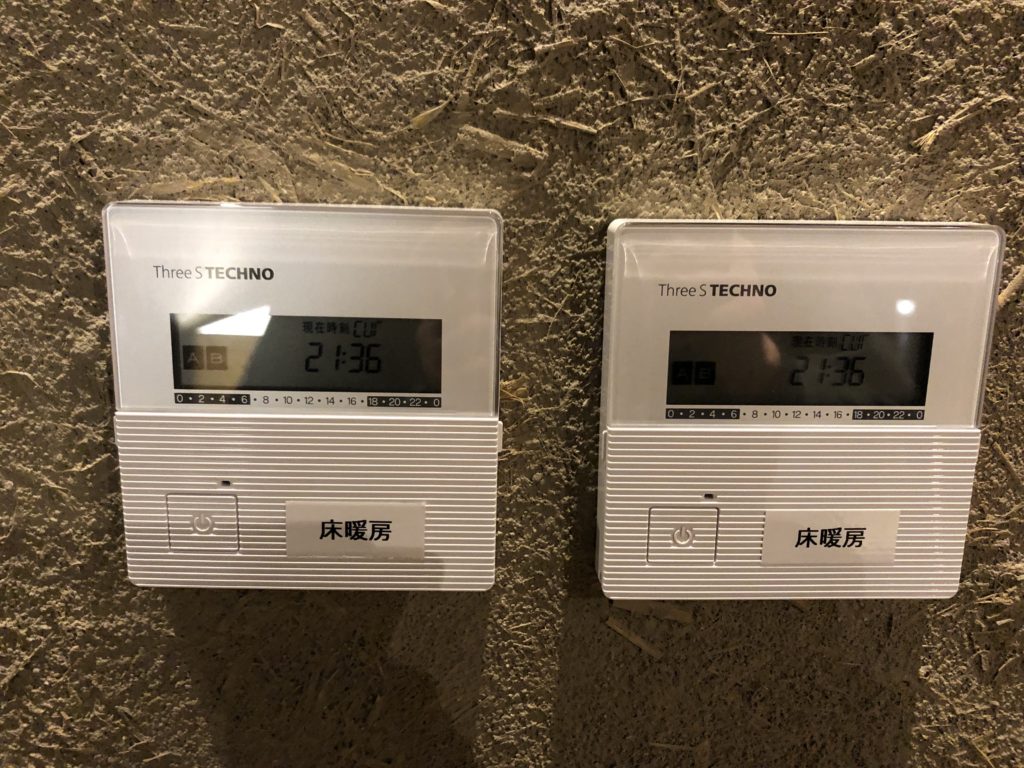 ▼Bedroom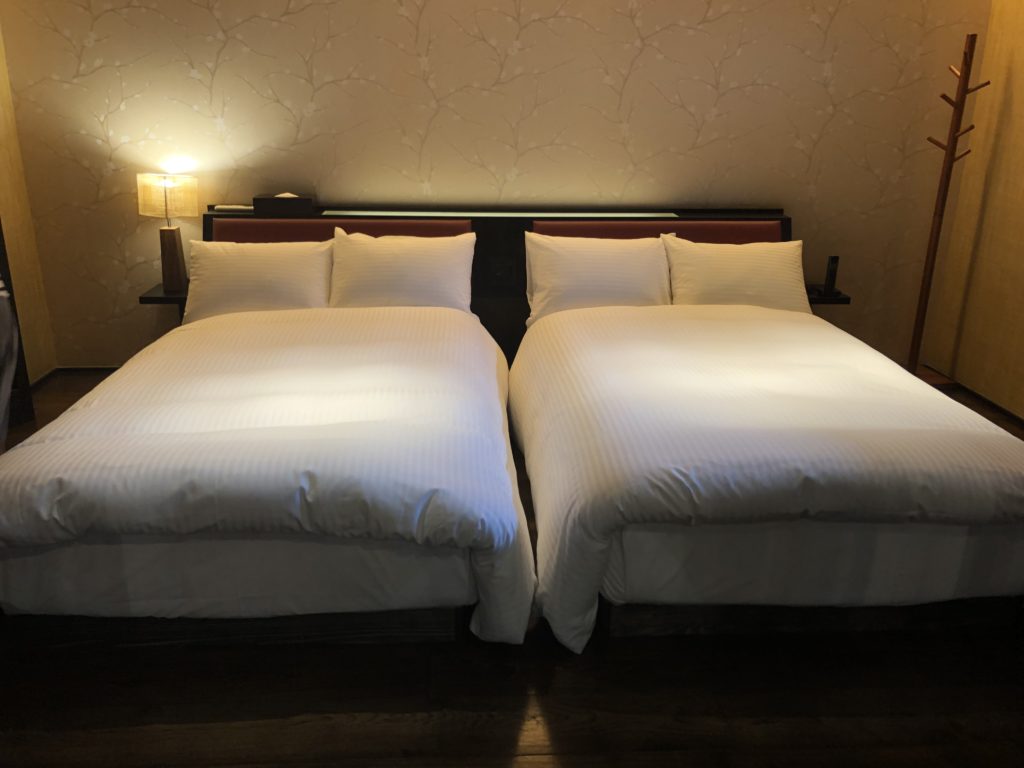 ▼A hearth room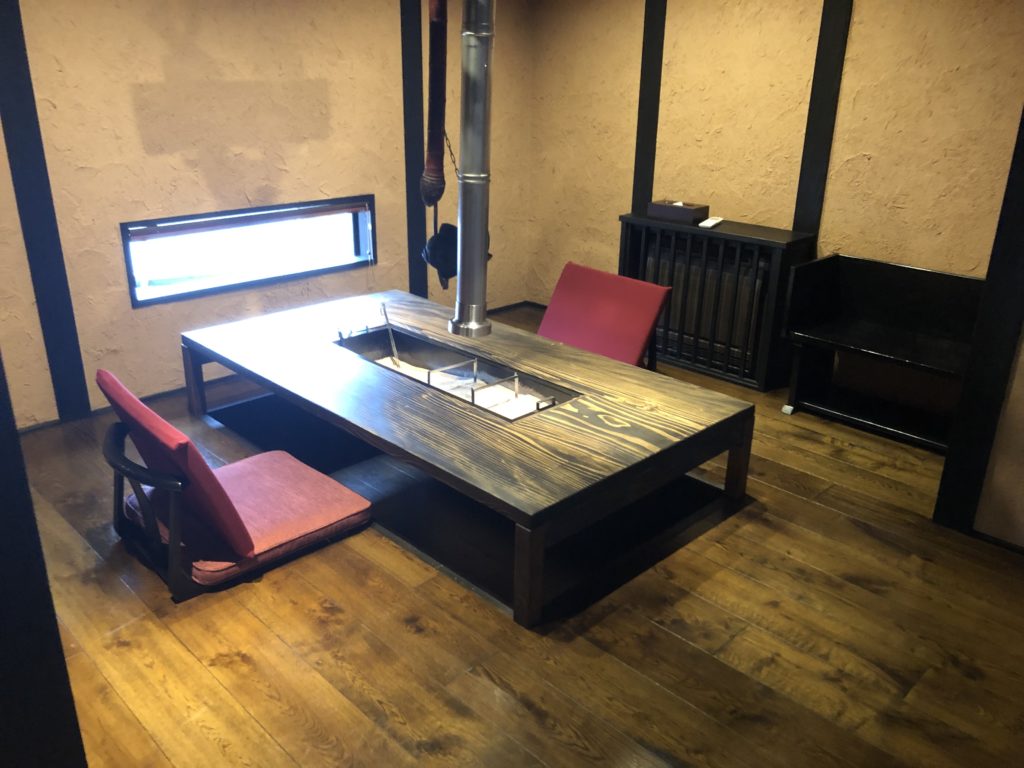 This room is for having tea time. Tool for making tea is equipped in the room.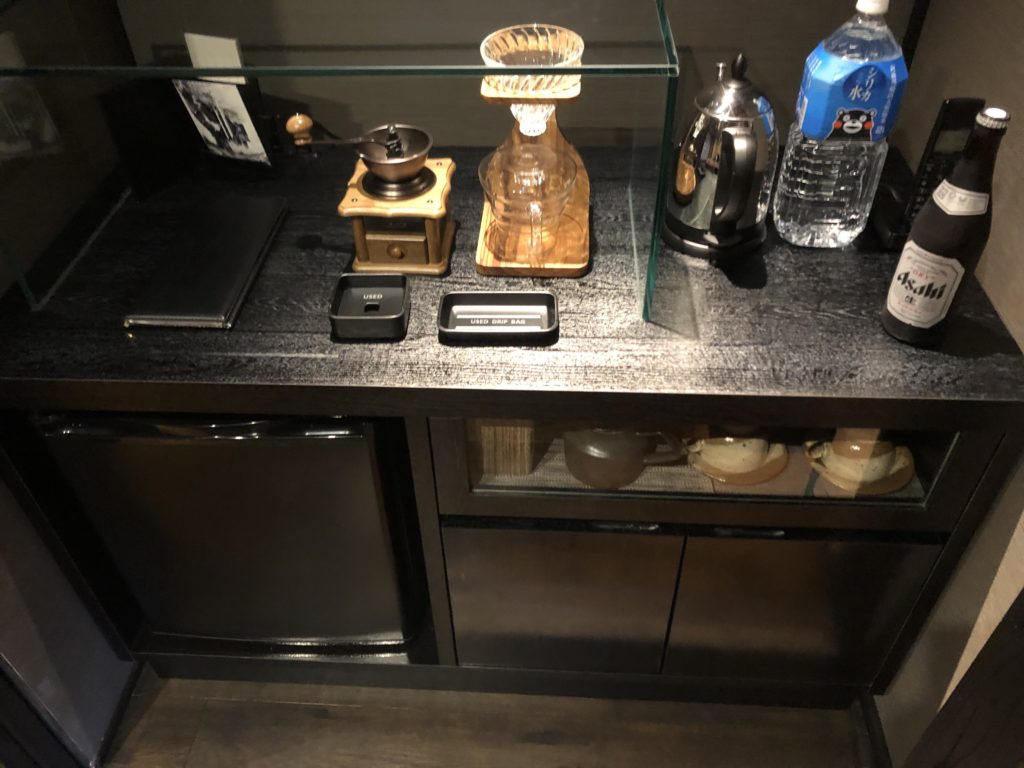 ▼Foot bath(Connected inside and outside)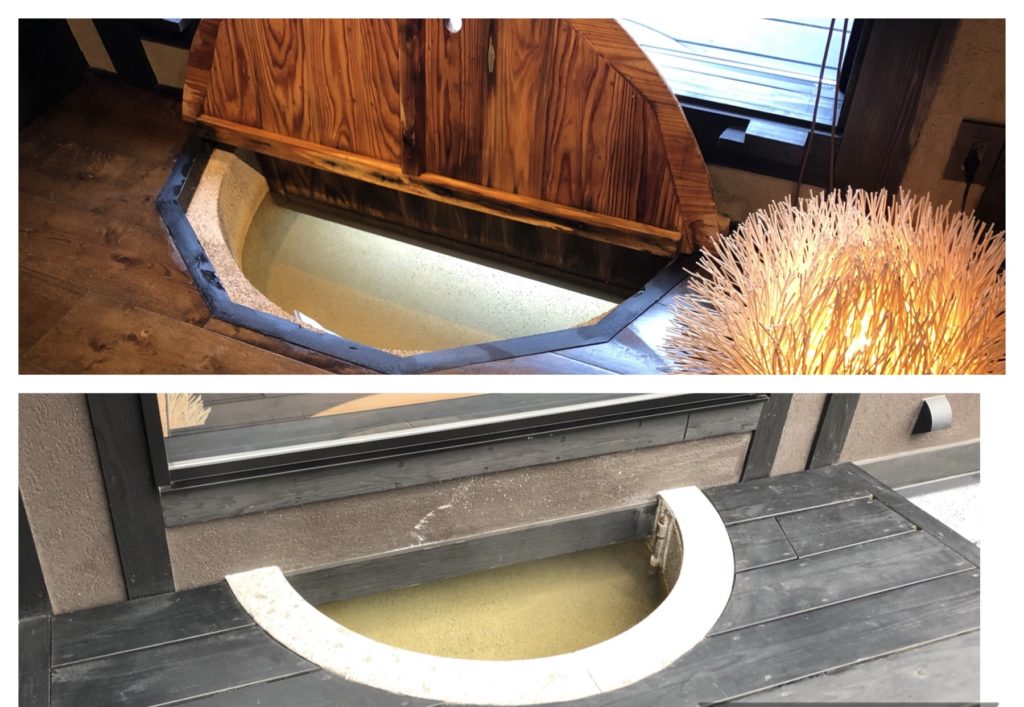 All rooms are no smoking but we can smoke outside(garden of Yumihari). So if we want to smoke, we can smoke outside while taking a foot bath.
▼Washroom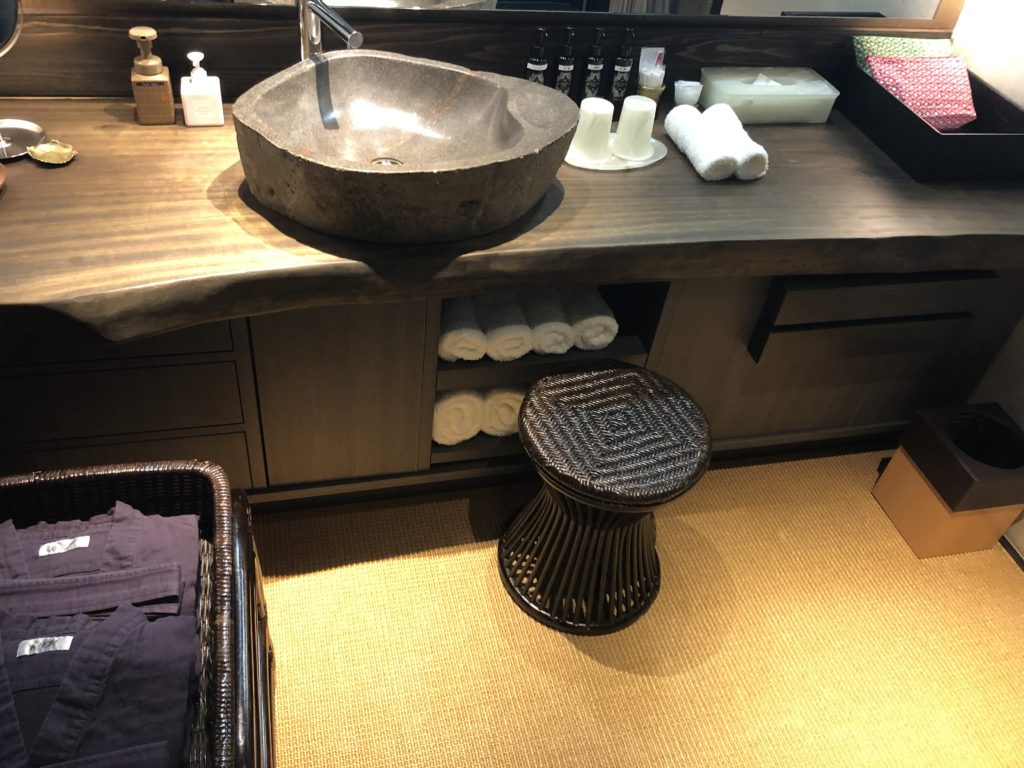 There are many towels and enough amenity goods in washroom. There are toothbrush and shaver is of course, in addition to these items, there are also eye mask, earplug and sewing set. We can take out it freely.
▼Indoor bath(Cypress bath)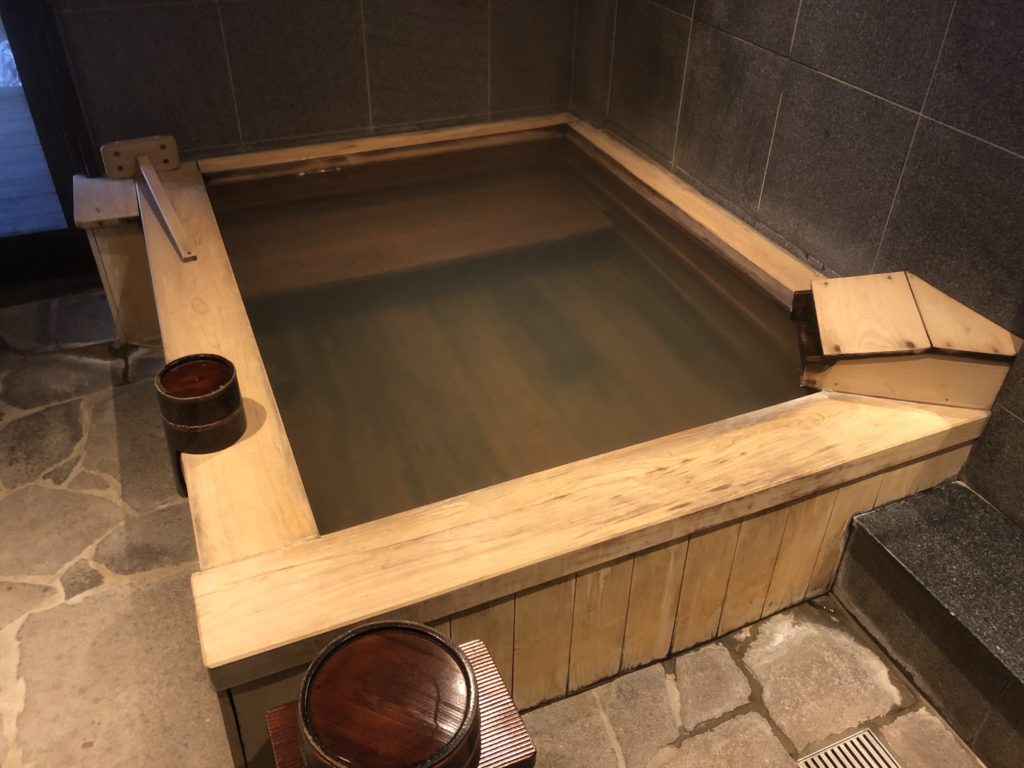 There are indoor and open-air bath in room, and both of them is flowing from the source. Indoor bath equips shampoo, treatment, body wash, shower. Brand of shampoo and treatment is "John masters organics". This is luxury brand.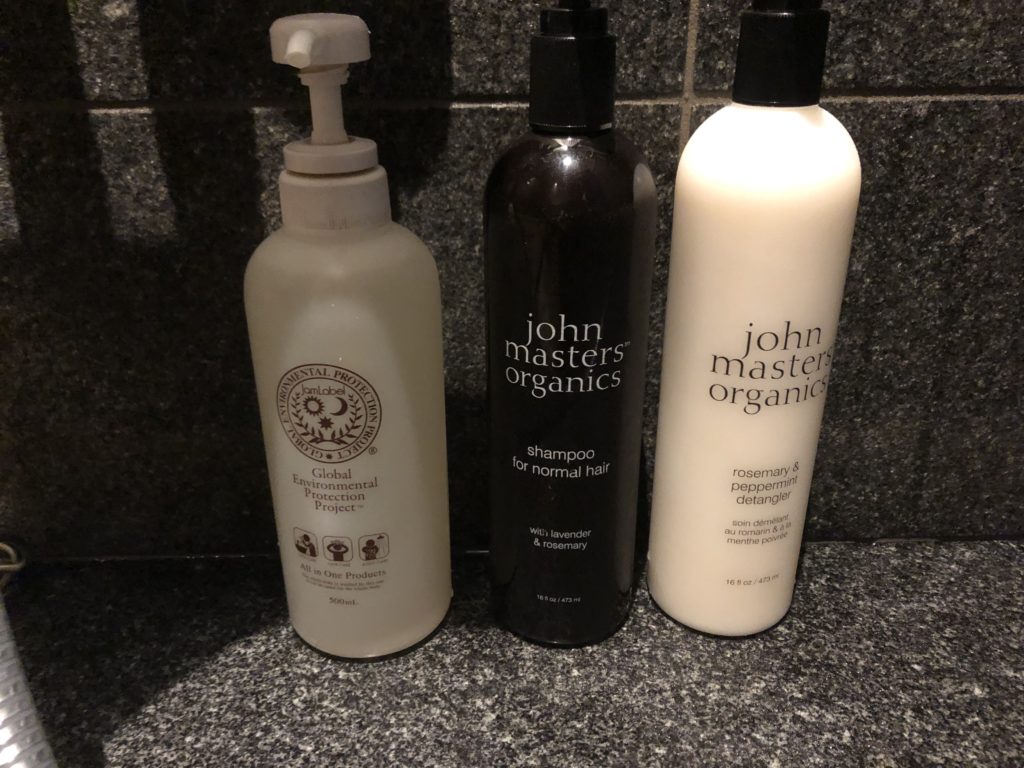 ▼Open-air bath(Cave bath)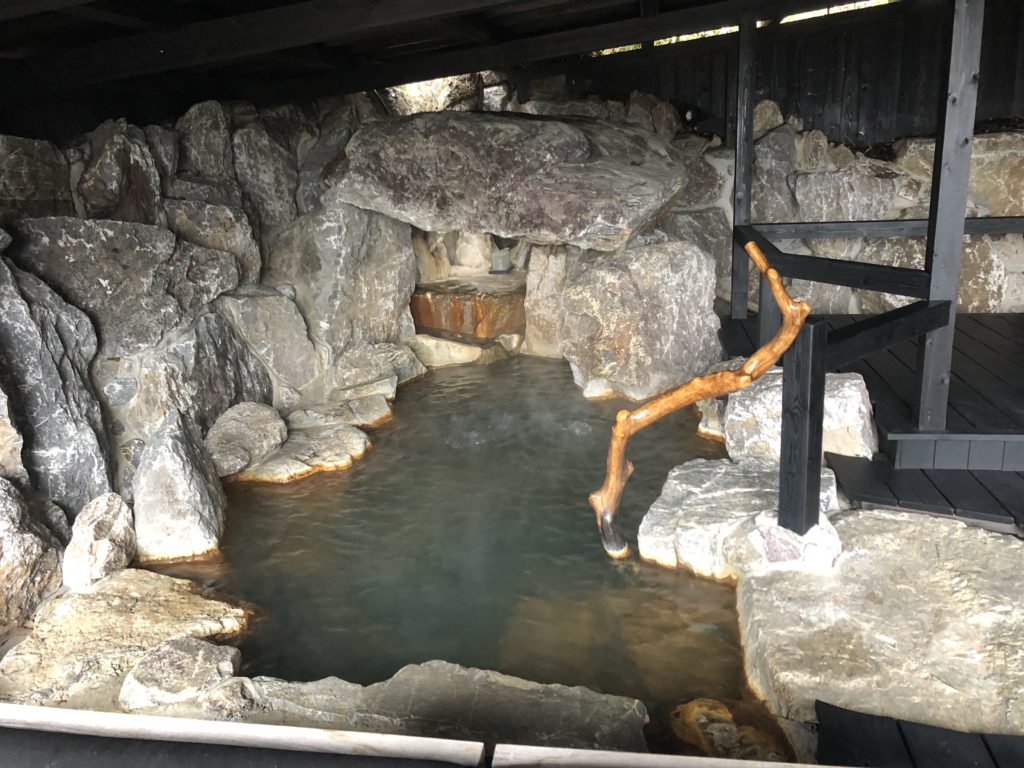 We can go to cave bath from Washroom or Japanese-style room. It is private bath but so large(maybe easy to take a bath about 10 people.)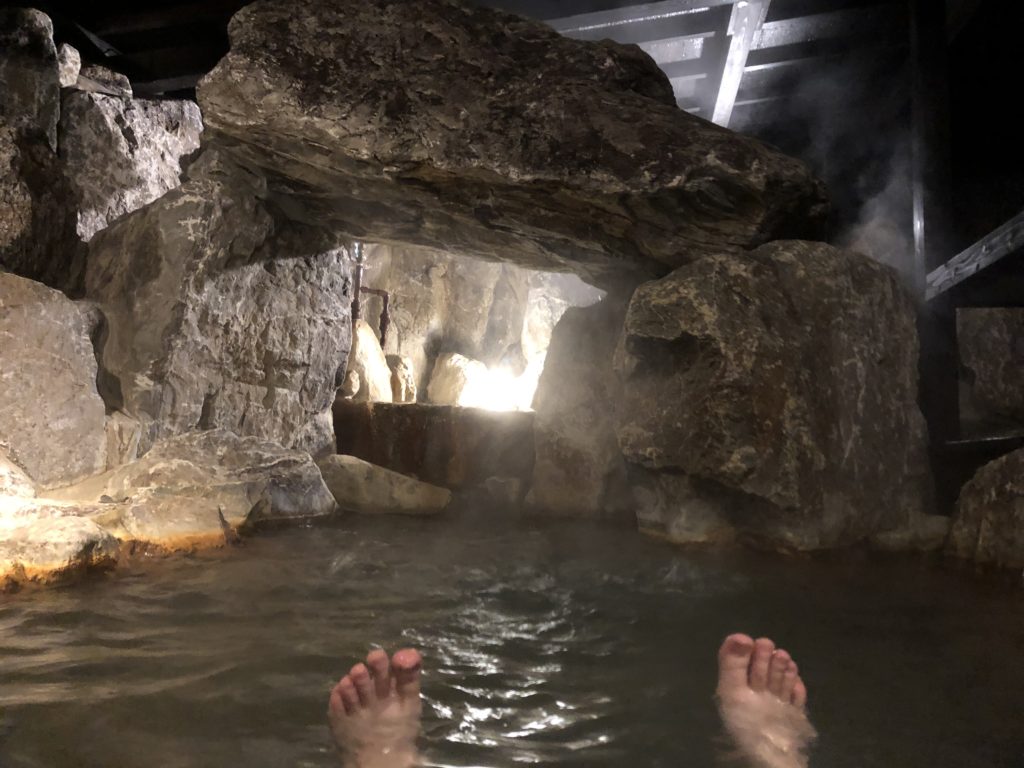 We can take a picture, swim, read book, drink and so on.
▼Side space of Cave bath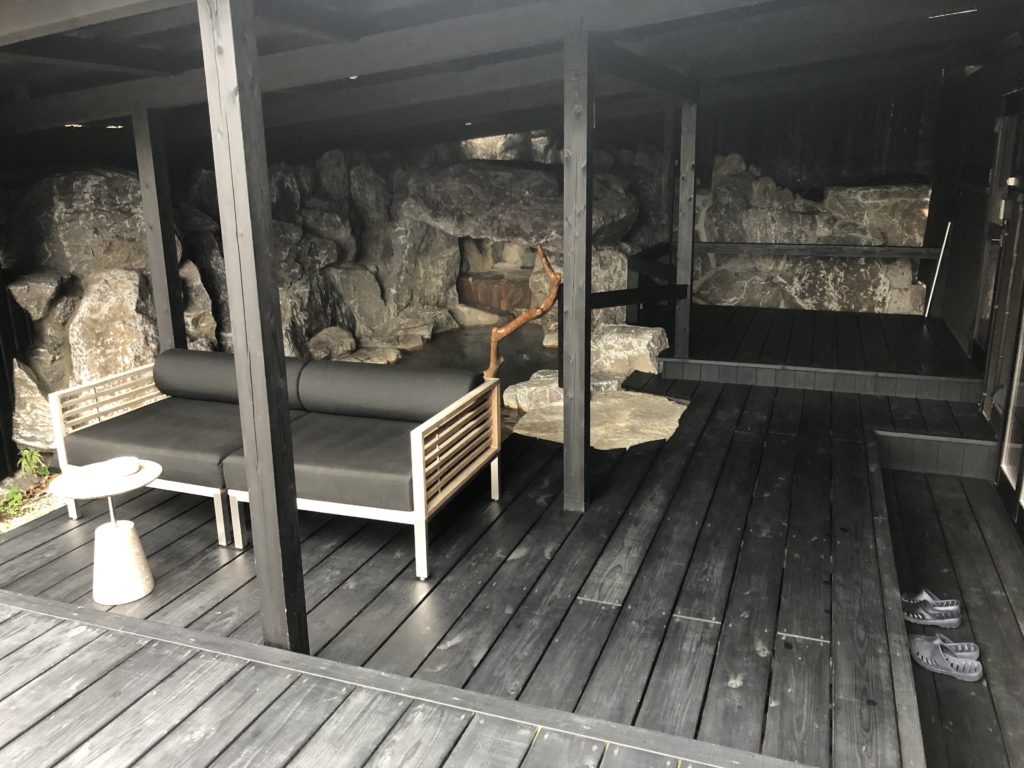 Side space of cave bath has a sofa and table, smoker can smoke here.(Of course, inside room is no smoking)
After playing in the Yumihari, we went to superb view open-air bathe for guest. 
▼Entrance of Superb view bath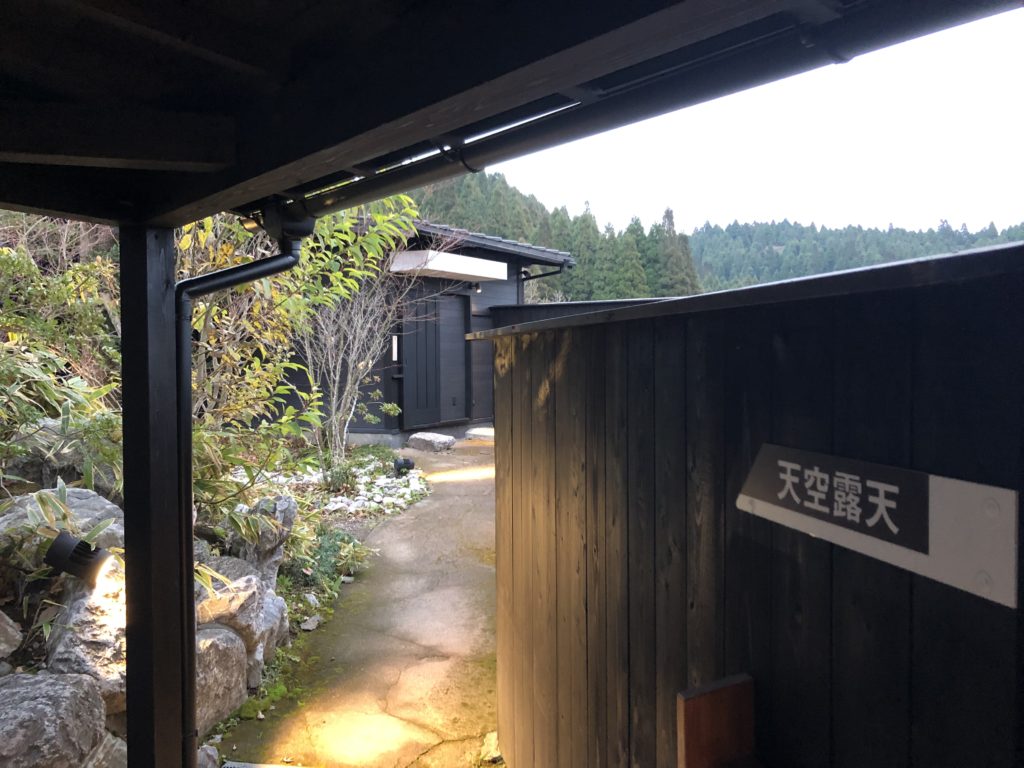 This bath is called by "Tenku open-air bath". Tenku means Sky, so it is the most highest in Gekkoujyu. We can come here by foot.
Building of "Tenku open-air bath" is two-storied, first floor is washroom and second floor is open-air bath.
▼Washroom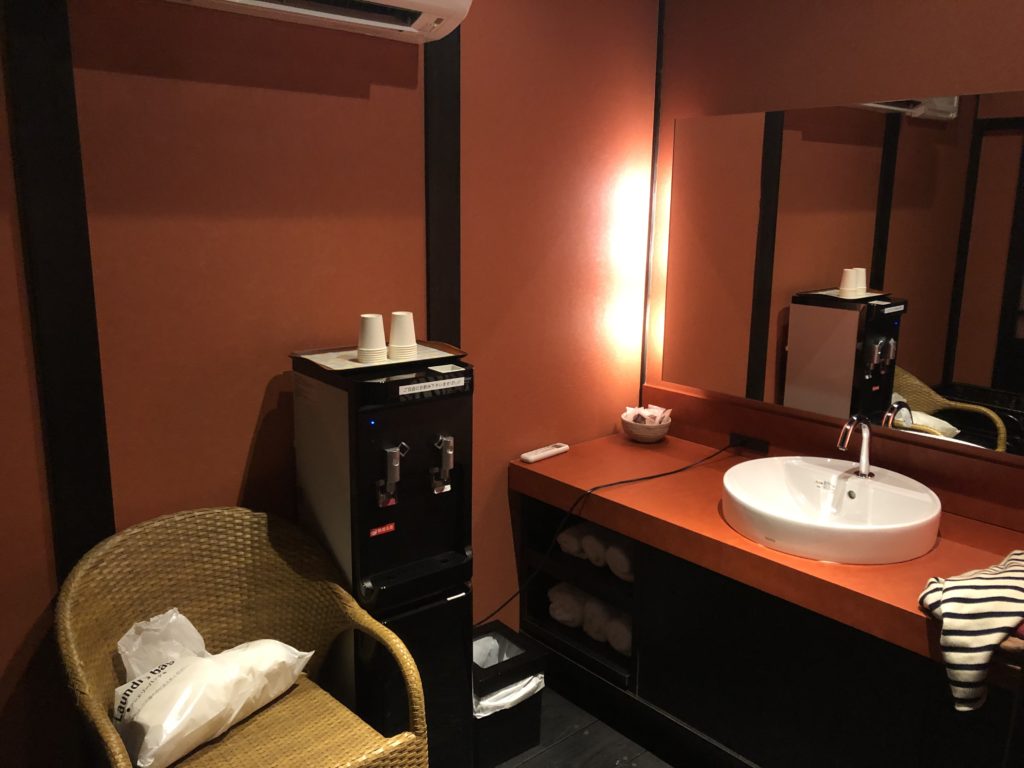 There is waterserver in the washroom. We need not to bring the towel to "Tenku open-air bath" from our room because we can use towel in this washroom.
▼Upstairs to "Tenku open-air bath"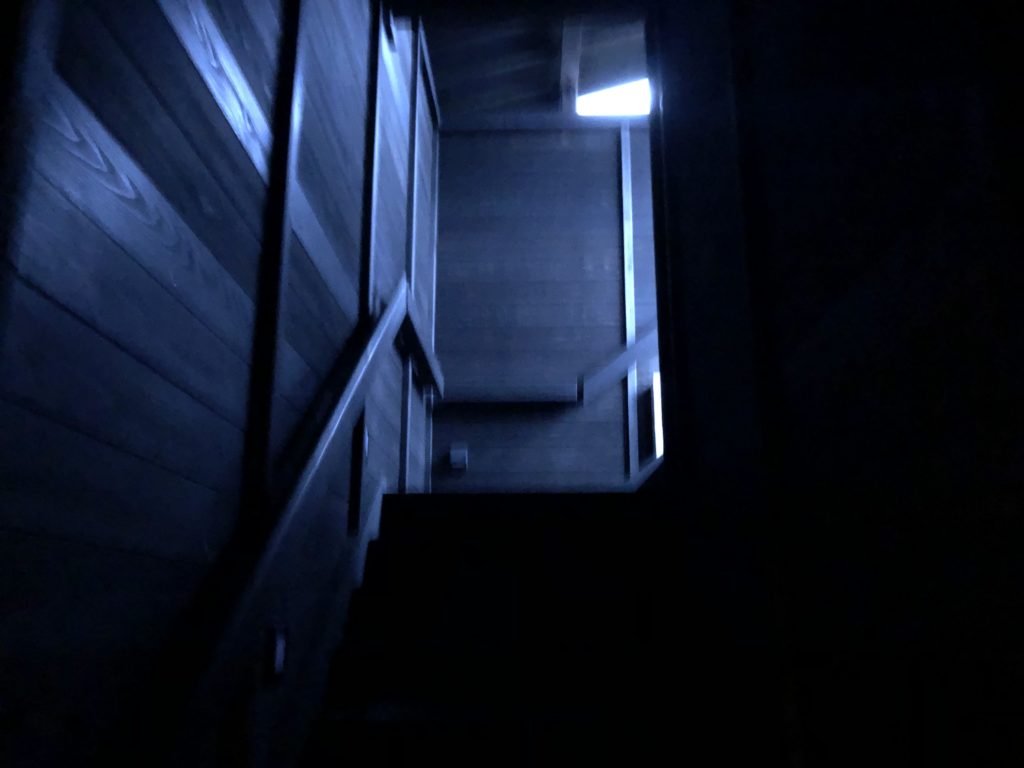 ▼"Tenku open-air bath"(45 min available)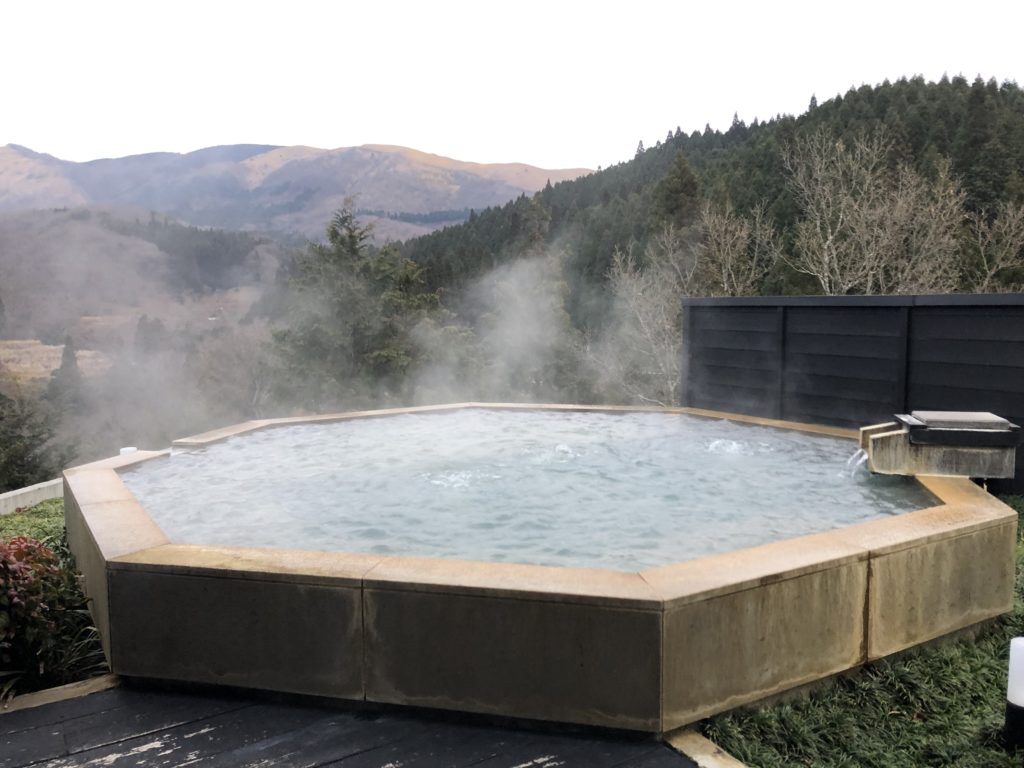 We can relax in big bath while looking superb view. Hot spring is good for physical fatigue due to work. We can feel physical fatigue in our body flow out to the bath.
After relaxing in the open-air bath, we went to downtown of Kurokawa onsen.
✔︎We can ask gekkoujyu employee for a transport to the downtown of Kurokawa onsen from gekkoujyu and vice versa.
After goning back to gekkoujyu, we had the dinner at the restaurant.(we can choose to eat dinner at room or restaurant.
Dinner
I reccomend to eat dinner at the restaurant, because dinner may cool down in the case of eating at room due to bring it to room from the restaurant.
So, I ate dinner at the restaurant.
▼Menu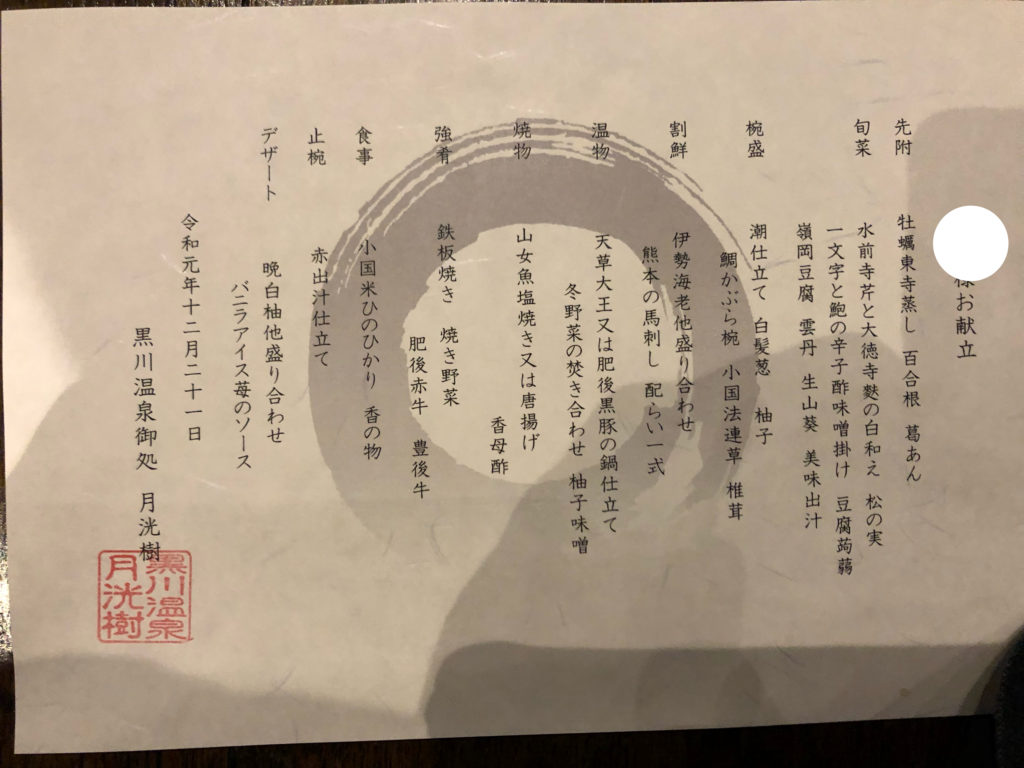 Dinner is Japanese-style course, we can choose warm dish and grilled dish in the two kinds. 
▼Small appetizer and Seasonal vegetables(先附と旬菜)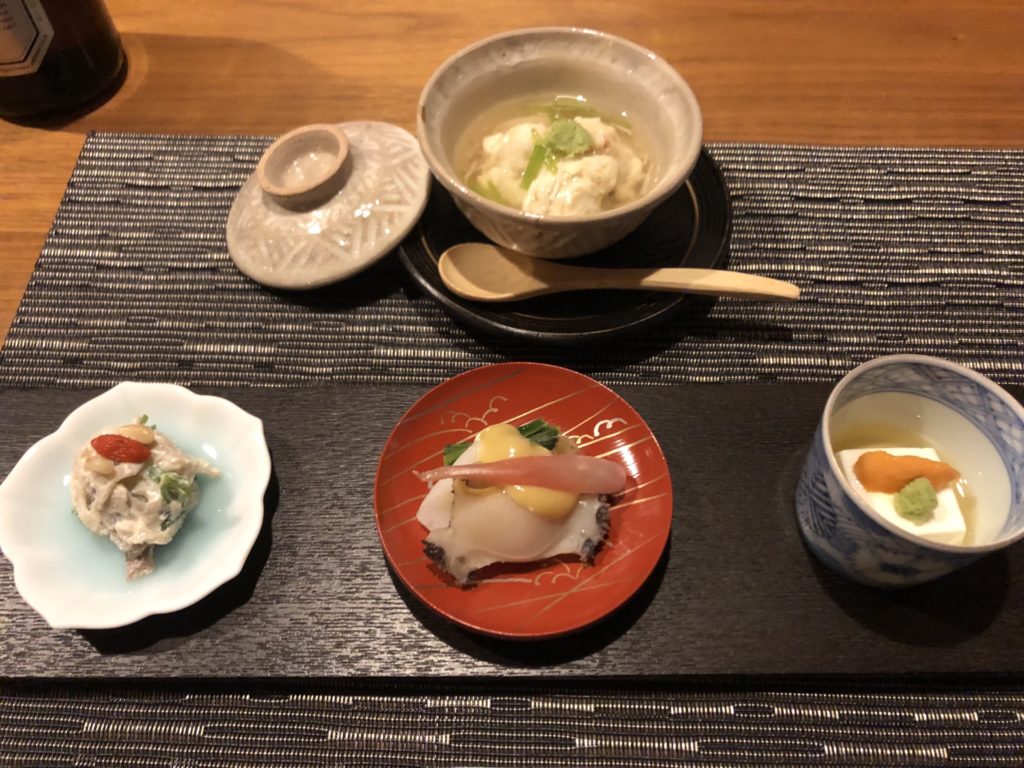 Small appetizer is the one in the back and seasonal vegetables is the one in the front. Small appetizer is warm oyster and lily root with thick sauce.
▼Served in a wooden bowl(椀盛):a Japanese food prepared by pouring soup on cooked ingredients.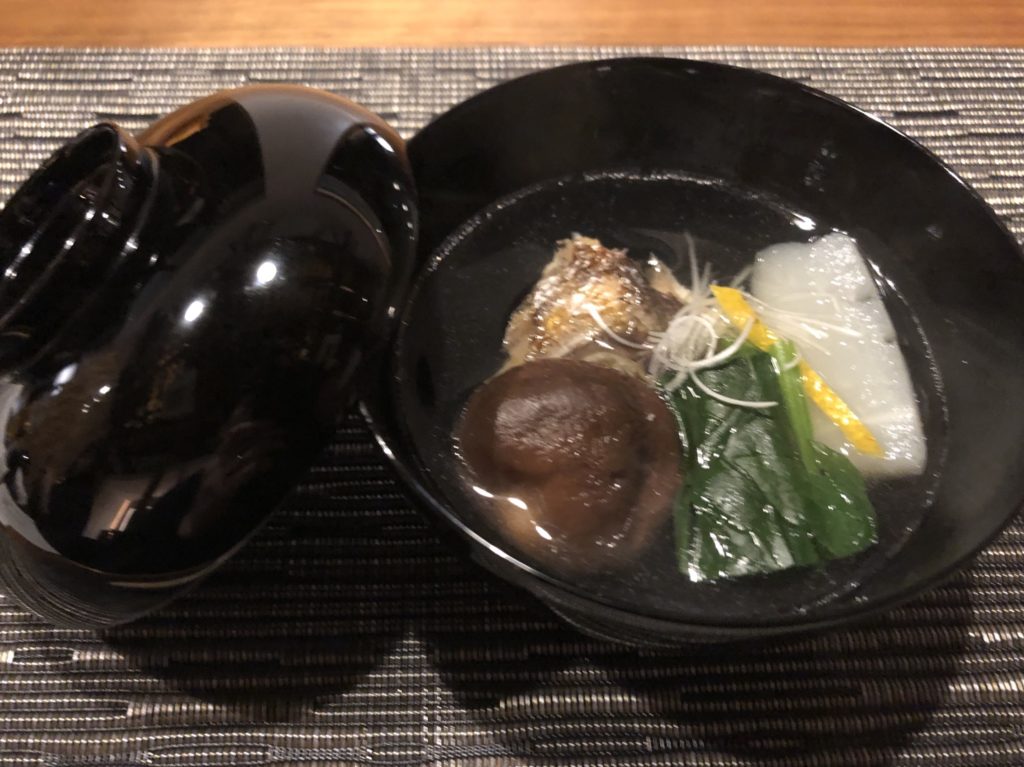 This is soup stocked from red snapper with mushroom and spinach.
▼Raw fish and meat slice plate(割鮮)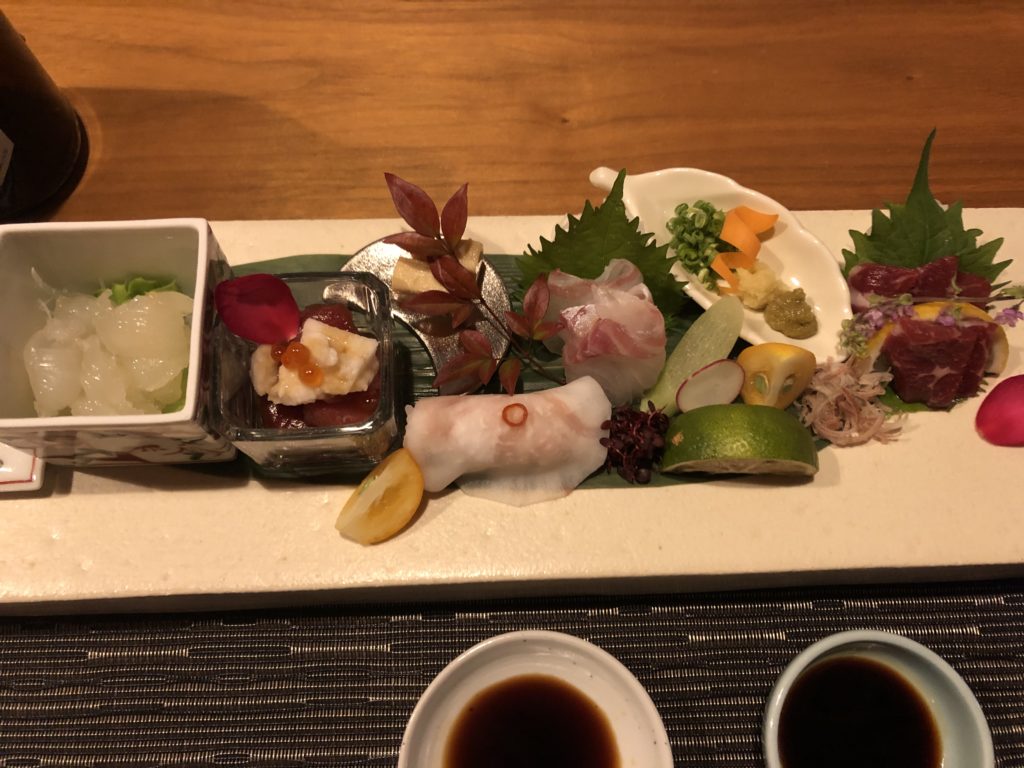 Horse-meat sashimi is right side of picture. Kumamoto is famous for it. And others are red snapper sashimi, tuna sashimi, spiny lobster sashimi and so on.
▼Warm dish(温物)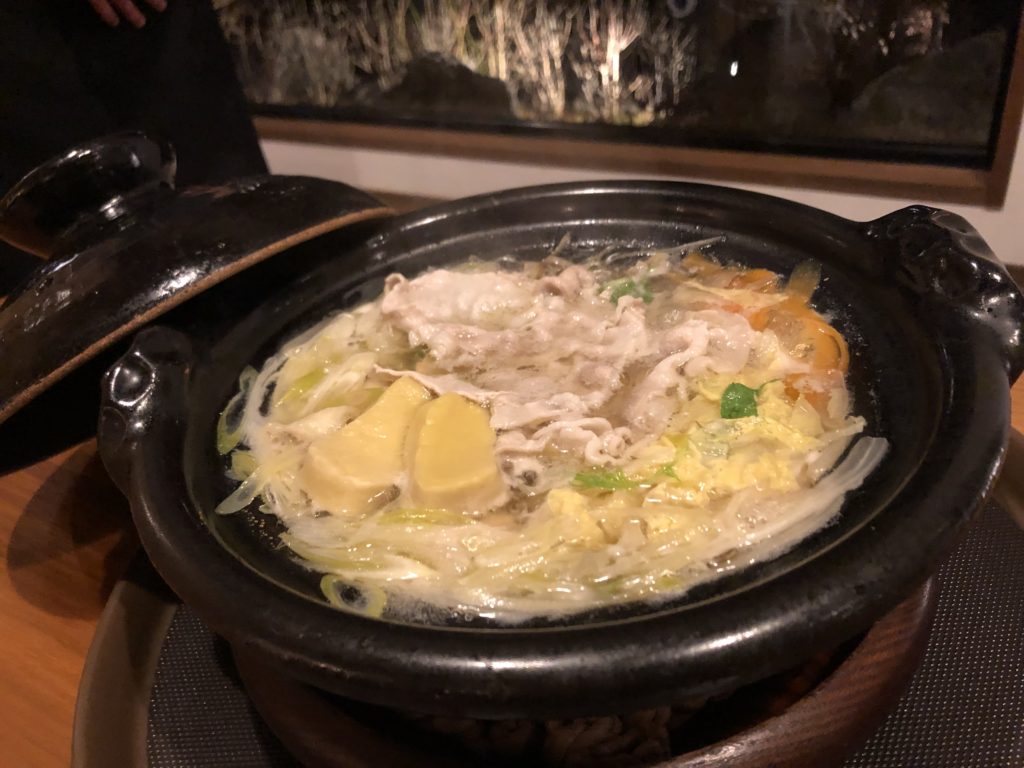 We can choose Japanese brand chicken"Amakusa-daioh" or pork"Higo black pig". I chose "Amakusa-daioh" and my wife chose "Higo black pig".
▼Grilled dish(焼物)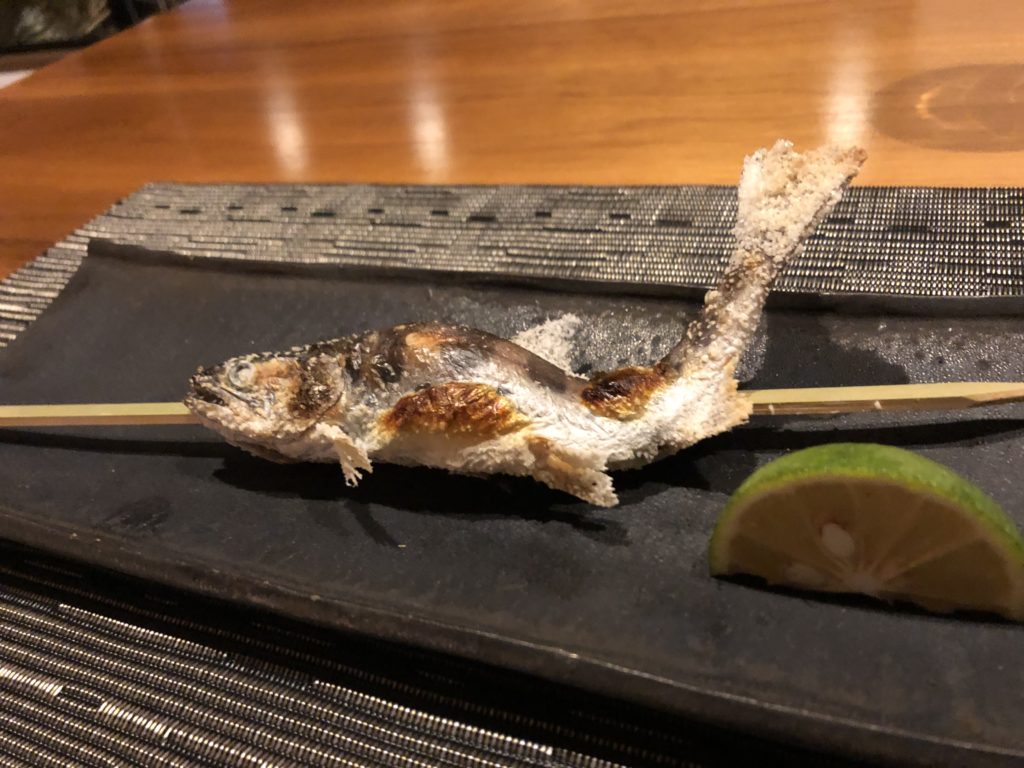 We can also choose Grilled salt of landlocked masu salmon or Fried one. I chose Grilled one and my wife chose fried one. Both of them is very delicious.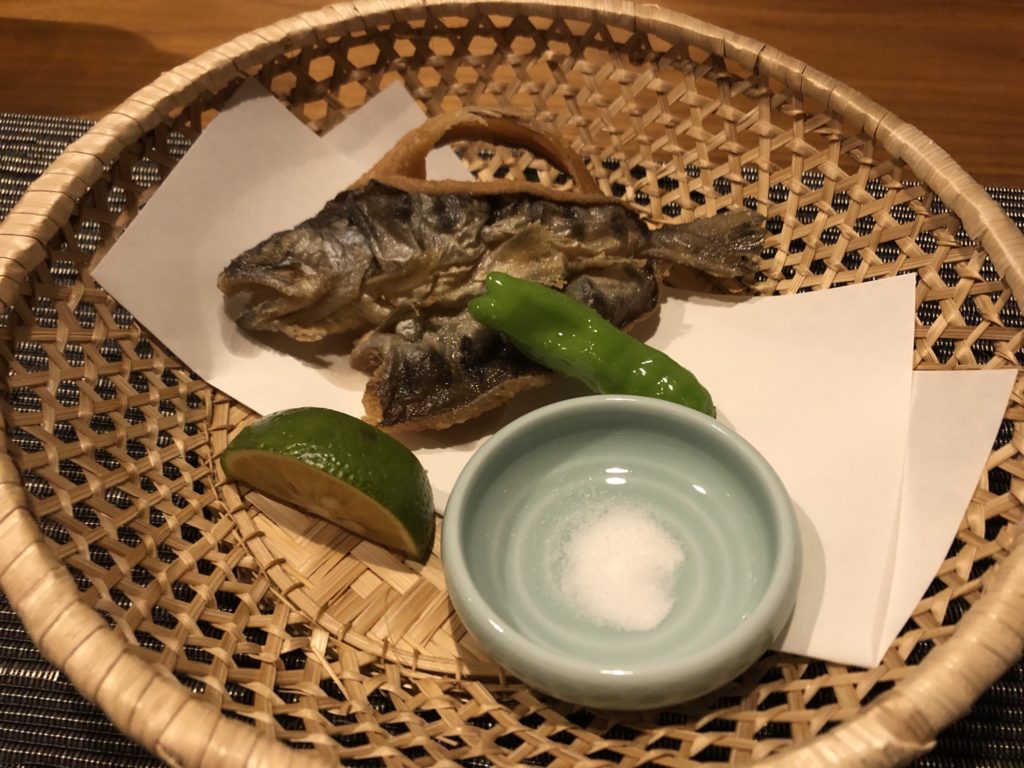 ▼Rare delicacy to compliment sake(強肴)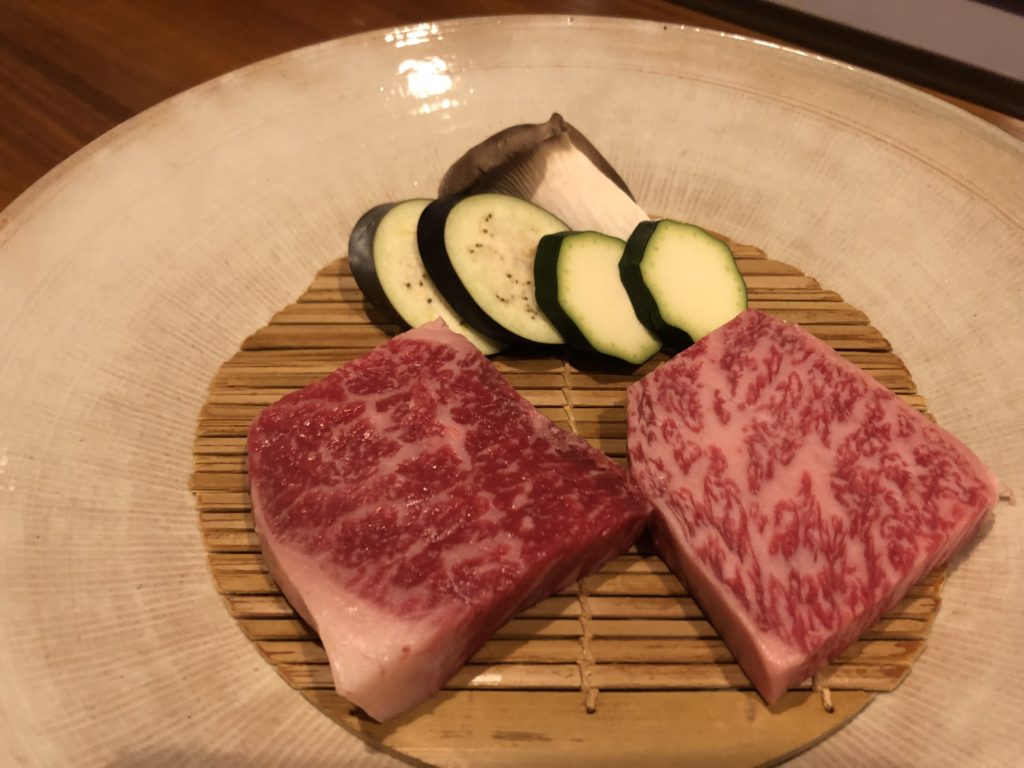 We can also choose Japanese brand beef"Higo red beef" or " Bungo beef". Compared with Bungo beef, I felt Higo red beef is more juicy.
✔︎If you have to go to Osaka, you can eat Bungo beef the restaurant "kodawarikome".(I often go)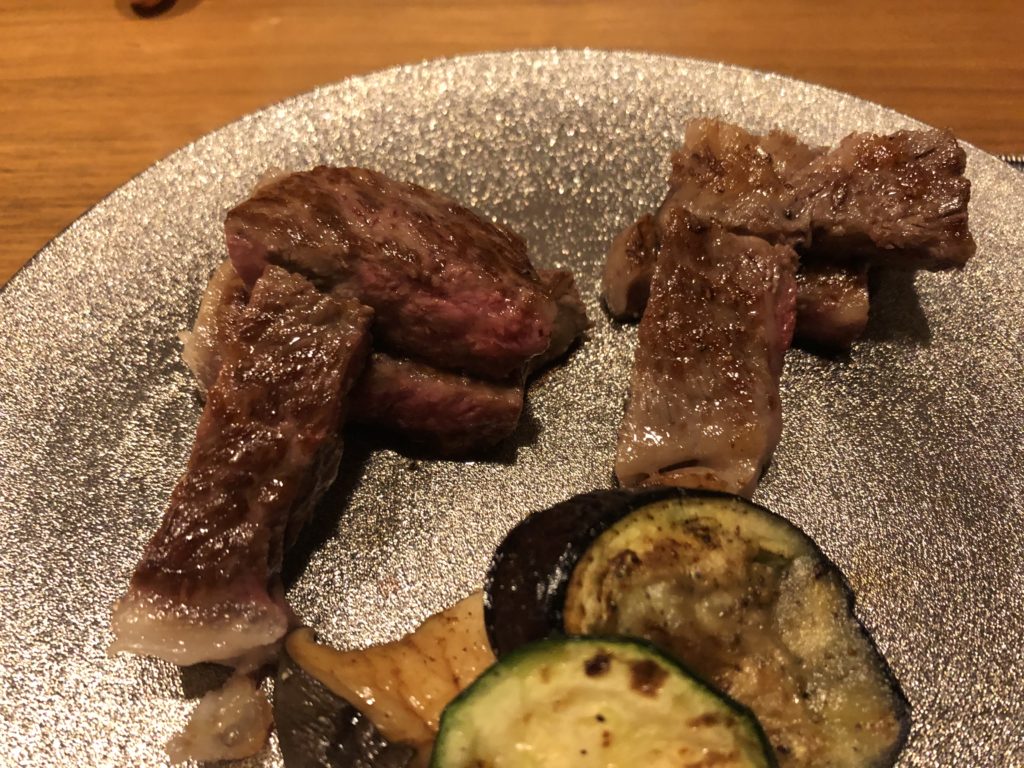 ▼Rice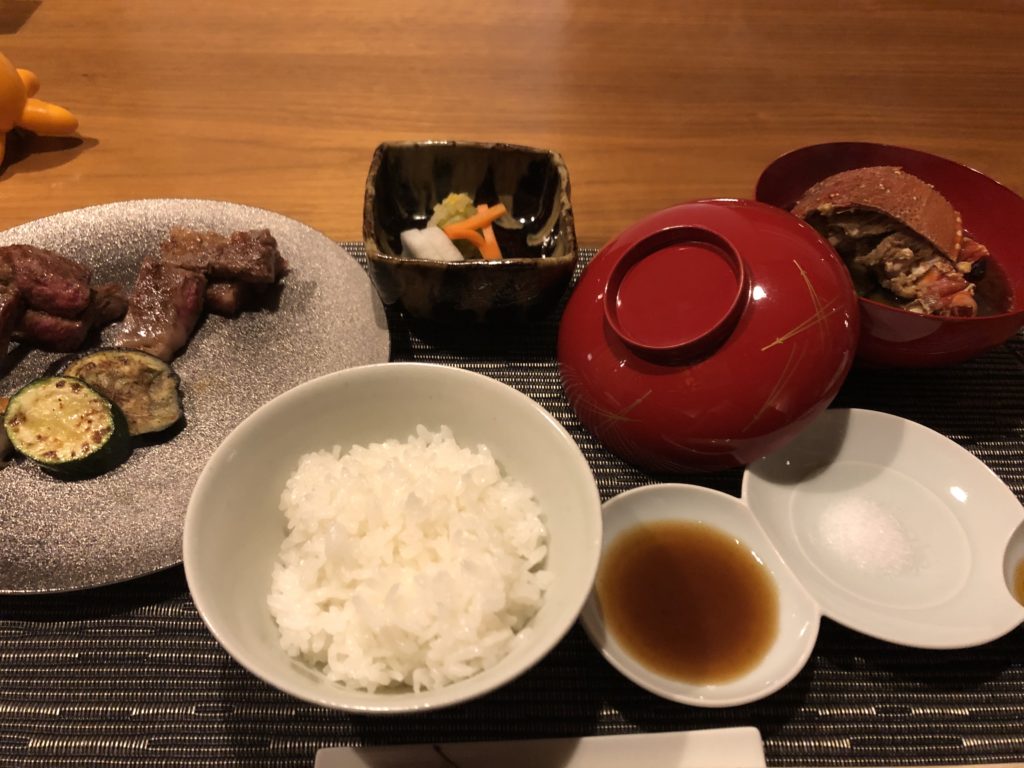 Japanese brand rice"Oguni-rice Hinohikari" is very tasty!Most of Japanese   cook rice by rice cooker but truly tasty rice is only cooked by Clay pot with gas.
▼Soup served at the end of a traditional Japanese dinner; last soup served in Kaiser course(止椀)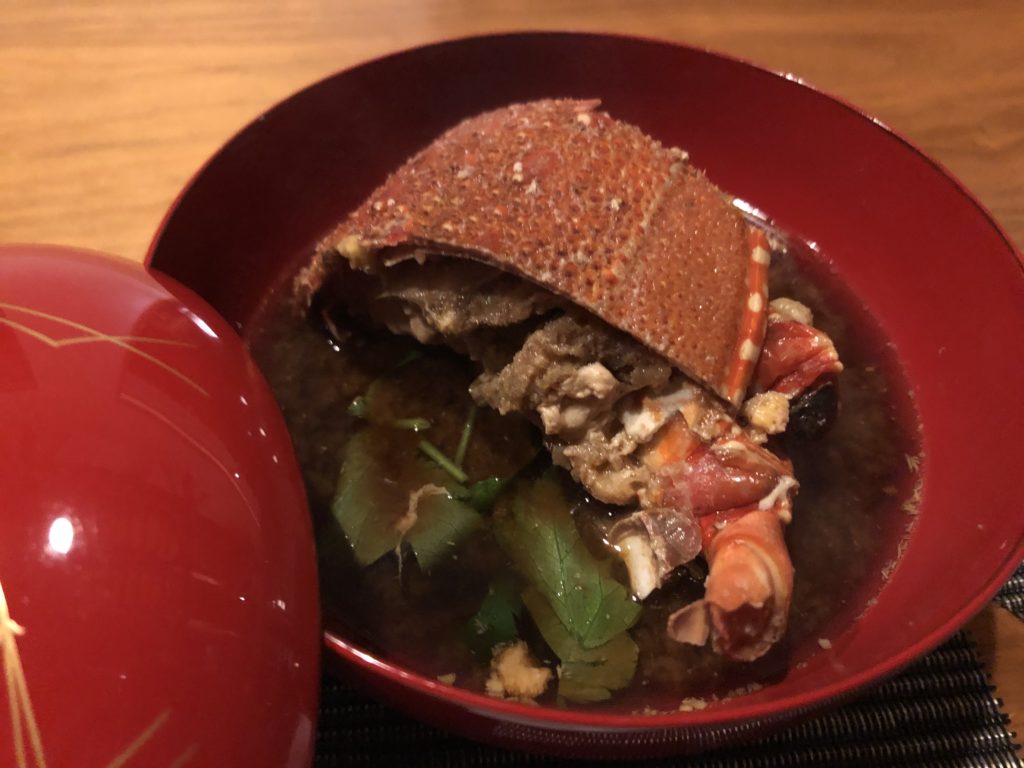 This is miso soup with spiny lobster.
Then, we were full… in spite of remaining dessert and tea…We offered to bring dessert and tea to our room with rice ball for supper.
▼Dessert & Tea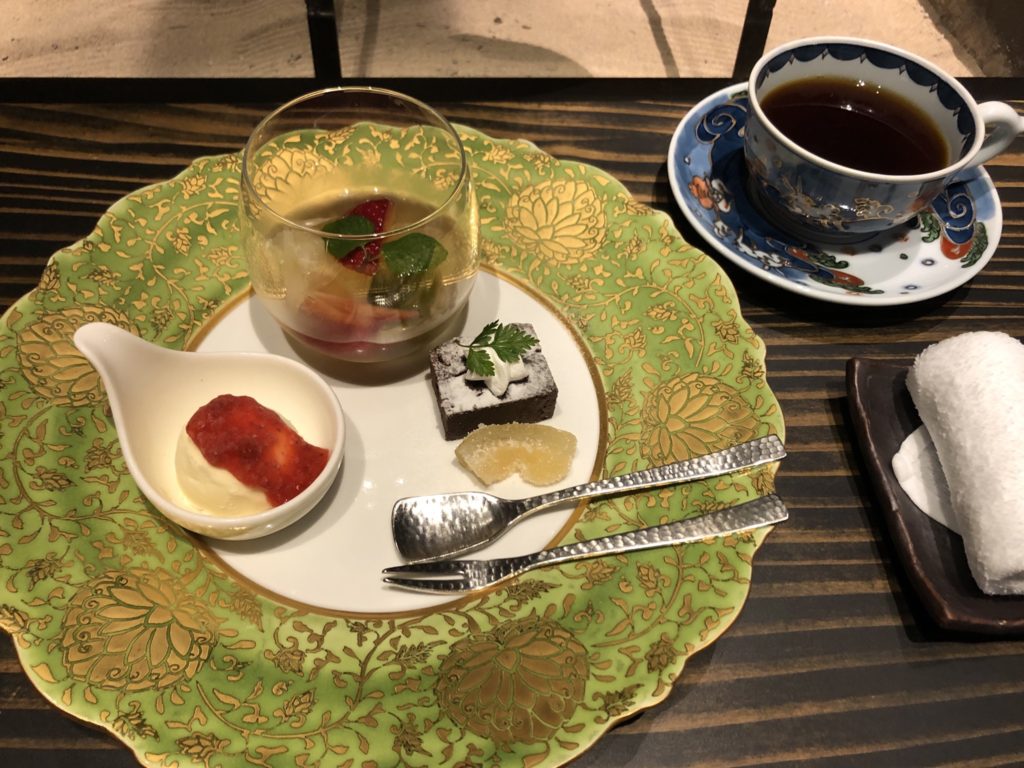 The method to make hotel fee cheaper 
Gekkoujyu is a little bit expensive. Regular price of Yumihari is 132,000yen but we could 10% price off.(13,200yen discount)
Gekkoujyu is Japanese luxury ryokan hotel, so hotel fee is rarely discount.
▼But we could discount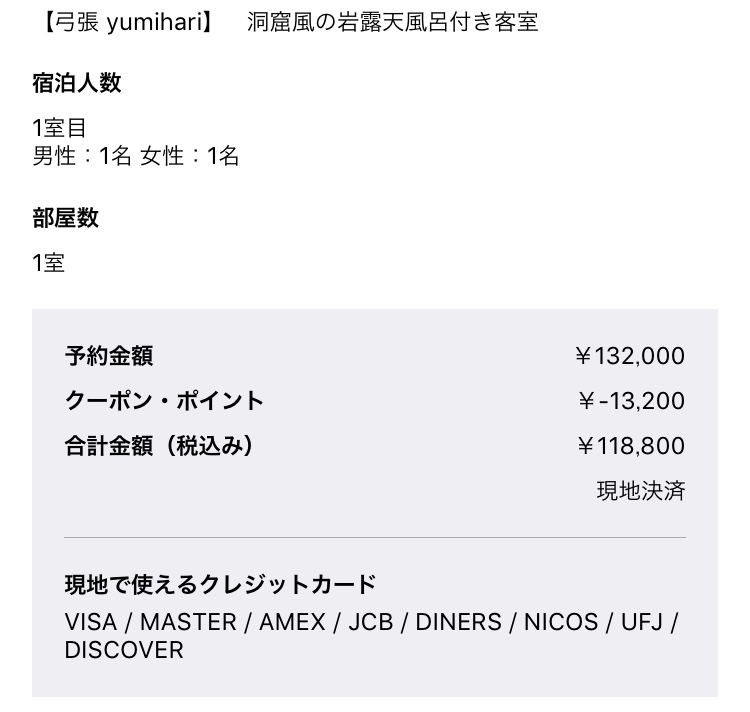 We reserved Gekkoujyu by one hotel booking site, it issued 30% price off coupon 1 or 2years ago…but nowadays about 10% price off.
▼This is 30% price off coupon30%(We used at Nishimuraya-honkan in Kinosaki onsen)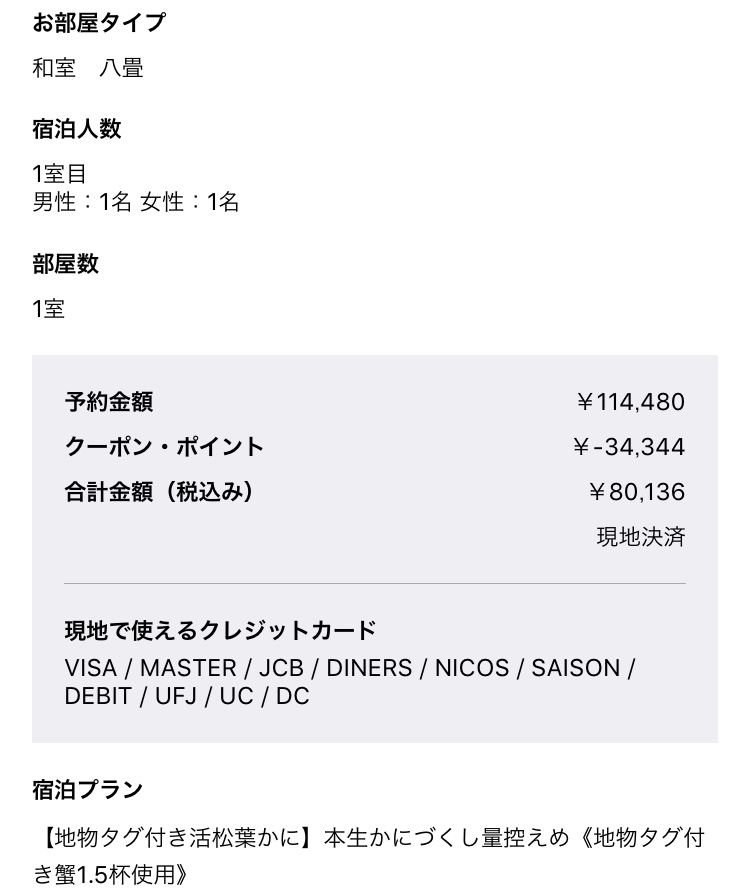 But as menthioned earlier, Japanese luxury ryokan hotel is rarely discount, so if you want to stay at the hotel cheaply, you can reserve by the hotel booking site as below.
The good deal hotel booking site; Relux
✔︎Now we write the article how to discount more by Relux in English but not finished. Please wait just moment. 
たびすぽ
https://tabisupo.com/おトク!最低価格以下で高級宿に泊まるならrelux