Speaking of luxury travel, rich people may have the image of traveling on a private jet or cruise and staying at a super luxury hotel, but it is not such a big deal.
This is a level trip where you can stay in a luxurious inn by using a bullet train or airplane. However, it can be overwhelmingly cheaper than known prices.
In order to save money on travel, you need to know what and how much it costs. Let's take a look at the results of the "Jalan Accommodation Trip Survey 2018″ by Jalan Research Center, which can be used as a guide for travel expenses.
The accommodation travel cost (individual travel) per trip (per adult) in FY2017 is 49,200 yen. The breakdown is 16,200 yen for local pocket money, 16,000 yen for transportation, and 17,000 yen for accommodation.
The breakdown of local pocket money seems to vary depending on the person, such as souvenir bills and eating and drinking at stores, but " movement expenses " and " room charges " are clear, and 33,000 yen is used in one trip You can see that
Therefore, it is important to reduce "travel expenses" and "room charges". Therefore, ways to reduce the quality of transportation, such as reducing "moving expenses" by moving by car, reducing "room costs" by staying at a business hotel, etc. are shared as information in the world, but it gets tired And it is hard to refresh.
As a major premise, we will introduce how to travel cheaply while keeping the following conditions.
Do not use a car (not tired)
Ryokan is first class (refresh)
Can be used on weekends and holidays
Let's see how to make it cheap!
transportation
As we are tired, we use planes, trains and "conditional" night buses, assuming we don't use cars.
Airplane (uses only ANA and JAL)
Up to 80% off regular fare
・ ANA: Mileage discount ticket
・ JAL: Otomo de mile discount ticket
ANA and JAL will also be cheaper than LCC depending on how you get your ticket. And I don't use travel discounts, because I don't think many people will be able to decide if they can go for work 75 days in advance.
ANA: Miles discount together, JAL: Friends de mile discount, you can use the mileage to make free reservations, and get up to 80% discount for traveling companions.
ANA: This is an order form when two people went from Osaka to Miyakojima together using the mileage discount. Because it is 31000 yen for a round trip for two people, one person can go to Miyakojima for 7750 yen one way.
Considering the schedule of Friday to Sunday, it is unlikely that LCC and award tickets will be cheap.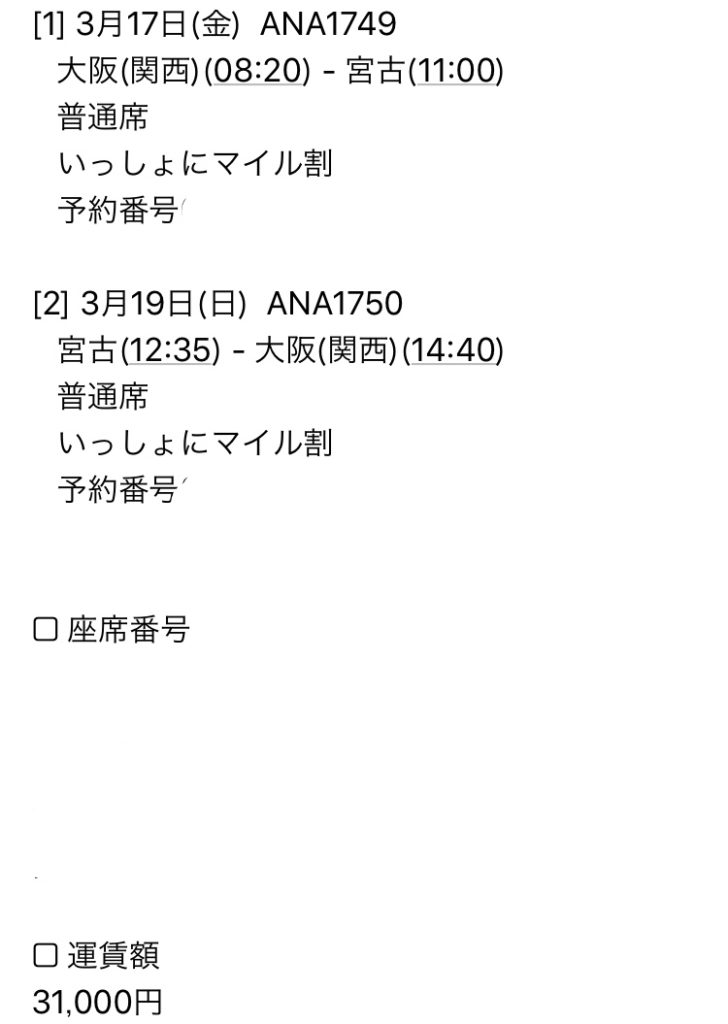 ●ANA:mileage discount ticket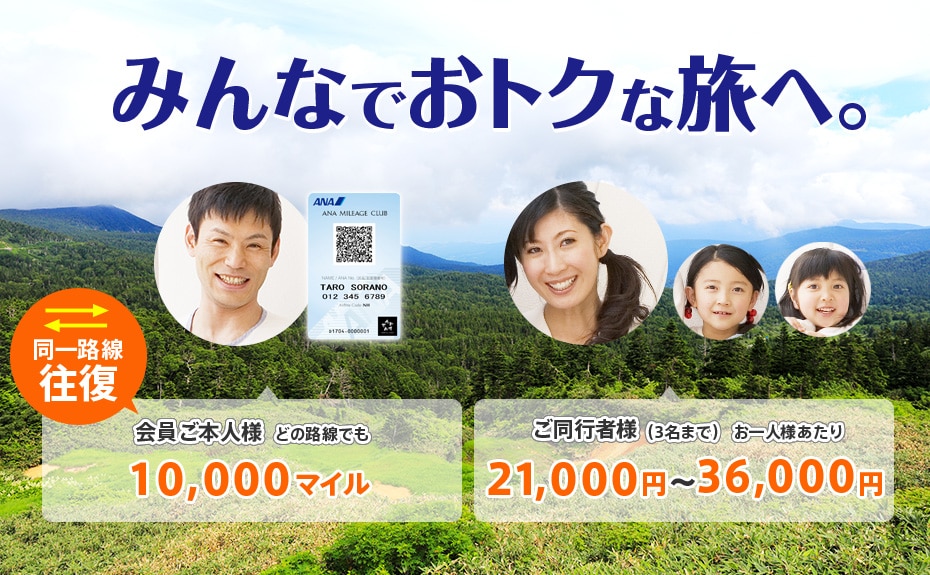 ●JAL:otomo de discount ticket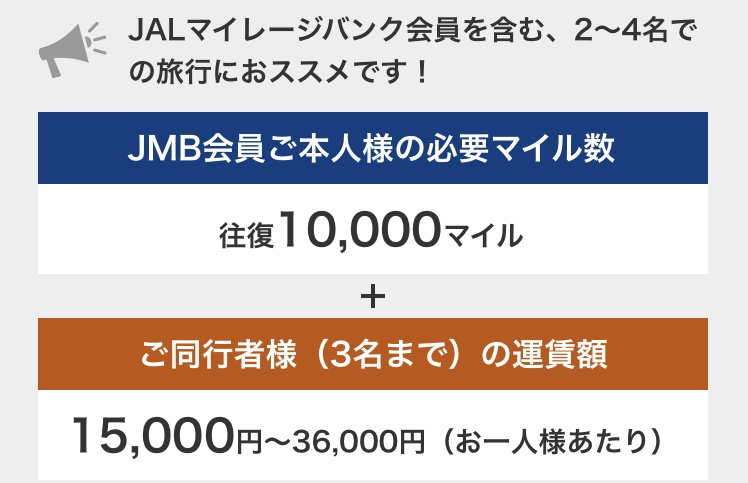 Both ANA and JAL will be able to make round-trip domestic travel at 10,000 yen for ANA Live with 21,000-36,000 yen for ANA and JAL for 15,000-36,000 yen. Let's look at an example of the cost required for moving per person.
Concrete example
For example, Tokyo-Okinawa (round-trip): Fees when 4 family members use ANA together with mileage discount (normal period)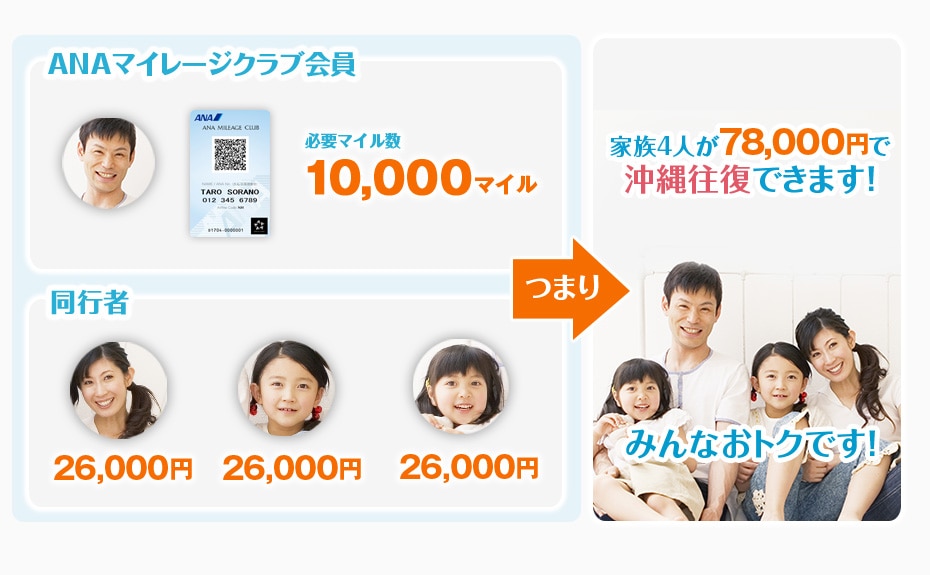 In the above example, the round-trip fare between Tokyo and Okinawa is 19,500 yen per person. You can travel between Tokyo and Okinawa by ANA at about the same as the national average travel cost (16000 yen).
LCCs may be cheaper on weekdays, but if you are on holidays, ANA and JAL mileage discounts have more vacant seats and are cheaper.
Although it is a price that is comparable to LCC, it is a mileage that can be used cheaply, 10,000 miles are required to use it.
If you don't use miles, you won't know what miles are and how to earn them. After briefly explaining what miles are, we will suggest ways to earn more efficiently.
Miles are points that can be earned by shopping or flying, and can be converted into air tickets when collected.
There are banks that save miles for each airline, such as ANA Mileage Bank for ANA and JAL Mileage Bank for JAL.
Mileage information is recorded on the ANA card for ANA and JAL card for JAL like a bank cash card, and can be withdrawn (converted to a ticket).
Some people often think of ANA cards and JAL cards as credit cards, but they are not exactly the same. These cards do not have a credit function and cannot be used for shopping.
In order to earn miles by shopping, you need to link your ANA card or JAL card with your credit card.
Connect credit cards such as Sumitomo Mitsui VISA Cards, American Express, Saison Cards, and ANA and JAL cards.
When you shop with your linked card, you can earn credit card company points and turn them into miles.
That is,
Earn credit card points for shopping
Turn credit card points into miles
Turn earned miles into tickets
Miles are converted to air tickets in these three steps. How much mileage you accumulate in 1 → 3 depends on the mileage redemption rate of the credit card company.
It depends on the redemption rate, but roughly, with a regular credit card, you can save 10,000 miles if you spend about 1 million yen.
If you hear 1 million yen, you may feel like a large amount of money, but you are using it unexpectedly.
According to a survey by the Statistics Bureau of the Ministry of Internal Affairs and Communications, the annual expenditure for single-person households in fiscal 2018 was 1,953,996 yen (162,833 yen per month), and the annual expenditure for households with two or more persons was 3,44,780 yen (28 per month). 7,315 yen).
In other words, even if you are a single household, you can travel twice a year with friends, boyfriends, and girlfriends, and if you are a family of two or more people, you can travel three times a year with your family.
Even utilities and rent can be paid with a credit card. What you need is always paying with a credit card and converting it into miles.
If you want to earn more miles, you can pay a little annual fee for your credit card, and there is a way to get 10,000 miles stably with payment within 760,000 yen. For details, see the article on Mileage Discount (ANA: Mileage Discount Together) ↓↓↓
The ANA VISA Wide Gold Card has a high mileage return rate and good cospa.
● ANA VISA card (Up to 1 mile can be obtained by registering)
Shinkansen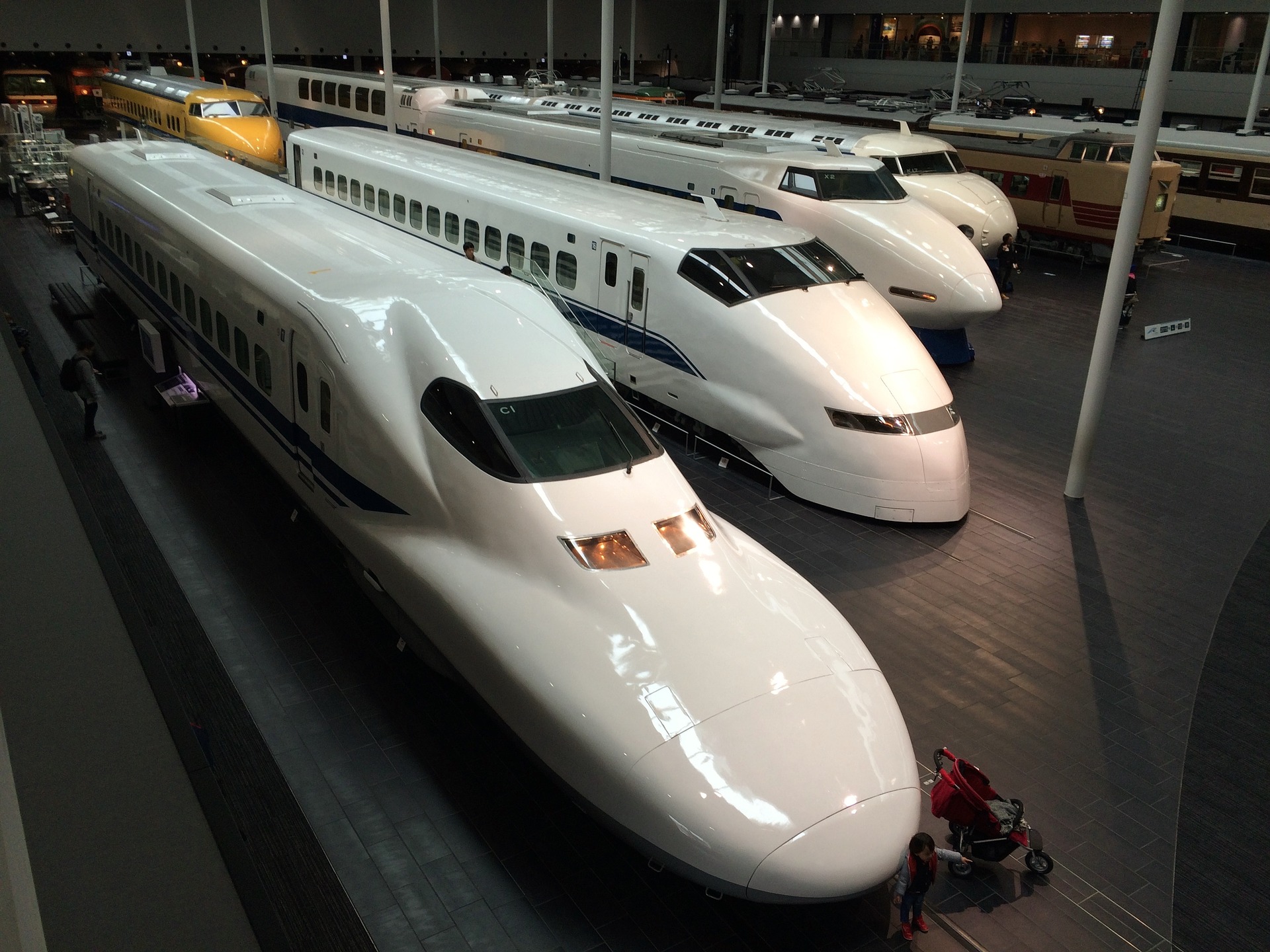 The more you use an airplane, the less far you are, but you don't want to go by car.
Traveling between Tokyo and Shin-Osaka is not as easy as traveling by airplane, but traveling by car is perfect for traveling on the Shinkansen at short distances.
However, the Shinkansen, which is a high-speed train, has become a monopoly market of JR, so it does not become cheaper.
In addition, JR Kyushu, West Japan, Tokaido, East Japan, Hokkaido and each company is separate, and some make their own discounts, so there is a problem that the discount system itself is very difficult to understand.
Here are representative examples of the cheapest sections and discounts in each of JR Kyushu, West Japan, Tokaido, Tohoku, and Hokkaido.
JR Kyushu
Up to 54% Off Regular Fares
・ Section: Hakata-Kumamoto
・ Discount rate: limited to swallows; 54%
→ Price after discount 2: 2350 yen
・ Discount rate: No ride limited; 50%
→ Price after discount: 2570 yen
The Kyushu Shinkansen has strong cheap tickets between Hakata and Kumamoto. "Kyushu Net Hayatoku 7" is incredibly cheap, and the discount rate between Hakata and Kumamoto is about 50%. If you can take a little time, you can get on the "Tsubame-go" only, and if you use "Tsubame Limited @ Kyushu Net Hayato 7", you will get a discount rate of about 54%.
Up to 44% Off Regular Fares
・ Section: Shin-Osaka to Hakata
・ Discount rate 1: Limited to Kodama; 44%
→ Price after discount 1: 8500 yen
・ Discount rate 2: No ride limitation; 33%
→ Price after discount 2: 10290 yen
JR West offers a variety of rich discount tickets with high discount rates. One of the highlights is the Super Hayatoku Ticket, which offers a surprising 33% discount between Shin-Osaka and Hakata. Ride to "Nozomi" is OK, but there is a restriction that you must purchase it 14 days in advance for Internet reservation only.
If it takes a little time to focus on cheapness, the cheapest between Shin-Osaka and Hakata is the Kodama Hayato Round Trip Ticket, and the discount rate can be as much as 49%.
This ticket has a lot of restrictions that you can only ride "Kodama", it will be released up to 14 days ago, and it will be sold only on round trips, but it is convenient if you have a well-planned and spend a few days at your accommodation.
Up to 27% Off Regular Fares
・ Section: Shin-Osaka to Tokyo
・ Discount rate 1: Kodama limited; 27%
→ Price after discount 1: 10500 yen
・ Discount rate 2: No special ride "Hayatoku 21"; 20%
* Reservations must be made 21 days in advance
→ Price after discount 2: 11,000 yen
JR Tokaido is a route connecting the major cities of Shin-Osaka-Nagoya-Tokyo, so there is no strong discount ticket.
However, if you can make an appointment 21 days in advance, you can use "EX Hayatoku 21" to move between Tokyo and Shin-Osaka 20% cheaper than the regular fare. Riding to "Nozomi" is OK, but there is a restriction that you have to purchase it 21 days in advance for Internet reservation only.
On the other hand, if you want to save time because it may take some time, "Platto Kodama Economy Plan" is convenient. It is a product of JR Tokai Tours, but the discount rate from Tokyo to Shin-Osaka is about 27%, which is a great discount for the popular Tokaido Shinkansen.
Up to 35% off regular fare
・ Section: Tokyo-Sendai
・ Discount rate 1: Yamabiko, time, asama; 35%
→ Price after discount 1: 6870 yen
・ Discount rate 2: Hayabusa; 25%
→ Price after discount 2: 8170 yen
The Internet-only ticket sold on the Shinkansen in the area operated by JR East is "First Value". The discount rate varies depending on the train, but if you want to go cheaply because it may take some time, you can get a maximum of about 35% discount at Yamabiko, Toki and Asama. Anyway, quickly! If so, save up to 25% on Hayabusa.
JR Hokkaido
Up to 40% off regular fare
・ Section: Shin Aomori-Shin Hakodate Hokuto
・ Discount rate: No ride limited; 40%
→ Price after discount: 4050 yen
JR Hokkaido's "value for the first time". A discount rate of up to 40% is set between Shin Aomori and Shin Hakodate Hokuto on the Hokkaido Shinkansen.
Shinkansen is expensive. But if it's bargain, the story is different. Embark on a luxurious journey on Shinkansen!
Night bus
You might think, "A night bus for a luxurious trip?", But if you have a time problem, not a money problem, it will extend your stay at the destination.
Even if you're busy and can't take a break, it's a luxury travel requirement to have time to relax at your destination.
Although it is very pinpoint, the timing of using a night coach is when the next day is travel and the day before is work.
For example, suppose you live in Osaka and want to go to Karuizawa, a summer resort in summer. On the next day after work, take the Shinkansen to Karuizawa.
Do you know how long it takes? The answer is four hours. Even if you take the Shinkansen at 9 am, arrival is 13:00. If you have no time and can only stay two days a night, you have no time.
That's where the night bus comes in. By getting on the night bus after your work on the day and heading to the destination, you can eliminate the loss of travel time.
If you take a night bus at Osaka Station (Higashi Umeda) at 9 PM, you will arrive at Karuizawa Station at 7:56 the next morning. The fare is 7400 yen, 40% of the price of the Shinkansen, so it's the best way to get on the bus.
Even if you play a lot of time at the site and return on the Shinkansen return, the transfer cost for the night bus to go is floating so it is cheap when viewed in total.
Ryokan-hotel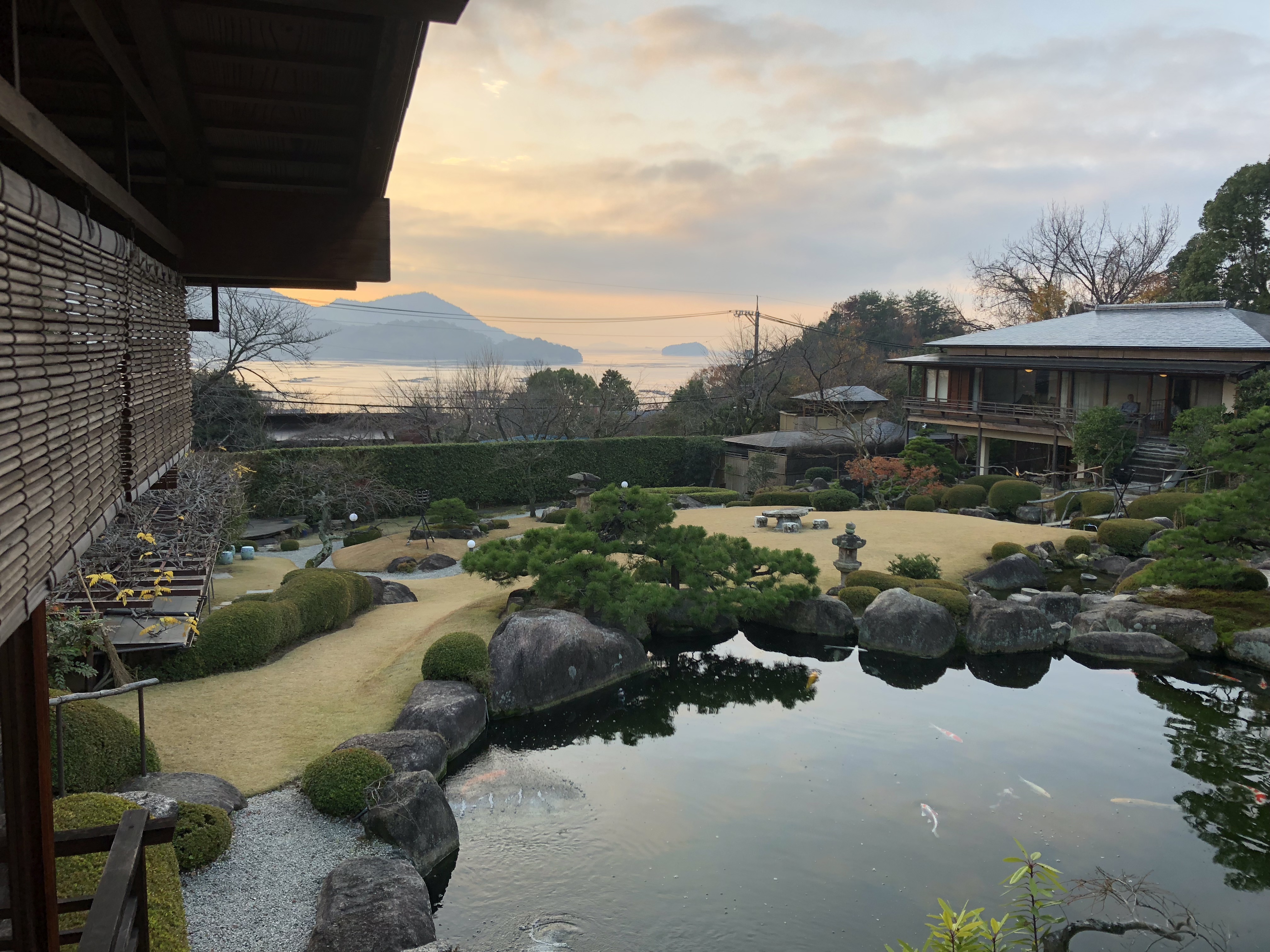 There are plenty of ways to reduce the cost of accommodation during travel. For example, staying in a business hotel or late check-in (a plan that reduces the cost of accommodation if you check in late) is mentioned.
But in this article, there is no idea of ​​staying at a business hotel. Because there is no time advantage, and lowering the cost and quality of accommodation is against the concept.
Late check-in is not discussed for reasons other than degrading the inn. Certainly, even in first-class hotels, there is a late check-in plan and the price is about 20-30% cheaper, but the number is too small.
It is meaningless unless you use a plan that you can use when you want to go on a trip. Here's how you can use it anytime and save 25-55% on accommodation.
Relux
Maximum discount rate: 55%
①Point back: 5%
② Credit card partnership discount: 5-7%
③ au Smart Pass Premium Discount: 20-50%
① can be combined with ② and ③.
① + ② discount rate: 10-12%
② + ③ discount rate: 25% ~ 55%
I think that many people do not know. Relux is an accommodation reservation site that allows you to make reservations for first-class accommodation at a low price, and is a subsidiary of the mobile phone company au.
It is affiliated with more than 1200 hotels, and can be used widely throughout Japan.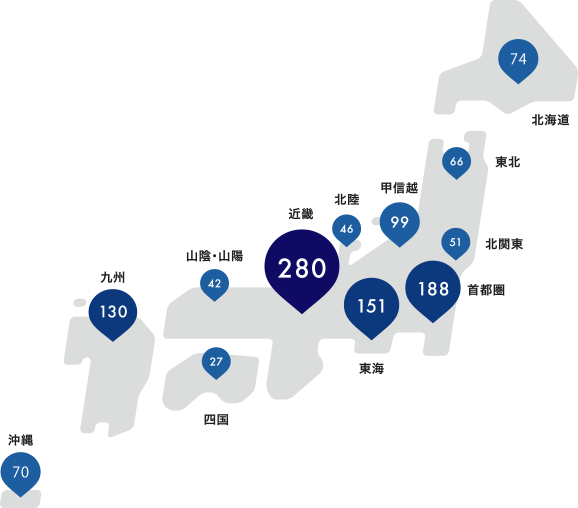 As for the price, there is a chance that it will be cheaper at a certain pinpoint timing, but you can book the same hotel more than 25% more stably and cheaper than general major accommodation sites.
The name recognition is still low, and we are launching campaigns to increase the number of members, so I think that it is cheaper than major companies. In fact, the number of members has risen to over 1 million in 2017.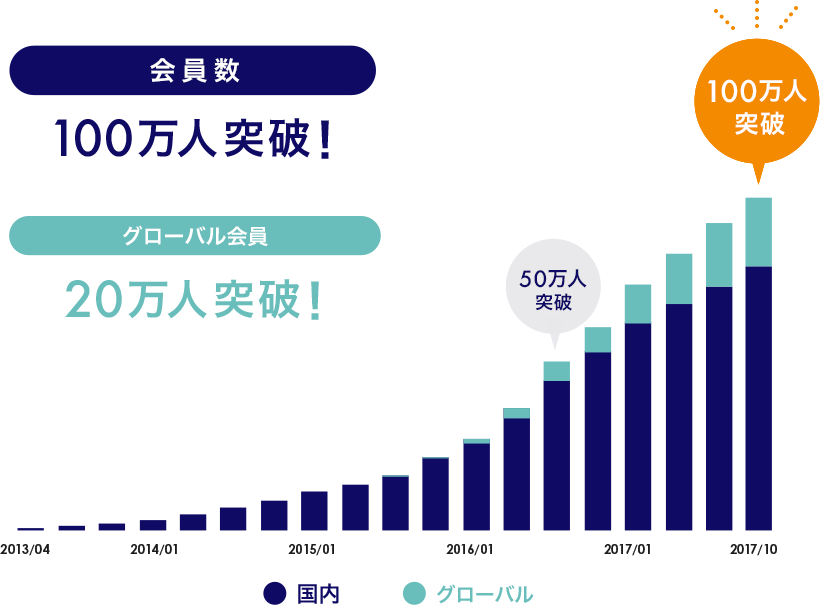 However, it became a subsidiary of au, a major mobile phone company, in 2017, a company acquisition aimed at strengthening au's accommodation business, so it is thought that it is still aiming to increase the number of members. (Quote: KDDI's acquisition of Loco Partners as a subsidiary)
Campaigns that anticipate an increase in the number of members are being carried out continuously using the au Smart Pass Premium service.
au Smart Pass Premium
Maximum discount rate: 50%
① au Everyday (Saturday): 20%
② Santaro's Day (three days each month): 20-50%
au Smart Pass Premium discounts are available as Relux discount coupons (20% discount) every Saturday and Relux discount coupons (20-50% discount) on the 3rd day of each month (3, 13, 23). The feature is that the accommodation is not limited and can be used all over Japan.
This is an order form when actually staying at a luxury inn using the au Smart Pass Premium coupon. You can see that 114480 yen is 30% discount (34344 yen discount).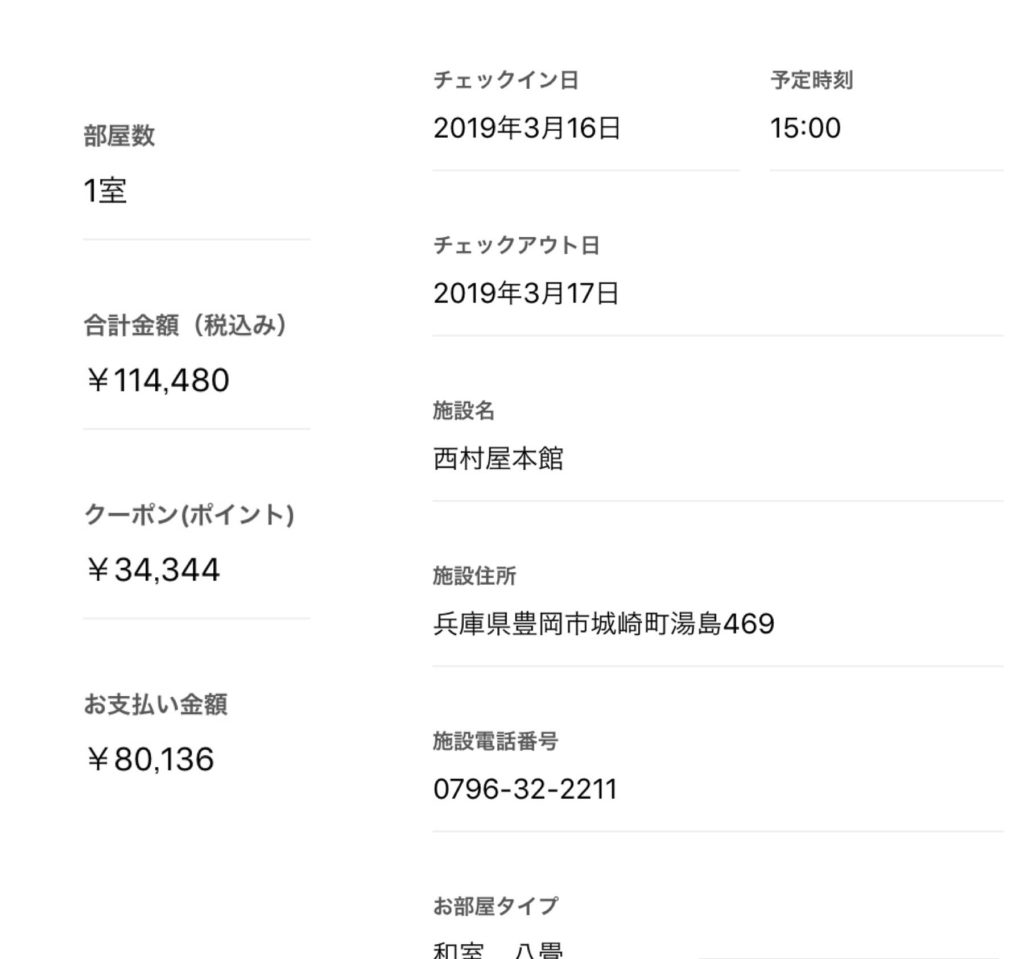 Coupons are being delivered continuously, but it is unknown how long they will last. If you like travel, join au Smart Pass Premium as soon as possible!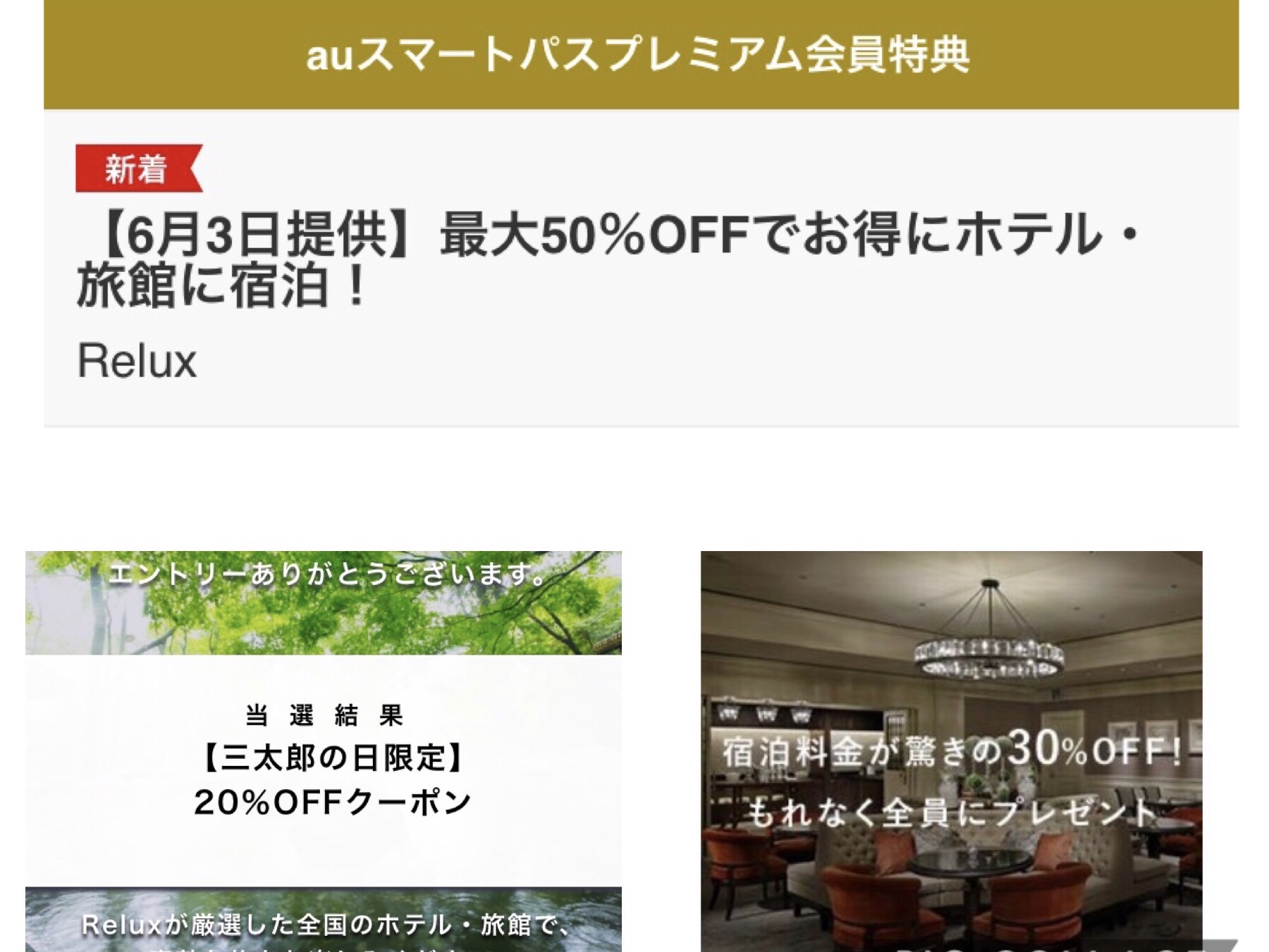 credit card
Discount rate: 5-7%
The discount rate may be inferior to au Smart Pass Premium, but it is not.
Isn't it cheap, considering that it will be further reduced by 10-12% from the same or cheaper price as Jalan or Rurubu?
However, if you are aiming for a Relux discount with a credit card, you are currently worried about the type of credit card you want to make, and if one of them has a Relux discount privilege, it is better to try it think.
The following credit cards are eligible for the Relux discount.
ANA VISA Gold, Platinum Card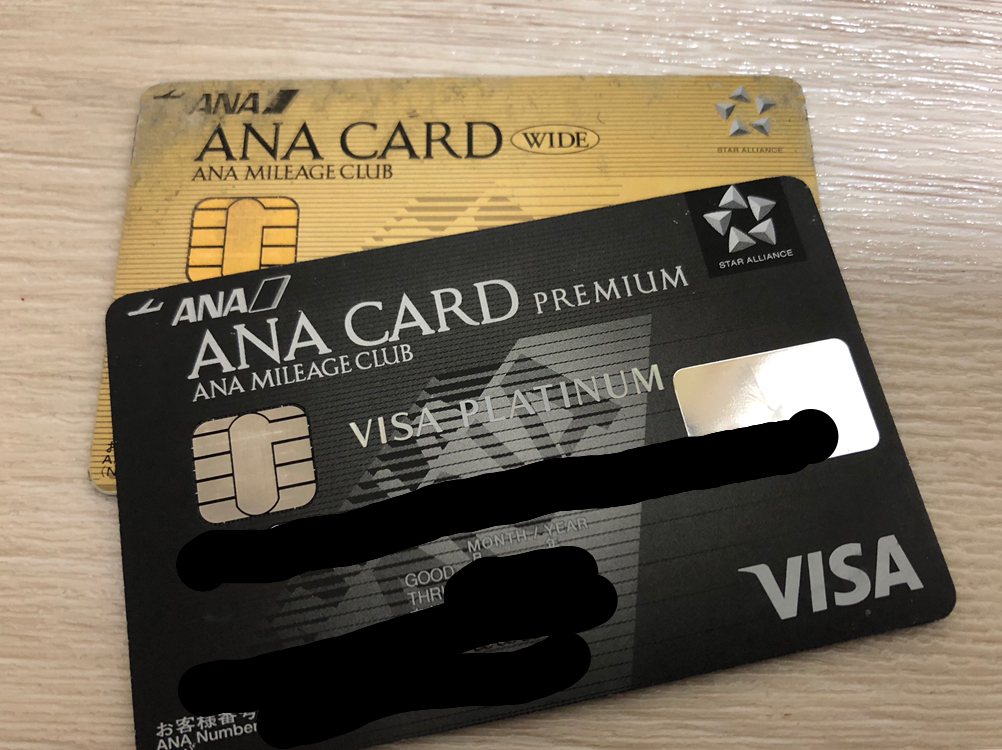 ANA VISA Gold discount rate: 5%
ANA VISA platinum card discount rate: 7%
It is a recommended card. Book cheaply with Relux discount coupons → Pay Relux accommodation expenses with an ANA VISA card → Earn miles → Use mileage discount together with accumulated miles → … The following can be repeated and travel by plane In this case, when combined with Relux, it demonstrates the strongest cospa.
However, the disadvantage is that the annual membership fee is high. The annual fee for ANA VISA Gold Card is 14,000 yen + tax, and the annual fee for ANA VISA Platinum Card is 80,000 yen + tax.
For ANA VISA Gold Card, switching from a paper statement to a WEB statement will cost 1000 yen + tax, and if you apply for My Pay Revo, the annual membership fee will be 3000 yen off.
Combining these discounts can reduce the annual fee to 10260 yen. On the other hand, there is no annual membership discount for ANA VISA Platinum Card. Except for those who use airplanes frequently and use a lot of credit cards, the ANA VISA Gold Card is better for cost performance.
Sumitomo Mitsui VISA Gold, Platinum Card
Same as ANA VISA card, Relux discount rate is 5% for gold and 7% for platinum.
The annual membership fee is 10,000 yen + tax, but if you switch to the WEB statement, the annual fee will be half price or free if you apply for My Pay Revo.
On the other hand, the ANA VISA card has a better conversion rate from points earned with credit cards to miles than the Sumitomo Mitsui VISA card, and it is possible to check in at the business counter in economy class when checking in at the airport. Service is good.
If you fly frequently, the ANA VISA card is good, and if you do not fly frequently, the cheaper annual membership is Sumitomo Mitsui VISA card.
The following cards are also affiliated with Relux, but the benefits are very limited and will not be discussed here. For those who frequently shop at department stores such as Takashimaya, Daimaru, and Matsuzakaya, the following cards are also good for cospa. (There are benefits such as 10% discount on department store products.)
Takashimaya Card, Daimaru Matsuzakaya Gold Card, Epos Card
However, if you just want to change your credit card for Relux, it would be much more advantageous to change your carrier to au and join au Smart Pass Premium.
Referral discount
If you do not want to enter the au Smart Pass Premium, make a credit card, do not want to change, but want to stay at a great value, you can only stay once, but you can stay cheap.

If you register for Relux using the following referral code, you will get a coupon for staying at 5,000 yen off for the first time. If you want to register because it is a campaign that you do not know how long it will last, please be as soon as possible.

* The invited side and the invited side are not identified with each other, so you can use it with confidence.

[Introduction code of 5000 yen off] → IP_B6O5O

Register for Relux with a referral coupon
Dinner, Lunch
When you take a luxurious inn, you often come with breakfast and evening meals at hotels and inns.
But sometimes you want to choose a local meal yourself. In such a case, I suppose I chose a breakfast only plan, and dinner was going to the city.
It would be great if you could make a reservation at a good restaurant if you wanted to eat at the destination, and save on it. Tabelog is famous, but isn't it not surprisingly usable when traveling?
Tabelog
Wouldn't it be the same to make a reservation with a tabelog or call the store directly? In fact, coupons have been delivered and you may be able to eat more.
If you order separately instead of course meals, you will get a 10% to 20% discount and the first drink will be free.
You can go to your favorite restaurant while wandering around the city while traveling, but if you have decided on a store you want to go to beforehand, why not try using the tabelog?
Ikkyu restaurant
If you are traveling to a big city such as Tokyo, Nagoya, Osaka or Fukuoka, making a reservation at a restaurant can be ridiculously cheap.
Ikkyu Restaurant is a restaurant reservation service for those who are more upscale, but in fact there is a discount on cooking courses.
There are many discounts on first-class hotel cuisine, and higher discounts can be 50% or more cheaper.
If you are staying at a hotel and have dinner at the hotel, it may be overwhelmingly cheaper to make a reservation at the restaurant.
How about a luxury trip while saving travel, accommodation and food expenses?