Cars are convenient for sightseeing in Miyazaki, which is full of nature, such as Takachiho Gorge, Obi Castle Ruins, and Hayamizu Park.
But, in fact, the train has not developed in Miyazaki.
▼train map("Miyazaki"(宮崎県) is few trains)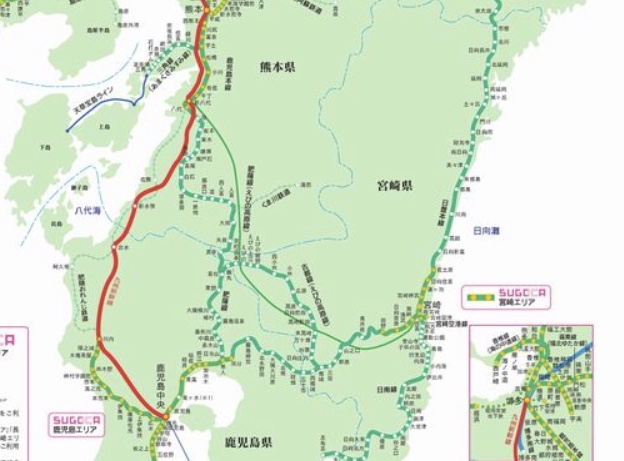 The Kyushu Shinkansen also avoids Miyazaki, passing through Kumamoto and Kagoshima, and conventional lines almost only pass along the coast.
I once lived in Aichi, but the situation with trains was the same as in Miyazaki.
The train situation in Aichi was limited to Meitetsu, which only extends from Nagoya Station to the north and south, and Tozai Line, which extends east to west from JR Kanayama, and JR. So, people who live in Aichi must have a car or get on the bus to leave.
Although Miyazaki is not as large as Aichi, there are developed route buses that run through cities such as Nobeoka, Hyuga, Nichinan, Kobayashi, Saito, and Takachiho, and express buses that connect each city.
Miyazaki has few trains! Enjoy great deals with discounts on buses and rental cars!
fixed-route bus
Main route map of route bus in Miyazaki. Buses run on many routes, but prices vary depending on the distance and tend to be expensive if you go around various places for sightseeing.
Miyazaki has two types of discount tickets for such travelers.
One coin pass (500 yen)
This discount ticket is for unlimited rides on Miyazaki, Nobeoka and Miyakonojo cities and suburbs only on weekends and holidays. The one coin pass is convenient for sightseeing near a large city without going out to Takachiho or Hayamizu Park
▼the one coin pass means "ワンコインパス"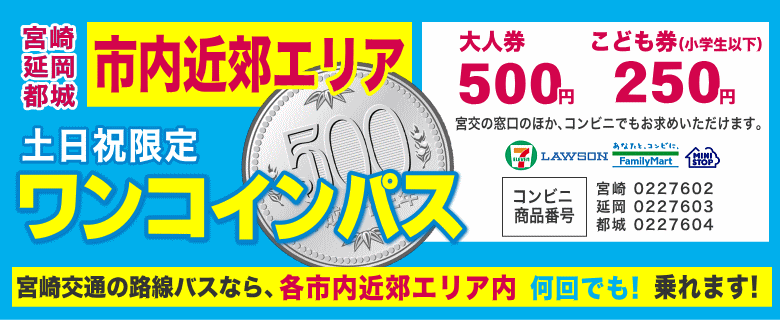 All lines 1-day unlimited ride ticket for all buses in Miyazaki (1800 yen)
On the other hand, if you want to go to Takachiho Gorge or Obi Castle Ruins, you cannot access with one coin pass.
In such a case, there is an all lines 1-day unlimited ride ticket for all buses in Miyazaki. Although it is a little bit more expensive than the One Coin Pass, the local buses in the prefecture can be used for one day.
Normally, traveling far away by bus will cost you so much, but using this all-you-can-ride ticket is very cheap.
▼All lines 1-day unlimited ride ticket for all buses in Miyazaki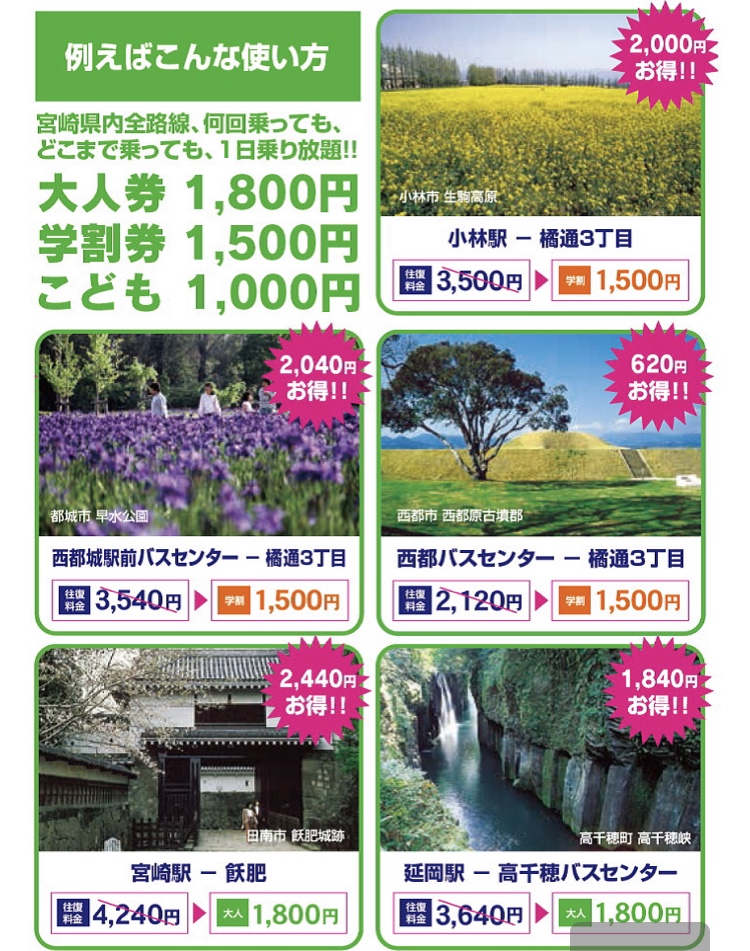 A round trip at Nobeoka Station ⇄ Takachiho Bus Center costs 3680 yen cheaper and a round trip at Miyazaki Station ⇄ Obi Castle costs 4880 yen cheaper, compared with regular price.
It is a discount ticket that you should know if you go out of Miyazaki by bus.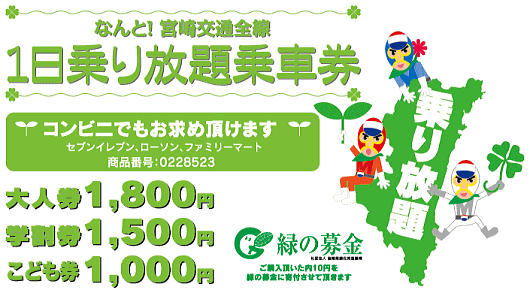 rental car
If you like to travel by car, you will need to rent a car. I often travel by rental a car depending on the location. But, I don't rent a car at a fixed price, because it is expensive if attaching the option of exemption.
There are not many travel sites that offer rental coupons in a lump and have discount coupons. But among them, Jalan can compare car rental companies' prices and we can use coupons to save money.
If you are sightseeing in Miyazaki, make sure you get the right transportation in advance so that you can use your time effectively, and your trip will be even more fun!
Rental cars may be used instead of traveling by bus or train. In that case, "Jalan Rentacar" which has issued a discount coupon is advantageous.
Jalan Rentacar supports Japanese only.
There is an article that summarizes how to get a discount coupon for Jalan Rental Car and how to make a reservation↓↓↓